Twice we have had the best team in the land, either side of the First World War and then in the late fifties and early sixties. We have had some great players and then again some not so great, and likewise we have had some great managers and some that should never have been given the job in the first place.
However, what goes on in the boardroom is of great importance. If anyone thinks it cannot make a difference then they should take a close look at what has happened at Burnley Football Club in the last three years since Barry Kilby first joined the board and then became chairman. In my 40 years plus of watching Burnley Barry is one of only four chairmen at Turf Moor. I know three of them, John Jackson, Frank Teasdale and Barry but the fourth was the chairman when I first started going to Turf Moor, one Robert William (Bob) Lord.
It is now 20 years since Bob Lord died, handing over the reigns to John Jackson but not until he had run the club his own way for some 26 years. In the days when chairmen were pretty much low profile characters everyone with any interest in football knew who Bob Lord was. Whatever anyone thought of him he certainly put our great club on the map.
He was the local butcher who won himself a place on the board in 1951 at the age of 43. From that day on he was destined to be chairman, anything less he would have considered failure. It was clear from the beginning that he wanted control of the club. After one failed attempt he finally won his place at the top in 1955 and from that day on the club was definitely very much in his hands.
He was a decisive man, knew what he wanted and set out to get it. If obstacles were put in his way, he just pushed them out of the way. He had joined the board at a reasonably good time for the club, promotion had been won in 1947 and things were going reasonably well in the First Division. That was never going to be good enough for Bob Lord.
Alan Brown was the manager when he first became chairman and it was the Lord/Brown partnership that was responsible for creating something that still exists at Burnley Football Club today – Gawthorpe. In the 1950s clubs didn't have training grounds, in fact even in the late 1960s I can recall our neighbours Blackburn Rovers still having to train on a car park adjacent to Ewood Park on Nuttall Street. Alan Brown and Bob Lord did something about it and Burnley had its own training ground. The already flourishing policy of bringing in youngsters straight from school was about to take off, Burnley were set to have the finest youth policy there was.
Alan Brown left in 1957 to take the manager's job at Sunderland and after a short spell with Billy Dougall in charge Bob Lord made probably the best and most important decision in all his years at the Turf. He had a policy of only appointing former players in management and coaching positions and he turned to a former Claret of the post war era and current Shrewsbury manager Harry Potts.
Harry became Burnley manager in 1957 and the work that Alan Brown had done was all set to be built on. Yes the game is about players and what wonderful players we had at that time. Jimmy McIlroy was the star but we had a team of internationals, players who were as good as any in the world. Lord and Potts could never have achieved what they did without these players but I wonder if the players could have done without the manager and chairman. I doubt it.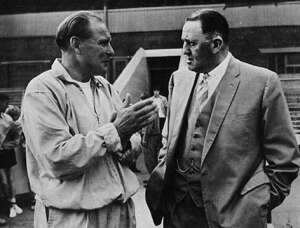 In 1960 Burnley became Champions of England. The local butcher from a small town in North East Lancashire had taken his club to the very top of English football. He had upset a good number of people on the way with his abrasive style but he didn't give a damn. All he was bothered about was Burnley Football Club. After just five years in the chair he had reached the summit, he was never to achieve it again although there was much more to come.
Less than three years after that Championship success he rocked the whole town by placing Jimmy McIlroy on the transfer list. It was like the outbreak of war as petitions were organised, demostrations held and damage done to his property. He didn't give a damn and before we knew it our star player was on his way to Stoke. Burnley fans turned against him, some never forgave him but in his own stubborn way he carried on.
He had enemies everywhere in the game, nobody liked him. That's what you used to hear. Strange then that he was elected as a Vice President of the Football League and was also a member of the Football Association's Cup committee. He was elected into these positions and that suggests that he did have friends in the game.
The year after the Championship was won life became more difficult at Burnley as the maximum wage for players of £20 per week was lifted. Suddenly Burnley were having to compete with much bigger clubs who could pay higher wages without difficulty. In an attempt to remain a top club Burnley's youth policy started to work overtime and from time to time players had to be sold to balance the books.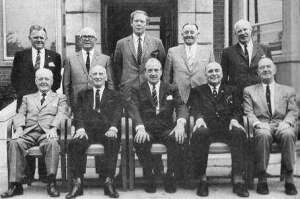 Football League officials
For a while it seemed to work. John Connelly left for Manchester United and was replaced by Willie Morgan, when Morgan followed the same route in came Dave Thomas. That's how it had to be and it enabled Lord to keep us in the top flight until 1971. All the other Lancashire clubs had gone before us, but the modern game had finally had its say on Bob Lord and Burnley Football Club. Other clubs were competing for the youngsters and the great days were over.
In the 1960s Bob Lord had brought in another former player in Jack Butterfield to launch the Turf Moor Development Association. Commercialism had arrived on Brunshaw Road as Jack started daily draws, weekly draws, bingo tickets and golden goal competitions. He recruited fans to act as agents and the money started to come in.
Bob Lord didn't like it, he really would have much preferred to see the club run without any of this. Sponsorship was the next to arrive and this was something else that he fought off until he finally realised that the money it could bring in was very much needed.
After a short spell back at the top in the mid 70s things really started to go wrong. During our last season in the top flight Bob Lord seemed to be falling out with too many people. Jimmy Adamson, who had replaced Harry Potts as manager in 1970, was sensationally sacked, commercial manager Jack Butterfield walked out after disagreements with Lord and a number of players were virtually sacked. Players such as Willie Morgan, Colin Waldron, Doug Collins and Mick Docherty all left the club.
Bob Lord had kept a tight grip on the club for 20 years and more. Despite his style had he left then most people would have said he had done a great job. He was losing his grip but not the control. There were to be five more years of the Bob Lord era.
Having sacked Adamson he gave the job to Joe Brown but only allowed him a year before sacking him. He turned once again to Harry Potts but even the genius of Potts could no longer work the magic for him. In 1979 in what has to be one of the saddest days ever at Turf Moor Harry was sacked and left the club for the last time. Brian Miller, one of Harry's Championship team, was his replacement. He was to be Bob Lord's last managerial appointment.
Brian Miller took over in October 1979 and had no chance of keeping us up. Bob Lord though was still in the spotlight and on a cold January day against Fulham we got a rare win. It wasn't on the pitch though that saw the excitement. There had been a number of run ins between Lord and the Fulham chairman Ernie Clay. On this occasion Clay said something at half time that clearly upset Lord and he was promptly thrown out of the ground.
He saw Burnley relegated to the Third Division for the first time in their history in 1980 and that first season in a new division was to be his last.
At the end of that season Manchester City played Spurs in the Centenary Cup Final. As always Bob Lord was in the official party that made its way down onto the pitch at Wembley to be presented to the players. The game was drawn and when the replay was held he was conspicuous by his absence. Within hours, rumours spread around Burnley that he was seriously ill and for once the rumours were true. The indestructible Bob Lord had one final battle to fight, with cancer.
The new season started badly amidst all the turmoil. Bob Lord was at the first home game of the season, it was to be his last. Manager Brian Miller was rushed into hospital as we lost six of the first eight games. On the morning of the ninth game at Portsmouth Bob Lord announced he was selling his shares. Ironically the Clarets won that day and weren't to lose again in the next twenty league games.
Within a week John Jackson became the new chairman and the club immediately started to change. Bob Lord did remain a director but his final battle was lost on the 8th December 1981. The Clarets were at home that night in a Group Cup game against Watford. The game was won 2-1 with goals from Derek Scott and David Holt in front of just 2,658.
Burnley Football Club was never to be the same again, the curtain had finally come down on the Lord years.
What was he like? It's difficult for me to say, I was a supporter and therefore the sworn enemy. He rarely spoke with fans, I always got the impression that he would have preferred us not to be there. Just occasionally you saw him speaking to selected supporters, and I was once privileged to be in a group that received his attention. I was with two great Burnley fans of the time in Brian Wren and Roy Kilby, both sadly no longer with us. I just wonder whether Roy was asking for advice in case any member of his family were ever to take over.
At the first game of 1981, at Brentford, he was sat on the team coach when a young supporter leaned in and said 'Happy New Year Mr. Lord'. He would have been around 7 or 8 years old and was wearing new scarf, bob cap etc. He was ignored so tried again. Again ignored he climbed onto the first step of the coach and repeated his greeting. This time a reply, 'Get off this bus,' said the Burnley chairman.
He did have an amazing ability to upset people though and didn't like it when things didn't go his own way. He once stood for President of the Football League and was totally confident that he would be elected by a comfortable margin. In the end he lost out to Newcastle's Lord Westwood, a dodgy looking character with a patch over one eye. People who he thought would back him didn't and he didn't like it. He called the decision a disgrace and said the problem was the fact that Lord came at the wrong end of his name. "I wasn't born with a silver spoon in my mouth," he added.
He always put Burnley first. On one occasion, during one of his regular disagreements with the television companies, he decided he didn't want the cameras inside Turf Moor. He said very publicly, "If the BBC don't shift their cameras from Turf Moor I'll be down there myself and personally burn them. They are on the ground without our consent and I don't care if even Harold Wilson (then Prime Minister) has given them permission."
The year of 1974 though was his peak for TV arguments. He banned all the Burnley directors from Elland Road because then Leeds chairman had took offence at his remarks about Jews and the way television was being run by them. The banned directors missed a treat as Burnley won 4-1. Only weeks before the BBC had to show a League game on their FA Cup special as Lord banned the cameras yet again from Turf Moor for our 6th round tie against Wrexham, a game we won 1-0.
When we complain today about the lack of positive comment from the media this might explain why to some extent.
When a group of supporters suggested a Supporters' Club he said, "We are not having an official supporters' club at Burnley. They cause a lot of problems because the people who run them eventually want the football club power."
I think it is safe to say he was his own man.
Last week I had the pleasure of talking to his widow Hilda, a lovely lady. She repeated something that she had told me years earlier, I'm sure she was really joking but having said he was a good husband and father added that he put the club before her. I don't believe that for one minute Mrs. Lord but it does highlight just how much Burnley Football Club really did mean to Bob Lord.
No matter what our club achieves in the future though there will never quite be anything again like the Lord years.
This article was originally published on 8th December 2001 and is reproduced on ten years later on the 30th anniversary of the death of Bob Lord.