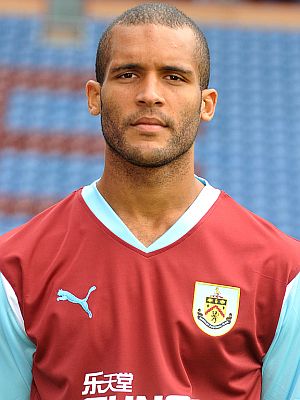 Clarke Carlisle played in Howe's first game in charge
Stan Ternent used to be obsessed with it; Steve Cotterill even more so, and we all recall Howe's relief when we finally got the hang of keeping clean sheets during last season.
It helps if you have a settled defence; it helps if you have some experience in there, but it has been (and I think we all hope now that it is very much past tense) a real problem at Burnley during Howe's time as manager.
It's hardly a surprise given the change of personnel, sometimes at very short notice, that has blighted his decision making in terms of the back four but now, hopefully, it is going to be a different story next season.
Let's cast our minds back to January 2011, to Scunthorpe and his first game in charge. We lined up that day with a back four consisting of Tyrone Mears, Michael Duff, Clarke Carlisle and Danny Fox. All four of them had played for us in the Premier League and two of them, Mears and Carlisle, were first choice during that season whilst Fox had arrived in the January transfer window.
Carlisle was forced off by half time with an injury in that game at Scunthorpe and replaced by Andre Bikey (as he was called at the time). There was no real evidence then of too many problems to be fair, but Carlisle's loss of form and Bikey's lack of reliability soon changed things.
Decisions had to be made and Carlisle was ushered out to Preston in the summer on a season long loan and Ben Mee was brought in from Manchester City, this after we'd failed to sign Barnsley captain Jason Shackell.
Shackell had gone to Derby and our attentions turned to Stoke's Ryan Shotton. The attempts to sign him became a long running saga, although not quite on the scale of Derek Riordan or Andrew Driver.
Even so, without either Shackell or Shotton, we set off for the South West in pre-season and I think most were happy with the defensive options, that was until the shock news broke that Mears was on his way to Bolton. Mears wanted out so I don't think it was even a surprise to Howe and his team and that became clear with the swiftness in bringing in a replacement, even before Mears had actually moved, with the loan capture of Kieran Trippier, like Mee from Manchester City, just a couple of days later.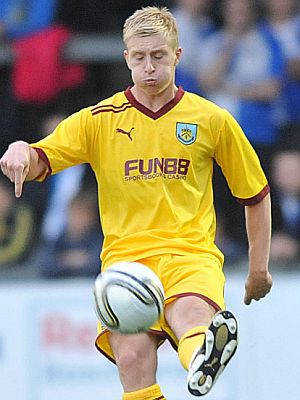 Ben Mee arrived in the 2011 close season
We kicked off the 2011/12 season with a back four of Trippier, Amougou (he'd changed his name by then), Mee and Fox. The same four, three days later, played in the Carling Cup tie against Burton. We conceded five goals in those two games and things didn't look right but the one change made for the trip to Crystal Palace on the following Saturday was unexpected and certainly wasn't the change anyone wanted.
Fox had gone; we'd sold him to Southampton and that meant a place for Brian Easton. A 2-0 defeat there led Howe to say: "Defensively is a big area for concern. The obvious record is we've conceded two in both league games this season so far and that's an area we need to look at."
He went on to say that the Fox sale meant a big opportunity for Easton, one that he would be given, but he did later admit that it was a sale that he didn't want.
We did struggle defensively. The erratic Amougou was in and out of the side, Easton struggled at left back, Edgar was drafted into the middle. Trippier was the only shining light and there only appeared to be some light at the end of our dark defensive tunnel when Duff returned after injury to add some stability and experience.
Such were our frailties defensively that we travelled to Norwich in January this year for an FA Cup tie without the suspended Trippier, who had just committed to Burnley on a permanent basis. Edgar had to move to right back with Amougou turning in a farce of a performance in the middle, so much so that we ended the game with Alex MacDonald at right back, Edgar back in the middle and the Cameroon banished, never to be seen again in a Burnley shirt. The one further bit of bright news was Mee following Trippier in becoming a full time Claret.
I think that Norwich game might have been the low point defnesively until we saw Easton's efforts in the second half at Watford. Amougou had gone and now this was the final chance for the Scottish left back who left the pitch that day with his last Burnley game behind him.
It had been a difficult year for the manager, certainly in terms of trying to select a back four. He didn't have enough players; the best two, the full backs, had been sold, and to top it all we just didn't have enough players for the defensive positions.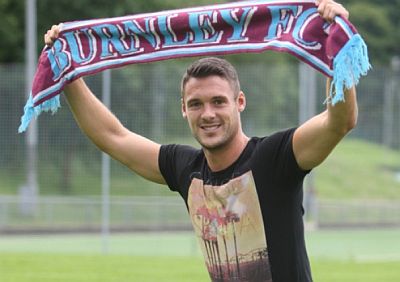 Jason Shackell, the big summer signing from Derby
That's behind us now. Let's move forward to today, just two days after the signing of Reading's Joseph Mills on loan. With other signings we've now got two right backs, Trippier and Luke O'Neill (a summer recruit from Mansfield), two left backs, Danny Lafferty (who arrived from Derry in January) and Mills, and four central defenders in Duff, Edgar, Mee and the big signing of Shackell, a year after Howe made his first move for the player. He was the player Howe wanted to bring in a year ago, this time he's got his man, landing him on a four year deal from Derby.
Howe admitted last August that he had concerns defensively. Yesterday, with Mills settling in, he said: "Defensively we are strong. We have good cover in all positions and a really nice balance of left footers, right footers, height and athleticism.
"I am pleased with how we are looking at the back and we are finished in that regard. Now it's a case of turning our attention to other areas of the pitch where we need to improve, but the squad is coming along nicely."
It's taken time, over a year, but he's got the defenders he wants. Of the eight, six have been signed by Howe to add to Duff and Edgar.
That's the case for the defence - now it's the midfield and the forwards.