I intended penning this short review at the beginning of the week, but, despite receiving reassuring messages from all directions that there was nothing in it, the bookmakers having our manager as favourite for the Sunderland job led me to delay it by a few days.
One of my very best friends is a Sunderland fan. He was the first to alert me to the news up there that our manager was on their radar. He wasn't best pleased and when I looked at some of their forums and on social media I couldn't believe what I was reading.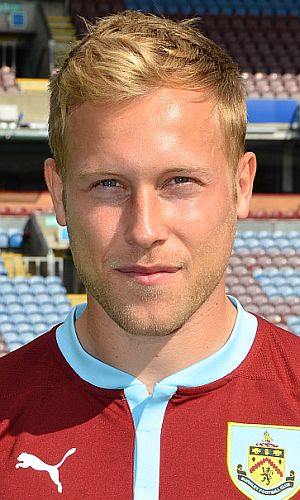 Scott Arfield scored the first goal of the season
This was a group of fans who had not bothered to do any research at all and could only see a failed manager, and Sunderland have had plenty of those in recent years.
On the subject of failed managers, it reminded me that back in 2010 we appointed Brian Laws who had just been sacked by a Championship club. It looks as though Newcastle are about to do just the same.
Back to Sunderland and the only comment I read that even suggested he might be a decent appointment came from a Blackburn fan on the Sunderland Echo web site. It read: "As a Blackburn fan I sincerely hope you take Dyche from the Dingles. What he has done there is nothing short of a miracle.
"You want a 'big name' but it's mostly folly. What you'll end up with is an unproven foreigner. What you lot need is stability, backbone and an ability to get the best out of the players.
"Dyche did a fantastic job of doing that at Watford and an unbelievable job down the road from us. Granted he didn't keep them up but they finished five points off having spent next to nothing on a squad that were favourites for relegation to League One 24 months ago.
"I hate that club with every bone in my body but having nothing but pure respect for what that guy has done with their team. Imagine what he could achieve given a little backing."
I suppose it is similar to the nonsense I've read about Danny Ings too from the supporters of those clubs interested in him. I don't think they are capable of looking beyond the one fact that he scored eleven goals for a relegated club.
Danny won't be with us for much longer, but he was with us as we enjoyed just a second season at English football's top table in 39 years, and despite the outcome I haven't just thrown in the word enjoyed. It's been frustrating at times but overall it is a season I have enjoyed.
Just yesterday, I sat and watched the BBC highlights of the Wigan win last season, revelling in the promotion that was confirmed when the final whistle blew. It was a win, and a season, that led us once more into a league that houses clubs so much bigger than ours that it can be somewhat daunting.
We are a small club in that league now and will never be anything else. I think we should always realise that, something I don't think the club did when they revealed the standard season ticket and match day prices last close season. I'm not going to get into the retainergate argument all over again but it did dampen the euphoria in the town and led to a lot of unnecessary negativity.
I suppose the first buzz of real excitement came in June with the release of the fixtures. We'd certainly been given a tough home start with Chelsea and Manchester United set to be our first two visiting clubs, and what a shock we got when Chelsea came calling in August.
Scott Arfield gave us the lead but for a period after the opener they frightened me to death. It's fair to say they played us off the park as they recovered from 0-1 to lead 3-1 in no space of time and I wondered what on earth we'd let ourselves in for.
I knew they were one of the better teams in the league, if not the best, but I didn't realise just how good they could be. By the final whistle I left the Turf somewhat relieved there had been no more goals.
No more goals. That summed up our next run of games. We didn't score any in the next five with the one consolation being that we kept three clean sheets. And it was a relief when we got to Nigel's Leicester where we twice came from behind to draw 2-2.
I thought we'd played well that day; I thought we'd deserved our point, but I was quickly put right by Nigel who informed me, and everyone else, that Leicester were better than us, they'd improved and we weren't as good as in the previous season. In suggesting they should have comfortably collected all three points, he virtually referred to us as unprofessional, a term I'd only previously used to describe Stockport County.
Three more defeats followed, the last of which came at Arsenal. We lost 3-0 having held Arsène's Wenger Boys (yes, I used to watch Soccer AM) for all of seventy minutes. Wenger was very complimentary of Dyche and Burnley and I wondered whether he might do us a favour come January with a couple of loans, maybe including Lukas Podolski who was struggling to get game time.
I've sort of brushed past the summer transfer window and moved swiftly into November, but it has to be said it wasn't the greatest of successes. We did bring in ten new players, including two on loan, but none of the bigger signings we'd tried to make had come off. Craig Bryson at Derby, Henri Lansbury at Forest, Watford's Troy Deeney and Craig Dawson at West Brom had all won better contracts with their existing clubs whilst James McArthur had swapped Wigan for Palace.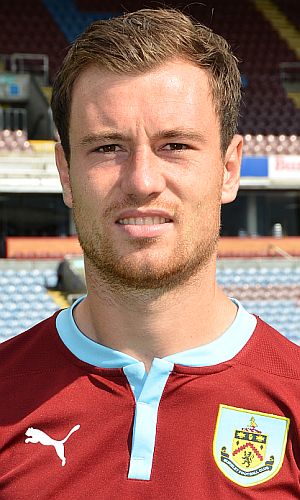 The first winning goal was an Ashley Barnes header
Ashley Barnes had missed out at the Emirates, not even making the match day squad. It led to him going to see the manager which led to him getting a start in the next game against Hull. That, in turn, led to us getting our first win of the season.
His headed goal won it for us 1-0, and all that despite Steve Bruce, who always makes me feel comfortable with my own weight, insisting his side would not be the first to lose to Burnley.
It got better; we went to Stoke for the next game and an Ings double early in the game was enough to win the game for us. Stoke came back to score once and I think it is fair to say they did put us under some pressure in the second half. But credit to our defence; we were brilliant and none more so than Stephen Ward who had settled into the team at left back. It was like the Alamo at one point and we were forced back so far I am sure two of our back four were behind me towards the back of the stand.
The Burnley fans were simply fantastic that afternoon, not for the first time in the season and certainly not for the last time.
Results didn't always go for us but we had a nice little run of games in terms of performance. We should have beaten Newcastle at home and we really could so easily have got something from the away games at QPR and Spurs. We were somewhat fortunate to get a point at home to Villa but it was that man Barnes again scoring the winner at home against Southampton.
Liverpool were here on Boxing Day and how on earth we didn't beat them I don't know. We were head and shoulders better than them in the first half and even after half time we were still the better side. Unfortunately, Raheem Sterling got the only goal of the game. He's looking for more Sterling it seems now; I don't think we'll be bidding for him this summer.
If we are going to play like that and get nothing, where are the points going to come from? It was Man City next at the Etihad and once both David Silva and Fernandinho had scored to give them a 2-0 first half lead, you wondered just what the final score might be.
I'm glass half full, but even I couldn't have envisaged what was going to happen in the second half. Yes, we got a fortunate decision when we pulled one goal back, but the second half performance was simply brilliant and I can't find the words to describe Barnes' performance. Dyche described it as one of the best centre forward displays he'd seen in years.
It was minute 81 when he scored our equaliser, a minute that would become even more significant a few weeks later. I recall celebrating at the Etihad last time when we drew 3-3 with Kevin McDonald scoring late, but this eclipsed it.
It was sensational and after the game I heard Andy Hinchcliffe, on stage in the fanzone, say: "If Barnes had been playing for City, then City would have won." That was unfair on the rest of our team that day but there was someone from the opposition side appreciating just how good I-I-Ashley was that day.
We were looking a decent side now and the 3-3 draw that followed at Newcastle was incredible. Three substitutions forced on us in just over half an hour, three times behind and yet we came back three times.
I'm not sure how I ever got to that game. I wasn't at all well, but I'm pleased I was there in that lofty perch which affords views of almost the entire North East. Someone did say they'd spotted the Eiffel Tower.
No wonder we weren't at our best in the first half as Jason Shackell, Dean Marney and then Kevin Long were all forced off with injury and illness, Long suffering a cruciate injury on his Premier League debut.
But that second half show will live long in the memory. I spoke to John B after the game and he told me the performance from the fans matched that of the players on the pitch. I'd wondered whether anyone lower down could have actually heard us, but Newcastle fans arrived on our message board that night to talk about our wonderful support, the best, they said, that had been at St. James' Park all season.
A win against QPR followed but then came the sticky patch that I think, ultimately, cost us. We led 2-0 in each of the next two home games against struggling teams but picked up just one point and on the last Saturday in January, between those two games, we turned in what I think was our worst performance of the season at Sunderland.
There was worse to follow that Sunderland game. Two days later the transfer window slammed shut without us having made a signing other than converting Michael Keane's loan into a permanent deal.
Six days later, in the second of those games where we led 2-0, things went horribly wrong. West Brom were the opponents. Twice they scored from corners whilst pushing and shoving us all over the place, but that was after Dean Marney had become the second player in 2015 to suffer a ruptured anterior cruciate ligament. We were two up at the time and coasting. Sadly, we had no replacement.
The next two games were memorable for very different reasons. They were the reverse of our first two home fixtures, firstly at United and then at Chelsea.
The bottom line is we lost 3-1 at Old Trafford, but the first half performance from the Clarets was simply sensational. Again we conceded twice from corners, but our overall performance was one to savour.
Ings, Kieran Trippier and the brilliant David Jones were the star performers but I don't think anyone didn't play well. Unfortunately the goal right on half time proved crucial; United scored from the penalty spot in the second half and we lost 3-1.
Minute 81 and Ben Mee equalises at Stamford Bridge
Then it was Chelsea, and how we upset the Portuguese one. He wasn't happy with Barnes passing the ball and making contact with Nemanja Matic. He thought they should have had a handful of penalties too and I reckon he believed Martin Atkinson should probably have sent off at least three Burnley players.
It was no surprise; he'd been telling us all season of this conspiracy against Chelsea. He had a long list of decisions that went against his team. He rambled on about minutes, he railroaded his way onto Goals on Sunday, but minute 81 (and I said it would become significant) was the one that mattered when Ben Mee headed in the equaliser.
The biggest win of the season wasn't far away. Three games later we beat Manchester City 1-0 on the Turf with a wonderful George Boyd goal. It really was a special goal to beat the champions, but goals were becoming a rarity again and, after the draw at Chelsea, this was the only one we scored in nine games.
There was an easy target for some fans. We knew Ings was leaving us so he was getting the blame from some for the goal drought. I even heard nonsense that he wasn't trying and that he was responsible for the relegation that was on the way.
I say nonsense because that's exactly what it was. I have to say that I don't think the Ings story helped us during the season. It became a long running saga that even Dyche got fed up of at times when he seemed to be asked about nothing else in pre-match press conferences. Still, he did get a Spanish donkey out of it.
As for Ings; not once did I ever think his commitment should be questioned. If I was to be critical of him then I'd suggest it was only because he became an increasingly frustrated figure on the pitch when the goals weren't going in.
The last four of those goalless games were the killers. We lost all of them 1-0. I'm not going to suggest we deserved better from some of them but things didn't go our way and it certainly didn't help us to have Mike Jones and Jon Moss refereeing the two away games at Everton and West Ham. They were both shameful homer performances from those two referees.
I'd like to forget Leicester but it wouldn't be right. A win here could really have changed things but a missed penalty followed by a Leicester winner less than a minute later left us all stunned and all but accepting our fate.
They always say that ending a season on a positive is a potential pointer to a good season to come. Two years ago we collected seven points from our last three games and then went on to win promotion.
We've done just that again although I suppose the win at Hull can almost be discounted on the basis that it's what we always seem to do. But to end the season with one of those rarities called a win at Villa was a nice way to go out even if there was bad news to follow with yet another cruciate, this time Barnes the victim.
Five years ago you could hardly suggest things were harmonious at Turf Moor after we'd suffered relegation under Brian Laws. The fans didn't want the former Claret as manager and at least one player has admitted that they just about downed tools.
We've gone down again and this time we've gone down with a manager who only a foolish few would like to see leave. It says something for a manager who takes a team down and gets the sort of ovation he got at the end of the last game.
We've got a manager who, although surely frustrated at not being able to bring some players in that he'd targeted, is fully behind the club's plans and has certainly played a massive role in what we hope will finally give us a state of the art training ground at Gawthorpe.
It's back to the Championship next season, back to 46 league games and a few midweeks thrown in. It will be our 16th consecutive season in the top two divisions. I reckon that, for a club who had languished down below for most of the previous twenty years, is something to shout about.
Onwards and upwards as our manager would say.