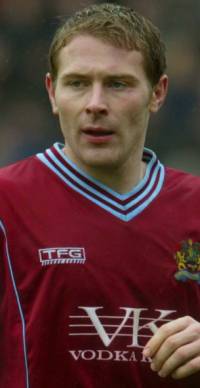 Ian Moore - scored our first goals of the year at Mansfield

It has been a year of change without doubt, a year when we came too close to relegation and one that has seen a change of manager, the Turf sold off and an England international and that's just for starters.



We'd left the old year with four successive defeats with worries that we could well be in a fight at the bottom of the league. The New Year got off to a reasonable start though and we were unbeaten in the first six matches and that included getting through two rounds of the FA Cup.

The year opened with the first of those FA Cup wins with Ian Moore getting both in a 2-0 win at Mansfield.



Stan Ternent even brought in three new players on loan towards the end of January with Bradley Orr, Neil Wood and Paul Rachubka arriving from Newcastle, Manchester United and Charlton respectively, all for an initial month.



Only one of the four league games was won though, a 1-0 victory against Gillingham on a day when the Wall of Legends was opened and we were treated to a parade of Burnley greats from the 60s onwards.



A cup defeat at Millwall in February was marred with Mo Camara having to suffer racial abuse from the home crowd and a couple of weeks later it was the same again at the same ground as we lost our first league game of 2004.



The week before provided us with one of the most exciting games of the year when he all but lost a 3-0 lead against Ipswich. At 3-2 they hit the woodwork before we broke to score a fourth.



That was on a special day when Ben Golby and Paul Warburton, with the help of this web site, raised over £1,700 for the club who had suddenly found a big black hole where almost three quarters of a million should be.



As it got tighter at the bottom of the league in March we turned in a rock bottom performance at Coventry and were somewhat fortunate to come away with a 4-0 beating, it really could have been at least double that.



Wins at Bradford and Walsall were vital but there was an incredible match in between when we three times went in front against leaders Norwich at the Turf only to lose 5-3. That was on a vital weekend at Burnley with a working group being given a unanimous yes vote to set up a Supporters Trust.



If the wins at Bradford and Walsall were vital then the home wins against Franchise and Derby were essential as the season drew to a close and without them we would almost certainly go down.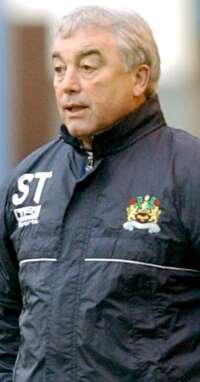 Stan Ternent - contract not renewed

The following week another desperate defeat, this time 3-0 at Rotherham, didn't matter as Walsall were beaten at Palace – we were safe.



That was at the beginning of May which proved to be a very difficult time for me and certainly so for manager Stan Ternent who learned that he would not be offered another contract. This ensured the last match, incredibly against Sunderland the team he had supported as a boy, would be an emotional day.

We couldn't end his reign with a win and went down 2-1 after taking a 1-0 lead, something we had done in every home game in the year.



Players left, Glen Little was off to Reading whilst David May, Mark McGregor, Paul Weller and Dean West were on their way to pastures new. We waited, and waited, and waited for news of a new manager.



It went on for a month with names flitting in and out – eventually Steve Cotterill was named as the new boss and by the end of the month he had signed John McGreal, brought in a scout, a physio and two new coaches and arranged a trip to Austria.



During the pre-season games Michael Duff, Danny Coyne, Micah Hyde and Frank Sinclair were added to the squad and after games against Accy, Dundee United and Everton (who looked like a side set to struggle in the Premiership) it was off to Austria as the Burnley fans took over Salzburg.


Back home and the league season got off to a steady start with us finding it difficult to win games whilst teams were struggling to beat us. Nine of the first fourteen league games were drawn but since then we haven't had a draw in eleven subsequent games.

The biggest win during that time was a 3-0 victory over Crewe on a momentous day at the club. John McGreal, Robbie Blake and Richard Chaplow scored the goals but many fans were there long after the match as Clarets Trust was launched, an event that attracted celebrity fans, local dignatories, the MP and ex-Clarets.

The only time we have been outplayed this season was at Plymouth and there have been some brilliant moments. A 3-1 win over Premiership Aston Villa in the Carling Cup was up there and there was that fantastic moment when the final whistle blew at Elland Road to signal a Burnley win, that was one of those 'I was there' nights.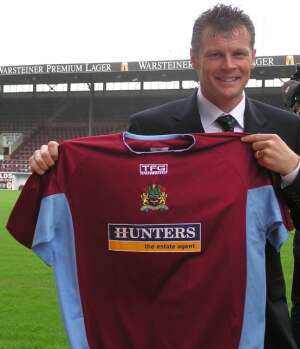 Steve Cotterill - We've had our boat rocked

It hasn't been all plain sailing – we've no ground now for starters as we sold off both the Turf and Gawthorpe to help pay off the debts, and to add to that we have had our boat rocked by some appalling behaviour by a rival club Wigan who have unsettled our captain Robbie Blake.



The player will now leave the club after this but thankfully not to Wigan and he should sign early in 2005 for Birmingham.



We're happy enough though and sit in eleventh place in the table with 36 points. It would be a massive task to make the play offs from there but it should be more than enough to take us into 2005 without any real relegation worries.



It's been a year of change without doubt and hopefully we can build on the progress we have made during the next twelve months. That is as long as we pay the rent and have a ground to play on.