Portsmouth came down with us, and in such a state that they've since suffered two more relegations and at one time last season were seriously threatening to say hello to the Conference.
Birmingham followed a year later and in 2012 we got the big bonuses as an Agent Kean inspired Blackburn and Coyle's toe-to-toe outfit at Bolton joined Wolves in suffering relegation.
Wigan came down last year. They tried going toe-to-toe in their attempts to get back playing against the elite clubs again but, after making changes to that plan during the season, lost out in the play-offs and this month Fulham became the seventh of our 2009/10 opponents to drop down and miss out on a return to fixtures against us next season.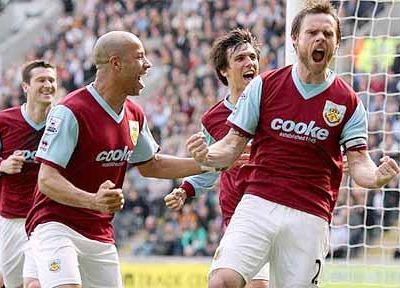 Graham Alexander scored four against Hull in the Premier League
Looking at Wigan. They were beaten by QPR in those play-off semi-finals with the London club then beating Derby in Saturday's final after having only one shot on target all afternoon.
Bobby Zamora beat former Claret Lee Grant in the 90th minute to ensure Harry Redknapp and his team were heading back to the Premier League after just one season in the Championship.
Grant, of course, was at Burnley in 2012/13, and then there was Chris McCann, now at Wigan, not forgetting Martin Paterson who moved to Huddersfield last season. I wonder how much greener they think the grass is now at their current clubs than it was at Turf Moor.
But back to next season in the Premier League and QPR are one of the teams we will be playing next season that weren't there last time; the other six are Crystal Palace, Leicester, Newcastle, Southampton, Swansea and West Brom.
We have to go back all the way to the 1970s for the last time we played all but one of those clubs in the top flight. The exception is Swansea. We've never previously played them at the highest level of English football and next season they will not only join the list of clubs who we have faced up there but also the list of clubs we've played at all four levels of English league football.
We know all of the clubs we'll be playing now and in 23 days we will know when we are playing them. The fixtures will be confirmed at 9 a.m. on Wednesday 18th June with the first fixtures to be played on Saturday 16th August.
Below are our opponents for next season and the results on the last occasion we played them in the top flight.
ARSENAL (2009/10)
Home 1-1 (Graham Alexander pen)
Away 1-3 (David Nugent)
ASTON VILLA (2009/10)
Home 1-1 (Steven Caldwell)
Away 2-5 (Steven Fletcher, Martin Paterson)
CHELSEA (2009/10)
Home 1-2 (Steven Fletcher)
Away 0-3
CRYSTAL PALACE (1970/71)
Home 2-1 (Eric Probert 2)
Away 2-0 (Ralph Coates, Martin Dobson)
EVERTON (2009/10)
Home 1-0 (Wade Elliott)
Away 0-2
HULL CITY (2009/10)
Home 2-0 (Graham Alexander 2(1pen))
Away 4-1 (Martin Paterson, Graham Alexander 2pens, Wade Elliott)
LEICESTER CITY (1975/76)
Home 1-0 (Keith Newton)
Away 2-3 (Peter Noble pen, Leighton James)
LIVERPOOL (2009/10)
Home 0-4
Away 0-4
MANCHESTER CITY (2009/10)
Home 1-6 (Steven Fletcher)
Away 3-3 (Graham Alexander pen, Steven Fletcher, Kevin McDonald)
MANCHESTER UNITED (2009/10)
Home 1-0 (Robbie Blake)
Away 0-3
NEWCASTLE UNITED (1975/76)
Home 0-1
Away 1-0 (Peter Noble)
QUEENS PARK RANGERS (1975/76)
Home 1-0 (Frank Casper)
Away 0-1
SOUTHAMPTON (1973/74)
Home 3-0 (Paul Fletcher, Leighton James, Geoff Nulty)
Away 2-2 (Paul Fletcher, Ray Hankin)
STOKE CITY (2009/10)
Home 1-1 (David Nugent)
Away 0-2
SUNDERLAND (2009/10)
Home 3-1 (Graham Alexander pen, David Nugent 2)
Away 1-2 (Steven Thompson)
SWANSEA CITY
TOTTENHAM HOTSPUR (2009/10)
Home 4-2 (Wade Elliott, Jack Cork, Martin Paterson, Steven Thompson)
Away 0-5
WEST BROMWICH ALBION (1970/71)
Home 1-1 (Steve Kindon)
Away 0-1
WEST HAM UNITED (2009/10)
Home 2-1 (David Nugent, Danny Fox)
Away 3-5 (Steven Fletcher 2, Chris Eagles)