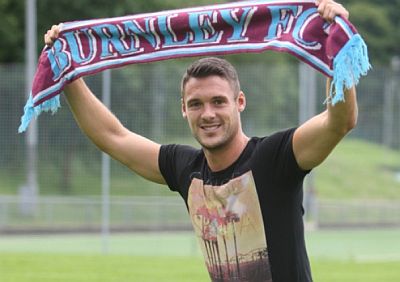 Pic by kind permission of Burnley Express
Some transfers are met with a reasonable amount of enthusiasm by supporters, some not quite so enthusiastically and then there are some where fans express a total lack of positivity even before the ink has dried on the transfer forms.
We can all find examples to fit into all three of those categories but as we look back at the early morning capture of Derby's Jason Shackell yesterday there is absolutely no doubt that this signing has very much fit into the first category and beyond.
Now, not for a minute am I suggesting that the signing of Shackell can be compared with the day in February 2000 when we learned Ian Wright was to become a Burnley player, nor even the return of Robbie Blake in 2007 that was met with such delight, but my word this signing has given everyone a lift as the players return for pre-season training today.
It was all confirmed at 6:00 a.m. yesterday, and I'm not sure I can recall such an early morning transfer before. I think by then we'd all just about realised that the signing was on the cards and the positive comments followed soon after on the message board.
"Finally. Really pleased with this. Sounds like the player we were crying out for all last season. Well done to Eddie and the club for their persistence," said John McGreal.
DavetheVicar described it as: "Great News," whilst claretspice, not one to keep things short, added: "Fantastic news. A huge fillip ahead of pre-season, and a massive vindication of Howe's single-mindedness and refusal to panic and be blown off course. A massive statement from the board, too, who have backed Eddie not just with a substantial transfer fee for a 28 year old, but 4 years of no doubt substantial wages."
Not everyone was happy but those disappointed were, in the main, Derby fans. Some visited the Eli's message board. One said: "Very good signing for you boys. I'm really sorry to see him leaving. Another added: "As a Derby fan I feel robbed. Shacks is easily one of the best centre backs in this division without any argument."
It was a recurring theme from Derby fans who also expressed their dismay on local radio and in their local press and, back to our fans, feej72 said: "It's not often we sign a player where the reviews of him from other fans are so positive."
The name of Jason Shackell was linked to Burnley over a year ago. It soon became evident that he was Eddie Howe's main target in the summer of 2011. Eddie and Burnley missed out when the central defender, then at Barnsley, moved to Derby.
Howe, undoubtedly, can be almost obsessive when it comes to chasing his targets. It can, at times, be a negative and we saw that last season with the chase for Stoke's Ryan Shotton. But, it can also be a positive and we've seen that now with this signing.
Had we not made it then Shackell might have become the 2012 version of Andrew Driver or Derek Riordan, but we have made it and I don't think anyone is more delighted than Howe himself.
"He is someone we have admired for a long time. He's an excellent player, a very good footballer who will definitely fit into our style of play," he enthused.
"Also off the pitch he is a leader and a really good character and someone we are really pleased to add to what we've got. He has everything you want in a modern centre-half and I think he will add a lot to us, hopefully for a period of time.
"Adding another leader into the pack was crucial for us and I think we've done that now."
You would think that Shackell is already pencilled in for one of those central defensive places on the opening day against Bolton but Howe reminded everyone of the competition.
"With Michael Duff, David Edgar and Ben Mee there is real competition for places and four very good players," he said.
"We have really good centre-halves and competition for places will be fierce, which is what you want in all positions. I am looking forward to the four of them working together, forming a team and pushing each other on to better performances."
That just left the player. What did he think of it all? On a visit to Gawthorpe ahead of the first day back today, he quickly removed the one slight concern that he does move clubs regularly.
Asked about how the move came about, and was he surprised to be on the move again, he said: "Nothing surprises me in this game. You never know what is happening behind the scenes, you just keep your head down.
"I think they (Derby) were keen to get a bit of cash in and try to improve other areas but that's done now. I'm looking forward and focusing on having a good few years at Burnley.
"I'll be looking forward to playing against Derby. I had a good year there and I got on very well with the lads. It is a fantastic club and I really did enjoy my time there."
He continued: "Once I got the green light to talk to Burnley and I met the gaffer it wasn't really a decision then. It was done in my head and I am really happy to have signed.
"I have moved a lot in the last few years so I am looking to get settled and hang my hat somewhere for a while. Hopefully this is the right place for me and I can be here for a good few years to come and do well.
"I wanted to show commitment to the club and they have shown commitment to me with giving me the four-year deal and hopefully that can be beneficial for both me and the club, and we are going to have a successful time."
He has ambitions, as do Burnley, to win promotion. "Everybody wants to play at the highest level. That's not in doubt and I am no different. I want to get back up there and have another crack. I still feel like I've got time," he added.
"It's going to be a tough league, tougher than last year I think with the clubs that have come up and those that have come down, but I think we can be quietly confident.
"There's no reason at all why we can't do well. I think they have a strong squad here. They have always got goals in them with some talented boys up top and some strong, experienced players.
"I am honestly very optimistic about next season and really looking forward to it. It's an exciting time for me and hopefully it will be for the club too."
So, maybe not quite Ian Wright (or even Robbie) but there is no doubt that everyone with an interest in Burnley Football Club received a massive boost yesterday with the signing of Jason Shackell.