I've no intention of getting into any further debate regards Margaret Thatcher other than to confirm, very thankfully, I am not on the invitation list for the funeral.
"She didn't get sport," I read this week from one of her former colleagues. That probably explains why she was a vice president of Blackburn Rovers. However, even they have confirmed they won't be staging a minute's silence this weekend.
The football authorities decided, very wisely, against a minute's silence being held at league and cup games too although this hasn't stopped a couple of Premier League chairman from speaking out.
Dave Whelan wants a minute's silence to be observed before his team Wigan's FA Cup Semi-Final and John Madejski has backed similar for Reading's league game against Liverpool.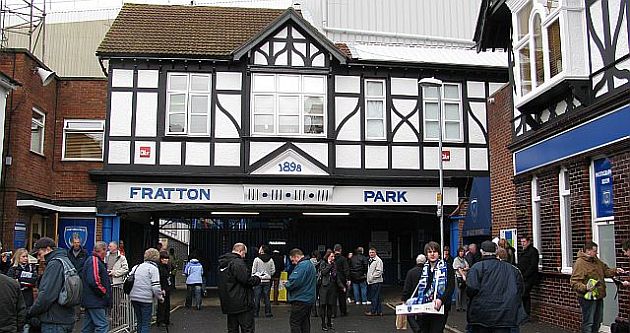 Fratton Park set to be owned by the Pompey fans
Whelan, who broke a leg at Wembley in the 1960 FA Cup Final, will be OK. There are going to be enough empty seats in Wembley to generate enough silence. They simply can't sell them to such an extent that the FA have opened up a neutral zone.
It will be like going to Fulham but this could have been avoided. Surely Wigan would have sold more tickets had a free pie been thrown in with each one.
Reading have decided to go ahead with a minute's silence but have now confirmed it is in memory of the 96 who died at Hillsborough in 1989. The game comes two days before the anniversary but for the life of me I don't think Reading have made the wisest of decisions.
Just as they didn't when they sacked Brian McDermott recently, again according to Madejski who is still chairman but is no longer in control. "I was sad to see Brian McDermott go, I would have kept him," he said.
It's all harmonious then in Berkshire but will it be on the banks of the Tyne this weekend? It's the big local derby up there when Sunderland fans travel, and not forced onto buses, to St. James' Park to face Newcastle.
Now this will be Paolo Di Canio's second game in charge of the Mackems and that has encouraged the Northumbria police to issue a warning that there must be no taunting of the Sunderland manager with fascist salutes.
"Offensive gestures, particularly those with a suggestion of racist connotations, are completely unacceptable," said Ch Supt Steve Neill. "We will take positive action against anyone seen acting in an offensive or racist manner."
Fascist salutes at derbies? That's a new one on me. I thought it was standard procedure at these games now to allow chickens to run free down the touchline.
That takes me nicely on to our local rivals and hardly a week goes by without something to write about them. This week we've had the whole lot of them, well four, going off to Pune in India to see the Matriarch Mrs Desai.
It all seems to be about Henning Berg's contract. He was manager number three I think this season, although it is difficult to keep count. He's after his money and wants more than some thought he was due. Was the contract changed? That's the theory.
Mixed messages are coming out of Ewood but when did they not? Has Derek Shaw gone? Is he still the man in charge? Has he spoken to Shebby yet? Has Henning Berg been paid? And who will be the manager this weekend?
One thing we do know is Shebby is still in India and the other three didn't see him during the time they were there. That's according to Paul Agnew who has asked for unity ahead of the run in as they face a potential second relegation whilst revealing that now is not the time to be talking about Shebby. There is no unity there, that's for sure.
They are not the only club in a mess. Coventry have decided not to appeal against the ten point penalty incurred when they, sort of, went into administration but yesterday there was finally some good news for Portsmouth fans.
At 4:10 p.m. a judge, in theory, handed supporters the keys to Fratton Park and if the sale of the ground by the administrators does go ahead then Portsmouth, expected to be in League Two next season, could be a fan owned club.
They will be one set of very fortunate football supporters. They could and should have lost their club more than once in recent times but we can only hope that the queue of suspect owners is something of the past down there.
Clubs owned by fans. It's not new but it doesn't always work although I'm not sure you could call the owners of Ebbsfleet fans in the same way. This was via an internet group who all paid a fee and bought into the club.
At the time I thought it was a novelty that wouldn't work but they did raise the money and decided, after a vote, to buy a 75% share of Ebbsfleet in January 2008.
There were suggestions initially that all members would have a vote on team selection and goodness knows what but it sort of settled down and the club had some success.
It did work, for a while. By the end of the 2007/08 season they had 30,000 members and by September number 31,000 signed up. When renewal time came up in 2009 the numbers were reduced to less than 9,500 and the numbers have continued to reduce with them now having under 1,000 members.
That's left the club in a bad state. There's no money available and they are heading out of the Blue Square Premier League. If that wasn't enough, they had a long trip to Barrow last week. Kick off was delayed for over an hour and a half because the Ebbsfleet team were held up because of a spillage of beans on the M6. What made it worse was that there was no toast.
You'd think managers might be safe in their jobs for now, at least until the end of the season. That's proved not to be the case. With Leeds just about to appoint Brian McDermott, that's him from Reading and not from the Rhinos, fellow Yorkshire team Sheffield United have decided to sack theirs.
They are not in a good run of form, one win in six, but are still in a play off position. But it's not good enough and Danny Wilson went last night after this week's defeat against Crawley with Chris Morgan stepping in.
Neil Warnock was manager there from late 1999 to the end of the 2006/07 season but there's been nothing permanent about the manager's position there since with Bryan Robson, Kevin Blackwell, Gary Speed, Micky Adams and now Wilson all having left.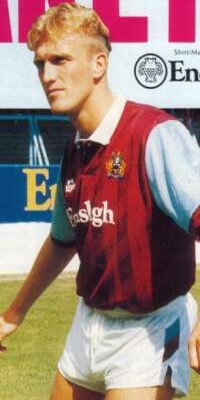 Another Wembley win for Davis
They say there's a fine line between success and failure and Wilson has found himself on the wrong side of the line. If that line is a goal line then we are ready for change in the Premier League with the new goal line technology given the go ahead.
It will be in place for the start of next season with Hawk-Eye having been chosen. I wonder if they'll get Bumble and Nasser Hussain to do the commentaries given their experience with Hawk-Eye.
I'm in favour. Whether a ball has crossed the line or not is a matter of fact and not opinion. I reckon there will be few referees against it. It helps them and helps the game. I wonder if we would still have won the World Cup in 1966?
Former Claret Clarke Carlisle has had a microphone in his hand again. He's looking very intellectual these days in specs and has been talking about the racism issue and UEFA's proposal for a ten game ban for racist behaviour.
"That's more what I was expecting from our FA, to lead the way," Clarke said. "After all the talk, government backing and conferences at Downing Street and an FA paper, I find it a little bit embarrassing that the FA have been gazumped by UEFA on this.
"For all the talk we've had for however long now, we produce a 168-page document and UEFA say let's start with a ten match ban."
There's been some promising news one of Carlisle's former team mates at Turf Moor with suggestions that Jay Rodriguez could get an England call up. I hope so. No one would be more pleased than me to see 'one of our own' Jay pull on the three lions at full international level.
To end this week's look around the football world I have to pass on congratulations to another who pulled on our claret and blue shirt, namely Steve Davis who has just enjoyed a second Wembley win in under a year.
He played for us at Wembley, in the 1988 Sherpa Van Final against Wolves, and returned in the same competition as manager of Crewe. They won 2-0 against Southend to add to their League Two play off win there last May against Mark Yates' Cheltenham.
Well done to him.