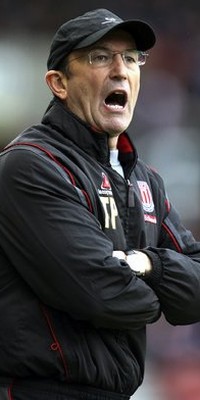 Tony Pulis - decisions not going his way
The referee that particular day was Martin Atkinson and at the end of the game Tony Pulis was at the end of his tether. It is a feeling we know only too well after a series of awful decisions went against us last season as we fought to try and stay in the Premier League.
Remember the Steven Fletcher goal wrongly disallowed for offside against Arsenal, or the two Fulham goals allowed that were not even close to being onside. And then there was the Blackburn game at home and the penalty decision when Martin Olsson conned Mike Dean, probably for me the best referee in the country, because he'd apparently been told by manager Sam Allardyce that this referee gives more penalties than others.
There will always be bad refereeing decisions just as players will also make bad mistakes. Now, suddenly there's an outcry from some because it is perceived the bigger clubs get the benefit of these poor decision. Mark Lawrenson, he of the predictable and boring Match of the Day panel, said as such after the recent one against Stoke. Lawro, the rest of us have known for years.
But back to Pulis who has come up with an idea. He suggested that managers should mark the referees over a season with those referees with the lowest marks being relegated and those with the best marks winning promotion. Why not? It's a competitive game so why shouldn't they be under the same rules as the teams? There is definitely some mileage in it. Just think, had this been operating for a few years it would have ensured Stuart Attwell and Nigel Miller were already names of the past.
I'll never be one to shirk an argument when it comes to referees and I've certainly no problems with them being put under such pressure but I do wonder what sort of performance you might get from an official towards the end of a season if he's already been relegated.
Good idea or not? Whilst I've said there is some mileage in it, in practice it is an impossible system because I don't believe football managers can be trusted to be honest enough and get it right. Let's just look at some recent examples.
We can start with some of our games. Our recent draw at Norwich would have been a win had referee Trevor Kettle, the big bloke who can't run, seen a clear handball. Brian Laws saw it, as did the rest of us, and referred to it after game. I'm sure Norwich boss Paul Lambert saw it too but when asked if he thought it was handball he said he didn't give a damn.
What goes around comes around and it certainly did for Lambert last week when one of his players was sent off at Reading. It was a shocker of a decision from Michael Oliver, and yet again a red card from this referee has been overturned. It cost Lambert's Norwich two points though, just as Kettle's decision had done likewise to Burnley seven days previous. Lambert, got what he should have got a week earlier and was sent to the stands and he's now been charged by The FA for his comments.
Other incidents in the Championship last week highlight the problems. We won our game with a penalty decision that Malky Mackay, the Watford manager, spoke out against. Not a word of criticism for this referee from Brian Laws.
Then down at Fratton Park, two late incidents in the games were dealt with very badly by managers after the game. QPR equalised with a late penalty. Steve Cotterill complained about the decision but Neil Warnock said he thought it was a clear penalty and would still say that even if it wasn't. It wasn't; thanks for your honesty Neil.
Cotterill, meanwhile, four days later accused David Healy of getting Carl Dickinson sent off. Sorry Steve, but the challenge by Dickinson was more than worthy of a red card no matter what the reaction. If you want to start pointing fingers then try your own player.
Referees don't get it right every time; they get it wrong far too often, but can you blame managers sometimes for what they have to say? More often than not a microphone is shoved into their face within a few minutes of the final whistle. The minute they criticise then Big Brother, better known as The FA, come down on them like a ton of bricks. Mind you, they weren't bothered about Olsson's comments last April.
For what it's worth I don't think for one minute the Tony Pulis idea could work because I really don't think managers could be trusted to be honest with their marking. Just like fans, they are up in arms at a decision against them but have nothing to say when a dodgy looking decision goes in their favour.
I think something needs to be done. I've seen enough games myself this season where the referee has had too much of an influence on its outcome because of poor decisions. I'm just not so sure managers would ever be able to judge them fairly.
So it's a no from me for Tony Pulis, but I have to say I do sympathise with some of the decisions going against your team. They do say they even themselves up; I bet Spurs can't wait for Mark Clattenburg to even things up for them at Old Trafford.