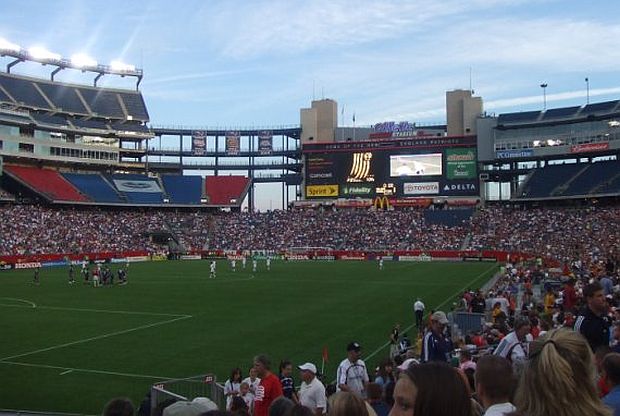 America - could this be the venue for a league game soon for the Clarets
Richard Scudamore was the man behind it from what I could see. His idea is that each club in the league would continue to play each other twice, once at home and once away, and would then add a 39th game to be played in some far flung destination.
Apart from the fact that I, personally, thought it to be a ridiculous idea, I wondered how on earth it would work. Which clubs would be paired in this 39th game? Imagine two clubs fighting relegation, one of them then having to play Chelsea in China whilst the other get a reasonably easy game in Chicago.
The whole concept sounded ridiculous to me then and it still does. Thankfully, the whole idea quickly vanished from whence it came and we all got on playing football as it was intended.
We got our year in the sun; it lasted no more than a year, but now we are right back up there with a voice as something similar appears.
This time it is not quite as daft as the 39th game; no, it's even dafter with the idea that one of the existing 38 games be played abroad. This would leave half of the clubs with just 18 home games in the season whilst the other half would benefit from only playing 18 away games.
'Imagine if we lost the home game against Manchester United', I thought. That is surely the biggest money spinning home game for us with corporate hospitality and the likes. How would we cope?
Maybe Lee Hoos would make the retainer £200 to cover the losses from missing out on such a lucrative fixture at Turf Moor. I bet there would be no hint of reducing the season ticket price to cover the loss of a game.
Seriously though, who is behind this latest idea? Who thinks it is the right thing to do? It distorts the competition and is quite clearly not about football, but about the money making machine that is the Premier League.
Do supporters think it is a good idea? I can't speak on behalf of anyone but myself but I'd think not. Certainly the Football Supporters Federation have immediately spoken out against the idea. They've said, in a statement yesterday, that they expect the proposal to be met with the strongest possible opposition from supporters.
Supporters, needless to say, have not been consulted, but the FSF have reported that they will speak with fans' groups and individuals to formulate an appropriate response.
A spokesman for the FSF said: "Once again the idea of potentially huge changes to the game has arisen without consultation with one of the groups that matters most - the fans."
Who is in favour of it?
I've done some digging and found some to be very much in favour. We'll start with Tim Leiweke. He's the former chief executive of the Seattle Sounders and he believes there to be a huge market for Premier League games to be played in the United States.
He said: "In the US the friendlies have been spectacular, I think the fans know now that the games that count are more meaningful so I would say there is a great appetite in the US for this.
"It's a big debate and it's one that needs to be decided by leagues and fans and even players."
He's been joined by Fifa vice-president Jeffrey Webb. He says it will be good for the Premier League and said: "The US market is a great market not only for the English Premier League but other leagues as well and I believe it's going to be a great promotion for the games."
Strangely he referred to this American adventure as being the ENGLISH Premier League.
He's at odds with Jim Boyce of Northern Ireland, a fellow Fifa vice-president. Boyce says that Fifa prefers league to be played in the countries in which they are based and added: "It is something that needs some serious thinking and the views of Fifa and Uefa must be sought."
Uefa have already spoken on the issue. They opposed the 39th game idea and general secretary Gianni Infantino admitted: "Let's see what the position of Uefa is, but I don't think it will change, it will have to be discussed."
Mark Sutcliffe likes the idea. You don't know him? He's the chief of the FA in Hong Kong so, like the Americans, will be keen on taking games there.
So far we've got people in America and Hong Kong who thinks it's a good idea, presumably along with Scudamore.
My thoughts were that the big clubs might be behind this but alas no. Reports this morning suggest that both the Manchester clubs, Arsenal and Chelsea have expressed opposition to the idea and the only club I can find positive about it, right now, is Swansea and their chairman Huw Jenkins is confident it will happen sooner rather than later.
"There's definitely going to be a run of games played abroad in 12 months or two years," Jenkins said. "That's where it's going to be and where the money is. It's a sad reflection of where football is, but unless we are part of that, it's inevitable we are going to fall behind.
"We have got to make sure, whether we like it or not, we are on board with it."
I thought game 39 was a ridiculous idea and I think this one is equally ridiculous. What worries me is that some people with power will not think so and could push it through, and I'm sick of hearing the reason behind it is that 109,318 turned up to a friendly between Manchester United and Real Madrid.
Maybe I should opt to support a German club because at least they understand the nonsense of it all.
The chief executive officer of the Bundesliga, Christian Seifert, has vowed it won't happen in their league. "It would be completely against our understanding of how the fans should be involved," he said.
"This is a match day which can have an impact on who's going to be relegated, who's going to be champion, who plays Champions League.
"For the financial side, it would be maybe a good idea to play a match day all over the world, but for the supporters, who are visiting 34 games of this club, no matter if it's snow, or rain, or wind - and for that game where the impact is that the team could be relegated, they cannot be there because it is in Thailand.
"I think this would not be an approach for the Bundesliga."
America, Hong Kong and a Welsh club chairman. That's all I've found in favour, people in America wanting games in America and people in Hong Kong wanting games in Hong Kong.
With a Welsh club thrown in for good measure, a Welsh club who were bemoaning the fact only a week ago that they couldn't compete commercially with most clubs in the Premier League.
As always it's about nothing but money. Hopefully this daft idea will find its place alongside the 2008 idea.