With Chris Morgan in caretaker charge they stumbled over the line into the League One play-offs before going out at the semi-final stage against Yeovil and the determination to get the right man in charge took them to the other side of the world.
The target was Graham Arnold, the former Australia manager who won the A-League title with Central Coast Mariners last season. The 49-year-old, who has also managed in Belgium, Holland and Japan, was interviewed for the Bramall Lane hot seat by Blades' directors including former manager Dave Bassett.
I think it is fair to say he won't be turning up in the Steel City any time soon. Speaking to the Australian press he said: "In all honesty, I didn't have to think too long or too hard about it. It just wasn't for me.
Nothing prehistoric about Graham Arnold
"Forget that the financial offer in itself was quite poor, but I would have been taking three steps backwards in my development as a professional coach if I had gone. I walked out of that meeting with the club's board and football director Dave Bassett and said 'Wow'. It just blew me away.
"Being one of the bigger lower league clubs, I was expecting a lot more in terms of how they wanted to develop as a club on the field, but they just didn't seem interested when I was talking about playing a short passing game and taking the football another level up. It was about smashing the ball long and working on set-pieces. It was prehistoric stuff. That's not the way to develop a football team."
No wonder Wilson went if that's how they want to play their football. They'll probably be better off sticking with Morgan if that's how they want to go about it.
Another play-off losing team were Watford and you wonder what happens next for them. They've played this season with so many loan players it was hard to work out just who actually they had on their books permanently.
It looks as though there are plans to stop that loan loophole next season but Watford also have the problem of being under a transfer embargo until 31st August. The Italian franchise will be desperately hoping this transfer window is extended until 2nd September as has been proposed with August ending on a Saturday.
They've also had fans hitting out after getting their phone bills. Wembley tickets were put in the hands of Ticketmaster and some fans have found they've racked up bills of over £100 while sitting in the phone queue.
The response from Ticketmaster spokesman Katie White was simply brilliant. She said: "We can confirm that the charge to callers on 0844 numbers is currently set at a maximum of 5 pence per minute from a BT land line, but other network rates may vary and calls from mobiles can cost significantly more."
Add that to their local paper receiving text messages from former owner and chairman Laurence Bassini who admitted to celebrating the fact that they'd lost at Wembley. Some of the comments included: "This is my happiest memory of Watford" and "I have to go now and open the Champagne" as he revelled in their failure to win promotion.
A deposed former director getting all bitter and twisted taking a swipe. Whatever next?
One of Watford's biggest critics this season was Ian Holloway, Wembley's winning manager. He spoke out very strongly against their 'rule bending' over the loans when they played his Palace team in February.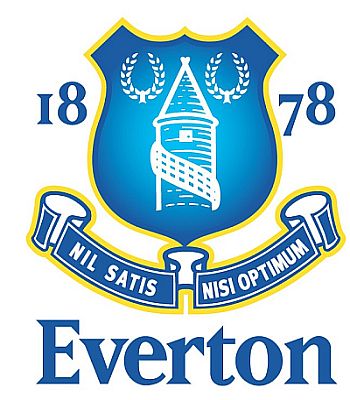 The popular but disbanded badge
Now, Holloway could suffer in just the same way as Sean Dyche did with reports that Palace might just be taking the same route.
Watford are owned by Serie A club Udinese and their move has been under the watch of Aurelio De Laurentilis, the president of Napoli, who has decided he wants to follow suit and is looking for an English club to take over.
Once he's got one he intends removing the manager with immediate effect to replace him with former Napoli manager Edoardo Reja who will reach his 68th birthday in October.
De Laurentilis said: "I called Reja over the last few days and told him I intend to expand my football empire. I want to buy three clubs, including one in England, so I asked Reja if he would be willing to be the coach and he said he's available."
He added: "In my life I have always been in love with Naples and its culture. I want to bring this city around the world."
Having seen the Clarets play Napoli in 1967 in a hostile game at the Turf, and then reading about the incidents in the return leg, the very thought of us having to play a Napoli team again does make me shudder.
The debate over what time of year the World Cup will be held in 2022 continues and the very subject of the Qatar World Cup has had Sepp Blatter making a complete dick of himself again this week.
Fifa has recently passed tough sanctions to clamp down on racism and all forms of discrimination within the game and that led to Blatter being asked about any gay football fans or players who might be attending the World Cup in Qatar where homosexuality remains illegal.
The idiot at the top of the world game said: "What you are speaking about, I do not think it is part of racism, perhaps this is going into ethics and morals. This, I think, is not the time being to bring it now. If you bring it to my attention then I should have a look on that."
On this subject, it was revealed this week that a Championship player had been summonsed under the Public Order Act after Brighton fans complained to the police.
The player in question is Colin Kazim-Richards, himself a former Brighton player, and he's been accused of making gay gestures towards rival players and their supporters during Blackburn's game in Brighton in February. Let's hope they throw the book at this distasteful footballer.
It's good to see in today's football that clubs are listening to their fans before making big decisions.
Last week there was upset amongst fans of all of Everton, Cardiff and Bolton and all for very different reasons.
Everton decided to change their club badge and could never have envisaged the negative reaction from their supporters. In no time at all more than 22,000 had signed a petition criticising the new badge that had done away with the 'Nil Satis, Nisi Optimum' motto.
Apparently chairman Bill Kenwright had demanded widespread consultation before changing it. That didn't happen and the club have now apologised for the lack of consultation. It's too late to change back though and the club's belief is that it needed modernisation.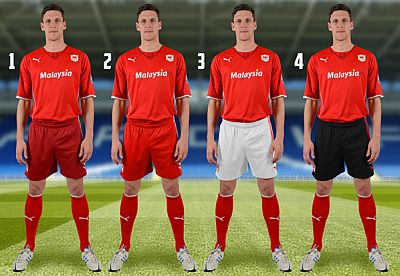 Option number four please
It's a matter of colour at the Premier League's newest club Cardiff. They changed their kit to red last year and for their first ever Premier League season have come up with a kit that is a red shirt and darker red shorts. They've backtracked now and are allowing season ticket holders to choose the colour of the shorts. Sadly for those fans, blue is not an option and the result is they've decided to stick with the black shorts worn during 2012/13 season.
Over at Bolton it is the new shirt sponsor that's caused the fuss. They've signed a two year deal with pay-day loan company QuickQuid and that's had local politicians joining fans in condemning the decision.
The reaction was met by just about nothing from the club, but we've checked QuickQuid's rates and Bolton's new home shirts will cost £40 with a further few thousand to be paid in interest.
As for other supporters; Stoke fans were protesting against the appointment of Mark Hughes as new manager on the day before his appointment was confirmed and any poor Bristol City fan who has booked flights for their pre-season tour has lost out with news that their prestigious trip to Botswana has been cancelled.
They were due to play local teams Township Rollers and Mochudi Centre Chiefs in a triangular tournament but because of delays in work on the national stadium in Gaborone the whole thing has been called off.
Hughes in at Stoke then despite the protests, and today came the confirmation of football's worst kept secret that Jose Mourinho is again Chelsea manager. Tonight Dave Whelan, in his latest 'Me and Roberto' bulletin confirmed he'd agreed a compensation package with Everton for Martinez to replace David Moyes at Goodison.
Mourinho? Sky have changed their schedule tonight with today's news from Stamford Bridge and included a few Mourinho special programmes. Anyone would think he was a special one.