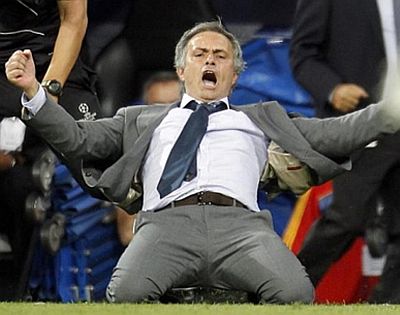 The Happy One
I'm sure Jose Mourinho still thinks of himself as special but yesterday, having returned to the club where he was NOT sacked in 2007 he declared himself the Happy One. Despite the increasing number of grey hairs and the need for reading glasses, he remains the same over confident manager that departed almost six years ago.
He had a dig at Rafa Benitez but that was doing no more than joining in with everyone else involved at Chelsea and he confirmed that John Terry would remain his captain whilst predicting that the league title would return within two years.
So much was it grabbing all the publicity of the day that just over a three mile walk away at Loftus Road the ever changing mind of QPR boss Harry Redknapp went almost unnoticed by those accustomed to speaking to him through a car door window.
Harry finished above Chelsea in the Premier League a year ago but lost his job at Spurs. It's not that long ago he was linked with the Chelsea job but he now faces the task of trying to get QPR back in the Premier League or does he? Last week he was threatening to walk if he didn't get his own way in the transfer market.
He wanted Wayne Bridge. He didn't get him as Bridge decided on a move to Reading. I expected, therefore, to read about his departure but instead he confirmed his commitment to the West London club. Maybe, after the quit threat, he got a bollocking from Sandra when he got home with her not wanting him under her feet all day long.
Or maybe he listened to the words of one of his predecessors Neil Warnock who warned him there would be very few options available to him if he walked out.
Warnock, meanwhile, is a busy man. He was in Huddersfield yesterday signing copies of his new book entitled "The Gaffer: The Trials and Tribulations of a Football Manager". He'd been invited to the signing session at WH Smith's there as a former manager of the local club.
I know he's due in Sheffield too, and Leeds. Maybe he's going to visit shops in all the towns where he's worked. Without listing all the clubs I reckon if he does the lot it will be as lengthy as a fixture list.
There's been a lot of talk about the state of football in this country in the past few days following the dismal failure of the under-21 team. Every man and his dog has chipped in with a word or two but I had to laugh when I saw the comments from Graham Taylor.
He thinks the Premier League is hindering our chances of success at international level. "Commercially the Premier League has been a major success but at the expense of English players," he said.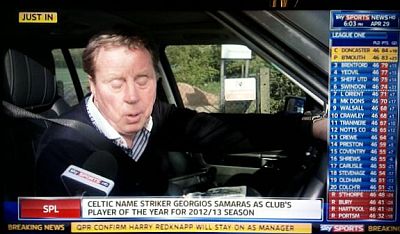 Harry's staying at QPR
The Premier League has just completed its 21st season. The reason for its existence in the first place was to enhance the England team. The league, and it's ideals, were fully supported a the time by the England manager. A reminder of who the England manager was at the time - you've guessed it, Graham Taylor.
The Premier League has changed, particularly because of some clubs finding sugar daddies to feed them with costly and highly paid players. It hasn't gone unnoticed by one supporter of a Lancashire club either who sees his team unable to compete.
"Who else is annoyed with all these sugar daddy owners coming into football? Especially these Russians and Sheiks," wrote a Blackburn fan on one of his club's message boards.
He continued with the wonderful words: "Chelsea started it all off with Abramovich." He was quickly advised by another poster: "I don't think we're really good ones to talk about this are we?" but it didn't deter him.
He didn't think it was a problem when tax exile Jack Walker was throwing money at their club simply because he was a fan. Maybe he's just not a fan of foreign owners. Maybe he doesn't eat chicken.
It is a case of the haves and have nots in football now. Some clubs can pay players outrageous amounts of money while other clubs are seriously having to cut their cloth accordingly.
Amongst our Yorkshire rivals in the Championship are Sheffield Wednesday and things aren't just as they should be there. Owner Milan Mandaric has revealed that they are currently losing £5 million a year with suggestions that he's ready to move out.
"This club is losing money, probably around £5 million and next year won't be any different," he explained. He then added: "I'm not just looking for any buyer, I'm looking for the right buyer who can take this club where it wants to go."
Just down the road at Oakwell, Barnsley offered their goalkeeper Luke Steele a new contract. It was for just one year. Steele was keen to stay but wanted a longer deal. However, manager David Flitcroft explained the reasoning behind the length of contract on offer was due to his age.
From that I assumed Steele must be mid-30s but he's actually just 28. Flitcroft said: "If Luke was 22 then we'd offer him a two year or three year deal, but age is a critical thing and we don't know what our budget will be after this season so we have to plan carefully."
Flitcroft still has film star Ben Alnwick to call on. He's more than welcome to play for them at Burnley where he conceded seven goals in two games for Spurs.
Clubs look to sponsors for money and last week I looked at the situation at Bolton where fans and politicians jointly condemned the local club's deal with new sponsors QuickQuid. Bolton acted quickly.
On their club web site, they confirmed: "The club have taken on board feedback from our fan base and following discussions between chairman Phil Gartside and several local and national politicians, including leader of Bolton council Cliff Morris, will no longer be entering into a sponsorship agreement with QuickQuid."
Well done to them and they were also able to announce local sustainable energy company FibrLec as their new shirt sponsors.
Four weeks tonight and I'll be at Morecambe for a pre-season game and fans up and down the country will be doing the same as their respective clubs prepare for the 2013/14 season.
Charlton will also be visiting a League Two club during pre-season but one that just over three years ago was playing its football in the Premier League.
Two years ago I was accused by a member of Burnley FC's senior management team of ripping off the club because I refused to pay £15, which I considered was too much, to watch a pre-season game against Sunderland.
Since, I've always taken a close look at charges for these games and for Charlton's trip to Portsmouth, as if you hadn't guessed it was them, on Saturday 20th July they can actually pay what they like.
Any supporter paying by credit or debit card can gain entry for £1 or subsequently any multiple of £5. If they pay cash they can, as the advertising says, pay just what they like.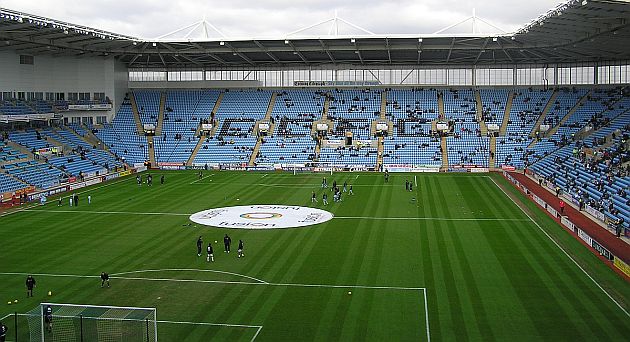 Will the Ricoh be a Football League venue in 2013/14?
I wonder where Coventry will be playing their pre-season fixtures. They are very much today's crisis club in English football and last week came news from administrator Tim Fisher that they were in talks with three other league clubs regarding a ground share for three years until they can build a new stadium in Coventry.
The key is that the club must come out of administration but today's news from the Coventry Telegraph is that one of the six bidders for the club is Arena Coventry Limited (ACL), the part council owned company that runs the Ricoh Stadium, and the very company that recently ended all negotiations over a rent legal dispute.
That interestingly follows a previous statement from ACL which read: "The directors of Arena Coventry Limited have been deeply concerned with how the emotions of Coventry supporters have been tested over recent months and more especially the past few weeks.
"These concerns were discussed in great detail at an ACL board meeting on 7 June 2013, and we have today notified the Football League and the joint administrators of a proposed solution for the coming season.
"To enable the football club to fulfil its commitments under Football League regulations, and to provide stability whilst Coventry City Football Club Limited, which owns the League Share, remains in administration, ACL has agreed to allow the club to play its home games free of any rental fee, therefore removing any need for the supporters to travel outside the city to watch home games."
Coventry's last annual accounts showed losses of £6.7 million and debts of around £70 million. The potential for new owners and playing at the Ricoh is what supporters would back, but there is a long way to go before that could happen.
Meanwhile Burnley move ever closer to restoring ownership of Turf Moor and Gawthorpe to the club.
Finally this week comes news of former Sunderland and Ipswich goalkeeper Marton Fulop. The Hungarian is currently with Asteras Tripoli in Greece but hasn't played since February due to an arm injury.
An operation in April discovered a malignant tumour which, this week, was removed from his arm. He's now facing post-operative treatment and said: "I'd like to train between treatment courses, as the doctors have said this is fine and heartily recommend it."
Did I say finally? There's one more story to go and as always it is a case of last but not least. Just when we thought all was going quiet at Ewood came more farcical news.
Managing director Derek Shaw and operations manager Paul Agnew set off for Portugal to the Football League's AGM. Shaw then phoned Agnew to tell him he was out on his ear. The club did no more than confirm that Agnew no longer worked there.
Is this the work of super hero Shebby? Is this Shebby III - Back with a Vengeance? If so, watch out bumbling Derek, it could just be you next.