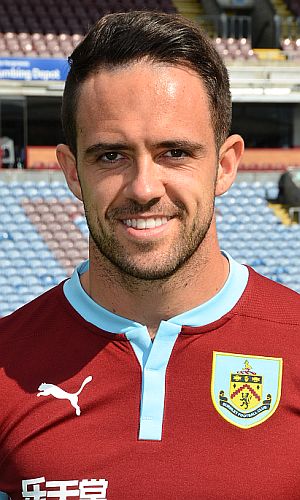 Danny Ings is still a Burnley player
That one signing came on 8th January when Michael Keane, who had been with us on loan from 2nd September, completed a permanent move to Burnley from Man United on a three and a half year deal.
Graham Dorrans, the West Brom midfielder, flitted in and out, as did Wigan's Shaun Maloney who has since joined the growing number of players leaving for America. Even Rudy Gestede got a mention. That would have been an interesting one; I can't remember when we last paid our Football League neighbours a fee for one of their players.
The club remained consistent in telling us they were actively looking for players but that they had to align. Would anyone align? Would we be able to get anyone in?
So, onto the morning of Thursday 29th and all was quiet. That was until Martin_Bell started a thread on the message board to reveal that we'd made the Sky Sports News yellow bar which was claiming that Dundee United had turned down offers from both us and Celtic for their young midfielder Stuart Armstrong.
That sparked things into life with the usual criticism that we'd gone in with a derisory offer despite no confirmation of what the bid had been. It was sort of put to bed when Sean Dyche, in his pre-Sunderland press conference, explained: "We have always been looking to add to the squad. Different offers have been in for players and one has been rejected today.
"He (Armstrong) was more of a development player in our world. We weren't thinking of him as someone who would go straight into the first team."
He added: "He is a good, young player that we think could learn and develop with us, but it won't happen now by the looks of things."
That didn't rule it out (and today's speculation suggests we have gone in with a bigger offer for the Scotland under-21 international) but was clearly not as likely as the club had thought it might be.
I know little about Armstrong and certainly don't think I've seen him play, but again the doubters were out, some even criticising Dyche for his suggestion of him being a development player.
It provided us all with an interest in the transfer window, if only for a few hours, but the big news was yet to come.
Danny Ings says Danny Ings is going nowhere in this window. So does Sean Dyche, so does John B and so does Mike Garlick, but it hasn't stopped the constant speculation with so many clubs linked with him I've lost count.
That big news arrived on the message board not too long before 11 p.m. last night. ClaretBFC88 provided us with a link to an article in the Guardian claiming Liverpool could finalise a deal for Ings before Monday's deadline and then loan him back to us until the end of the season.
It was meltdown time, on the same scale as the summer of 2011 when news broke late one Friday night via the Daily Mail that both Chris Eagles and Tyrone Mears were being sold to Bolton despite the club very quickly denying it via Twitter.
I'd been tipped off on that one and was ready with an article, but the Ings news last night was a shock. I made some phone calls and sent some texts and emails to try and establish if there was anything in it. Nothing was coming back dismissing it I can tell you.
Some on the message board already had him sold; some suggested that this was the perfect scenario. But no one bothered to take much notice of a post from The_Burnleycat some 90 minutes after the news broke; he simply confirmed that such a loan back was against the rules.
The national press didn't think so and neither did Sky Sports News who even this morning were claiming that there was something in it; I suppose it gave Fraser Dainton something to talk about.
I wondered whether the club should say something. Had there been an offer? Were we considering it? By early afternoon those texts, emails and calls had at last come back with a strong suggestion there was nothing in the story.
And that was all confirmed by Lee Hoos who, just before 2 p.m. said: "This type of move would violate Premier League rule V7 regarding transfers so simply cannot happen."
He then added: "This is the last time we will be making any comment regarding the player's future. Over the course of the window, the player himself, Sean Dyche and the chairman have made it clear he won't be going anywhere and we consider that the end of the matter."
Will we make another offer for Armstrong? Will someone else come in for Ings? Will we be signing anyone before the deadline? There's not much over three days to go now and then we'll know.
But at least we've had an interesting 24 hours or so.
Rule V7 comes with in the section on temporary transfers within the Premier League rule book. Rule V7.1 states: "A temporary transfer to a club may not take place in the transfer window in which the transferor club acquired the player's registration.