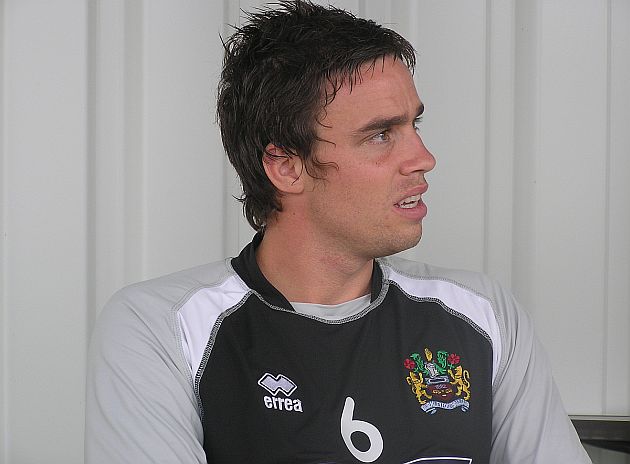 The article, entitled Three hundred not out for the calculated risk, covered his Burnley career from the summer of 2004, when he was signed by new manager Steve Cotterill from Cheltenham, right through to that day and that 300th appearance.
It was a remarkable milestone for a player who, in his time at Turf Moor, had fought back from a ruptured anterior cruciate ligament in 2007 and then found himself, under managers Owen Coyle and Eddie Howe, not being first choice in the team.
His time at Burnley can be split almost equally in two. In the first half he played mainly as a right back, although he did once partner Kyle Lafferty up front against Reading (we lost 3-0). He played at right back in the play-off final at Wembley but since has played exclusively in the centre of defence, the position Cotterill once told me he would make his own.
When he reached that 300 back at the end of September last year, I remember looking to see if he could make it to 300 league appearances before the end of the season. The answer was no; if he played them all he would get to 298, and with the red card at Huddersfield bringing a one match ban his total was 297 when we came off the pitch at Reading at the end of last season.
For some reason his was the name on the team sheet most fans believed would disappear first when we kicked off in the Premier League. But it's not been the case. Not only has he been in the team but he's already given us three more outstanding performances with the very appropriate clean sheet against Manchester United last Saturday coming on the occasion of his 300th league appearance for Burnley.
That's some achievement in today's football, particularly for a player who was 26 when he arrived at Turf Moor having never played higher than League One.
At Burnley it is not just in today's football that it is an achievement; it's not something that has happened to too many Burnley players over the years. In the entire history of the club he becomes only the 20th player to have played in 300 league games for us, and all of the other 19 were younger than Duff when they made their debuts.
Congratulations Duffo and welcome to the top twenty.
The Top Twenty
522: JERRY DAWSON
Debut: v STOCKPORT COUNTY (h) 13th April 1906
Age on debut: 18
439: JIMMY McILROY
Debut: v SUNDERLAND (a) 21st October 1950
Age on debut: 18
439: JOHN ANGUS
Debut: v EVERTON (h) 3rd September 1956
Age on debut: 17
438: ALAN STEVENSON
Debut: v ORIENT (a) 22nd January 1972
Age on debut: 21
434: TOMMY CUMMINGS
Debut: v MANCHESTER CITY (a) 18th December 1948
Age on debut: 20
426: JIMMY ADAMSON
Debut: v BOLTON WANDERERS (a) 10th February 1951
Age on debut: 21
410: MARTIN DOBSON
Debut: v WOLVERHAMPTON WANDERERS (a) 23rd September 1967
Age on debut: 19
400: FRED BARRON
Debut: v NEWCASTLE UNITED (h) 8th October 1898
Age on debut: 19
379: BRIAN MILLER
Debut: v MANCHESTER UNITED (a) 4th February 1956
Age on debut: 19
371: GEORGE WATERFIELD
Debut: v SHEFFIELD UNITED (h) 20th October 1923
Age on debut: 22
346: WILLIE WATSON
Debut: v LEEDS CITY (h) 3rd April 1909
Age on debut: 18
336: LEIGHTON JAMES
Debut: v NOTTINGHAM FOREST (h) 21st November 1970
Age on debut: 17
327: STEVE DAVIS
Debut: v LINCOLN CITY (a) 30th November 1989
Age on debut: 21
323: JOE TAYLOR
Debut: v PRESTON NORTH END (a) 26th January 1895
Age on debut: not known
318: ADAM BLACKLAW
Debut: v CARDIFF CITY (h) 22nd December 1956
Age on debut: 19
316: GEORGE BEEL
Debut: v BIRMINGHAM CITY (h) 5th May 1923
Age on debut: 23
308: COLIN WALDRON
Debut: v SOUTHAMPTON (a) 28th October 1967
Age on debut: 19
301: HAROLD MATHER
Debut: v COVENTRY CITY (h) 31st August 1946
Age on debut: 25
300: BRIAN PILKINGTON
Debut: v TOTTENHAM HOTSPUR (a) 27th September 1952
Age on debut: 19
300: MICHAEL DUFF
Debut: v SHEFFIELD UNITED (h) 7th August 2004
Age on debut: 26