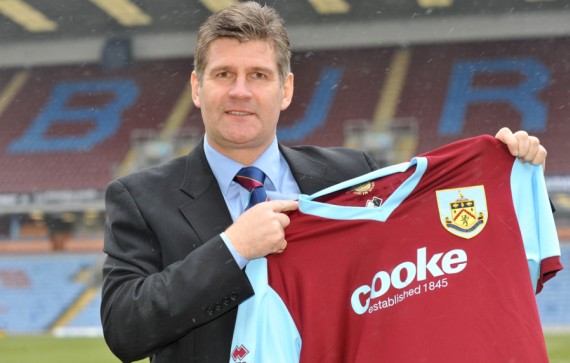 Brian Laws - the Championship's thirteenth longest serving manager
The position of our manager Brian Laws remains subject to speculation but it elsewhere it looks as if more managers could be on the move from Championship clubs in the near future although for one, Sean O'Driscoll, it will be a 2011 on familiar territory.
O'Driscoll left Bournemouth to replace Dave Penney at Doncaster in September 2006 and is now the second longest serving manager in the Championship behind Dave Jones at Cardiff. For a while this week it has looked as though he could be on the move but this afternoon it has all but been confirmed that he's turned down the opportunity to take over at Sheffield United.
However, there is no smoke without fire they say, or maybe there is when it comes to the Daily Mail. The newspaper who consistently get things wrong about Burnley are now, apparently, getting things wrong about Burley too, George Burley that is.
This morning they revealed that Burley was on his way at Selhurst Park following Saturday's 3-0 defeat at Nottingham Forest. "I don't know where they get these stories from," Palace chairman Steve Parish said.
"All we are focused on is getting new faces in during the transfer window. Of course we aren't happy with results, but we are happy with the direction the club is going in. It's difficult because whatever I say can be twisted around and who knows what the future will hold.
"But George will definitely be in charge for the game on Boxing Day and we haven't even discussed changing the manager. I speak to George every day and we are working hard on strengthening the squad."
Meanwhile, over at Watford there is speculation that Malky Mackay could be on the way should the rumoured offer of a job at Newcastle be confirmed. Watford have confirmed there has been no approach as yet but Mackay's comments suggests it might be a matter of time before they are on the lookout for a new boss down at Vicarage Road.
Mackay said: "It is flattering to be thought of as someone Alan Pardew would want to come in and be his assistant manager at the club, but at the moment all my focus is on what is happening here right now."
Significantly Mackay added: "You would look at it closely and see exactly what the situation is. Obviously you would look at where you are and what club you are at, which league you are in and what you are doing at the time."
Meanwhile the speculation continues regarding Laws - and of course Roy Keane at Ipswich and Darren Ferguson at struggling Preston.
It's no surprise; despite the lower number of changes during this season the life of a football manager is not long. Simon Grayson was appointed Leeds' manager two years ago today, yet of the current Championship managers only Jones, O'Driscoll and Millwall's Kenny Jackett have been in their jobs longer.