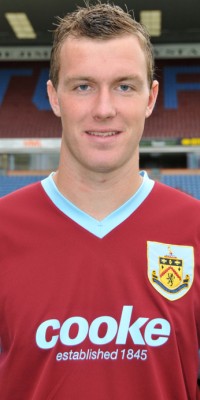 Kevin McDonald, scorer of Burnley's 250th League Cup goal
Harris went on to get a hat trick in that game, with John Connelly also scoring in a 4-0 win, as Burnley started this competition's inaugural season with a run to the semi-final, something we've equalled now on three other occasions.
We scored seventeen goals that season, but it would be 1965 before we found the net again in the League Cup, again coming in a 4-0 win away from home and again the first of a hat trick. This time it was Andy Lochhead at Doncaster and on that occasion the other scorer was Ian Towers.
A number of the big clubs didn't bother with the competition in the first few seasons and Burnley, although joining at the onset in 1960, soon pulled out and didn't feature in any of the next four seasons.
On Tuesday of this week, on my way to Morecambe for this season's second round tie, I was informed that three goals would see us reach 250 in the competition, one of those useless pieces of information that we can thank the BBC for.
And that's what we got - three goals - and so useless was it that I decided I'd check it out. Having confirmed that indeed it was correct I set about finding out who had scored them all. I knew Harris had got the first and that Kevin McDonald, with his third in the competition, had taken us to the grand total of 250.
Along with nine own goal, the list of goalscorers in the League Cup is now on the site. Click
HERE
to see the totals, with Andy Lochhead leading the way with ten goals.
No fewer than 98 players have scored those 241 goals, removing the own goals, and we can now confirm the following milestones.
50
th
goal: John Murray 6
th
goal in 6-0 2
nd
round replay win v Grimsby Town (home) 1968/69
100
th
goal: Ian Brennan in 3-1 3
rd
round defeat v Brighton & Hove Albion (home) 1978/79
150
th
goal: Andy Farrell 3
rd
goal in 3-0 1
st
round 2
nd
leg win v Wrexham (home) 1987/88
200
th
goal: Andy Payton 2
nd
goal in 3-2 defeat in 1
st
round 2nd leg v Hartlepool United 2000/01
250
th
goal: Kevin McDonald 3
rd
goal in 3-1 win in 2
nd
round v Morecambe (away) 2010/11