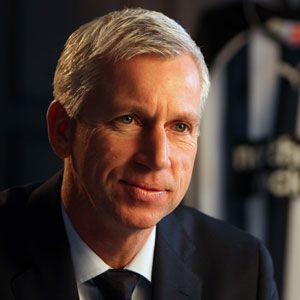 Alan Pardew's got a new boss
This has to be the story of the week. Joe Kinnear, hardly loved on the banks of the Tyne, announced on Sunday that he was returning to Newcastle as director of football, that he'd have final say on all transfers and that he'd be in charge of how the team played tactically.
That seemed to throw into doubt the futures of manager Alan Pardew and chief scout Graham Carr but for three days there was nothing from the club to confirm this. Then, today, they did confirm it all, that Kinnear would be in charge of all football matters and that both Pardew and Carr would now report to him.
Pardew's reaction, I think, is significant. There's not been a word for him, not even a courteous suggestion of him looking forward to working with Kinnear. I don't think it will take a genius to work out it out that he'll be far from happy. I just wonder how long Pardew will remain there now.
Today Kinnear, who once called Charles N'Zogbia by the name Insomnia, referred to Yohan Cabaye as Yohan Kebabs and then boasted about signing goalkeeper Tim Krul and James Perch when he was manager; Krul arrived at St. James' Park two years before Kinnear and was signed by Glenn Roeder, and Perch didn't sign until a year after Kinnear had gone. Just for a little extra, he questioned the intelligence of Newcastle fans.
As Carr's chatty son Alan would say: "What a week it's been."
Not everyone in the north east is disappointed. I spoke to a good friend of mine today. He told me he thinks it is an excellent decision by Newcastle to bring Kinnear back, just what was needed. Having said that, he is a season ticket holder at the Stadium of Light.
Over at Sunderland their owner Ellis Short was photographed showing Jakaya Mrisho Kikwete, President of Tanzania, round his club's facilities. He was appropriately dressed with his SAFC tie on but also had a Sunderland badge in his lapel.
It turns out he'd bought it from the 'A Love Supreme' fanzine shop and the red and white badge clearly shows the three letters FTM. All Sunderland fans understand it - the letters stand for F*** The Mags.
Back to the Championship appointments. Coyle told the press conference that he'd turned down more jobs since leaving Bolton than I've had hot dinners. I wonder whether one was Celtic again.
Meanwhile Lomas, the latest departure from St. Johnstone didn't find things just as he might have wanted to when he reached Millwall. Banners outside the ground were giving a strong indication that the fans didn't want him, this because he'd previously played for West Ham.
I always thought managers should, to a large extent, be judged on results, but maybe all that matters is where he'd previously played his football. That's a turnaround from what we experienced; the recent unpopular manager at Burnley was actually an ex-Claret.
Gus Poyet's still suspended. He didn't turn up for a meeting on Monday which has now been put back to Thursday and today the League Managers Association stuck their noses in. This is the organisation that condemns clubs for sacking managers but says nothing when managers walk out on clubs.
The managers' union accused Brighton of not giving Poyet time to prepare, setting the hearing for an unsuitable date and failing to adhere to basic employment rights.
Brighton have hit back. They've said the LMA's statement was neither fair nor accurate. They added: "The club will not comment further at this stage because it is important that the disciplinary hearing takes place according to the relevant timescales and procedures.
"Meantime, the LMA is fully aware that the club has reserved its right to consider further action regarding the LMA's statement once the disciplinary process is complete."
In an otherwise quiet week, Barnet have decided to turn the Blue Square Premier League Dutch. They have appointed Dick Schreuder, brother of FC Twente manager Alfred Schreuder, as head of coaching to work alongside head coach Edgar Davids who has extended his stay after steering the club back out of the Football League.
There was some very sad news came out of Holland yesterday that of Richard Nieuwenhuizen, an assistant referee who was officiating at his son's youth match
His club Buitenboys were playing Nieuw Sloten of Amsterdam and he found himself being kicked and beaten by members of the Amsterdam team, young players aged between 15 and 16. Hours later he collapsed and was rushed to hospital but died the day after.
This week six young footballers were all found guilty of manslaughter as was the father of one of them. Five of the boys were sentenced to two years in a youth detention centre and the sixth boy received one year. The dad was sentenced to six years in prison. A seventh boy was found guilty of assault.
It's not often I'm rendered speechless by the events at a football match but this one has stunned me. We all have a go at referees from time to time, usually most weeks, it's part of the game. But this is so very wrong, and would have been even if Mr Nieuwenhuizen hadn't been injured let alone lost his life.
It was also sad to read yesterday that Geoff Strong, the Arsenal and Liverpool forward from the 1960s had passed away at 75 having bravely battled against Alzheimer's disease in recent years.
To end this week, a quick look at the Championship, and in truth there is very little to report but there were some signings. At the end of last week Derby finally completed the signing of Johnny Russell from Dundee United and today Barnsley paid £250,000 for Bayern Munich's Dale Jennings whllst Bournemouth snapped up central defender Elliott Ward on a free transfer.
And tomorrow, as the fixtures are released, we'll actually be closer to the first game of the 2013/14 season than the last game of the 2012/13 season. Our players are back next Tuesday for pre-season training. We're getting closer to that opener against Bolton.