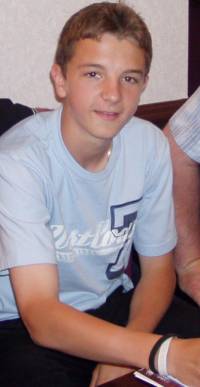 Jay signs on as a scholar in 2005
That, and the result of the Millwall man of the match was all I had scheduled for Clarets Mad, but that all changed just before 1 p.m. at a time when I was on the phone and keeping a close eye on the message board at the same time should anything interesting surface.
I knew that the England squad was scheduled for release but I wasn't too bothered about that. After all it is just two friendlies, albeit one against fierce rivals Germany, and I don't think anyone could have thought a Burnley player might be included.
All of a sudden message board threads started to appear from Claret4ver, LancasterClaret and laycocoy06 suggesting an England call up for our former striker Jay Rodriguez. I'd hoped he might have got a call up a few months ago but when it didn't happen I suspected that would be it, until after the World Cup at least.
I quickly checked and there it was, a headline on the FA's web site 'Roy calls on Rodriguez'.
Players come and go at Burnley and you often retain some interest when they move on. Sometimes you wish them well and on other occasions you perhaps revel in them struggling. I suppose it often depends on the way they left our club.
Jay left us in the summer of 2012 and it has been more than a passing interest I've shown since he started his Southampton career. I'm always pleased when he is reported to have played well, more so when he's scored, and I have to say I'm thrilled with today's news.
Hodgson said: "Danny Welbeck at the moment has been injured. We hope and believe he will be fit to play, but I see Rodriguez as someone who could possibly fill that Welbeck role.
"He is a wide forward rather than a midfielder or a winger. He likes to go forward, attack people with and without the ball and get into the penalty box.
"We think he has played well for Southampton and we think this might be an interesting opportunity for us in nine days of training and a couple of games to get to know a little bit more about him as a staff, because up to now our information about him has been gleaned from the stands, not from actually working with him."
It's not just that Jay is a former Claret. He's a Burnley born and bred, despite his surname, former Claret who worked his way through the youth team all the way to the first team where he became a massive crowd favourite as 'One of our own'.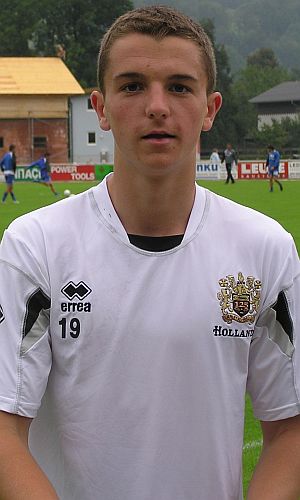 In Austria in pre-season 2007
I recall the first time I ever saw him play. He was still in the under-16s at Burnley but had been promoted to the youth team and came on as a substitute. I was watching the game that morning with Clarets Mad youth team reporter Andy Ashworth who told me today: "If you'd have suggested this call up years ago when we saw him as a little striker at 15 I'd have called for the men in white coats."
Andy also spoke of his phenomenal improvement over the years and of his call up said: "Much deserved."
Jay served his scholarship from 2005 to 2007 and was then, still 17, rewarded with his first professional contract, the only one of his year's intake to get a deal. There were no development squads back then and Jay went straight into the first team squad. He scored from the penalty spot in a friendly at Wrexham and was on the pre-season tour to Austria where he had to go through the initiation by singing for the rest of the squad.
Now it goes without saying that Jay's football ability has surpassed anything I was ever able to achieve on a football pitch. The truth is he probably went past my abilities long before he made his youth team debut for Burnley. But, from all accounts, his singing ability is on a par with mine and I think it is fair to say that you shouldn't expect either of us to be appearing on the X Factor any time soon.
He got one substitute appearance in his first season as a pro and was then sent to Stirling on loan. He had got through his first season largely unnoticed by Burnley supporters but that could not be said of the next season.
There were five minutes left in a Carling Cup tie against Fulham when manager Owen Coyle, in his one full season in charge at Turf Moor, replaced Martin Paterson with the young Rodriguez.
I can't remember my exact words but I was baffled why we would want to bring on a youngster with precious little experience with the score at 0-0 and the game heading towards extra time, and with Blake already off the pitch.
Three minutes later the name RODRIGUEZ went on the scoresheet for the first time as he latched on to a through ball, before expertly taking the ball past goalkeeper Pascal Zuberbühler and slotting home the winner and setting us up for a magical night at Chelsea.
His goal, against Roy Hodgson's team, really helped set up the season and it ended with him playing at Wembley as the Clarets won promotion to the Premier League.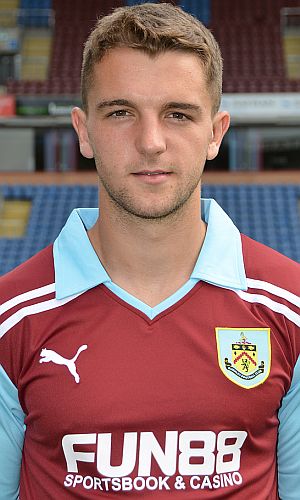 Jay Rodriguez 2011/12, his last season at Burnley
It was a shame Coyle discarded him from the start of that season, not even including him on the bench where we were now allowed seven substitutes. Still with Fernando Guerrero set to be the most fouled player in the Premier League someone had to give way.
He broke his leg in a reserve game and when fit had a short loan at Barnsley but, overall, the season had not been a good one for him.
There is one thing for certain. He's had three damn good ones since, two for us and one for Southampton. Having got a winner against Preston and then impressed as a substitute at Crystal Palace he was given his chance. He took it and was never left out of the Burnley side again.
He scored goals aplenty, and none better than that late slalom effort in the snow against Peterborough, but his all round play was just getting better and better. It was clear to all that he was a Premier League player in the making.
It was not long into the 2010/11 season that talk of a potential England career surfaced, so well had he adapted to regular first team football.
I asked Vince Overson, then Centre of Excellence manager at Burnley, how far he thought he could go in the game. "Jay can go as far as Jay wants to go," Vince told me. "Even England?" I replied to which Vince added: "Yes England, if he wants it. He could become the next Teddy Sheringham."
By the end of the 2011/12 season we knew Jay was going to leave us for the Premier League and it was Southampton gave him that chance to play at the top level. He struggled initially under Nigel Adkins but he's thrived under new boss Mauricio Pochettino and that's led to this call up today.
Yes, I'm thrilled with today's news as I'm sure Jay is. It really is fantastic news for him and his club and of course our club. It's a long time since a player came through the youth system and eventually went on to play for England.
The last such player to make an England debut was Lee Dixon back in April 1990 when he won the first of his 22 caps in a 4-2 friendly win against Czechoslovakia.
Well done Jay and far from not being too bothered about these England friendlies; I'll now be glued to the television hoping to watch him win your first full cap. He's still Super Jay and he's still one of our own.