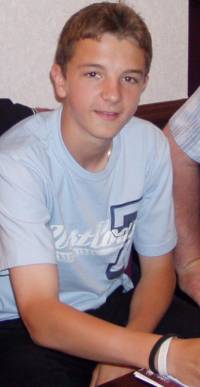 Jay becomes a scholar in 2005
As inevitable as the news was it was disappointing, but when you look closely it is very much the right decision for more than one reason.
If Jay is going to become a Premier League footballer then he needs to go and play his football in the Premier League. We can't offer him that right now and down in the Championship it is evident that the money we have received for him will be more than useful as we adapt to the drop in the parachute money and the new financial rules coming into play in the Football League.
It's over seven years ago that I first saw Jay in a Burnley shirt. I was down at Gawthorpe watching the youth team during the 2004/05 season and one of the under-16 players came on as a substitute. I'd no idea who he was but was quickly advised: "It's Kiko's lad."
I've had to look it up but it was a Youth Alliance Cup game against Darlington. We won 3-0 with goals from Kyle Lafferty, Alex Taylor and Marc Pugh and he came on for Taylor in a team that included a central defensive pairing of Neal Trotman (now with Chesterfield) and Chris McCann.
I was aware that he was attached to the club because two years earlier, as a member of the under-14s, he'd been called up to an England National Development Course at Lilleshall.
He wasn't on long and I didn't see him again until a pre-season friendly at Bury ahead of the next season. Kiko was on the touchline with youth coach Jeff Smith and I asked who our number 10 was. "It's our Jay," Kiko said of the lad who had suddenly shot up in height since the last time I'd seen him.
Jay was one of the new intake of apprentices and over the next two years scored more than his fair share of goals for the youth team in league and cup. He was progressing well but one game, and one goal, stand out.
He'd scored twice in a 3-2 win against MK Franchise in the FA Youth Cup of 2006/07 and that gave us a home draw against Luton. Both games were played at Padiham and Jay got both in a 2-0 win against Luton.
The first was came after the goalkeeper had saved his penalty but the second was one of those goals that, for those there, will forever be remembered; a stunning 40 yard shot that the Luton goalkeeper got a hand to but had no earthly chance of keeping out.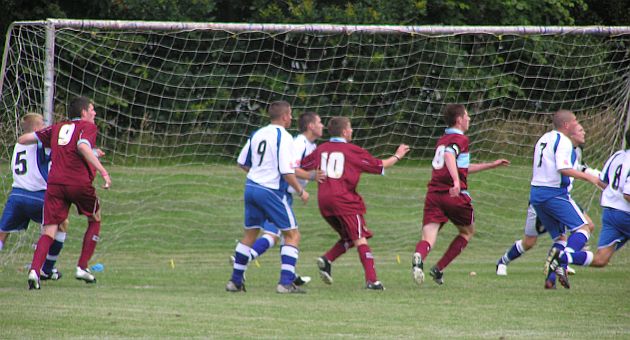 In action alongside Kyle Lafferty and Chris McCann in the 2005 friendly at Bury
It was at Padiham later in the season, watching the Clarets Mad game, when I learned from Vince Overson that Jay was to be offered a professional deal. He was still 17 and was the only one that year to move into the professional ranks.
He scored his first goal in the first team during that pre-season in 2007, snatching the ball from Andy Gray to convert a penalty at Wrexham, but he had to wait until December for his competitive debut, replacing Stephen Jordan as a late substitute against Bristol City, the very team he made his last appearance against.
A loan at Stirling Albion followed but in 2008/09 things were about to change for Jay at Burnley. There was no sign of him getting a game as we recovered from a poor start to the season until late September and a Carling Cup tie against Fulham.
There were five minutes to go; we were holding the Premier League club at 0-0 and the game looked to be going into extra time. At the time I have to admit to being baffled as to why we would throw on a virtually untried youngster for Martin Paterson who had been scoring goals for us.
Three minutes later I got my answer. Chris Eagles, also on as a substitute, played a ball through for Jay. He sold goalkeeper Pascal Zuberbuhler a dummy before stroking the ball home. In my report that night I enthused: "What a fantastic way to do it with one of our own grabbing the goal and the headlines."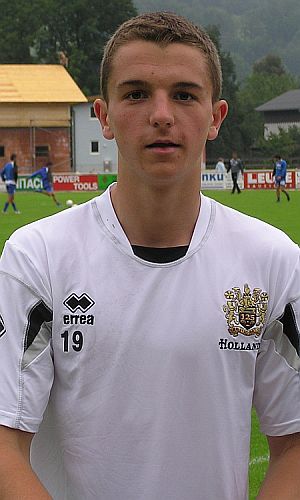 The new professional in Austria in 2007
That goal gave us a tie at Chelsea and a fantastic night that led to further games against Arsenal and then the two legged semi-final against Spurs. Watching Russia the other night on television was a stark reminder of that night but it was the night Jay grabbed his third Burnley goal and for almost half an hour had us dreaming of Wembley.
We did make it in the league though with Jay also scoring twice in the league against Crystal Palace and Nottingham Forest. He also got his moment in the sun, coming on as a sub at Wembley, and the last Burnley player on the TV pictures as Mike Dean blew that final whistle to take us into the Premier League.
Disappointingly Jay was never able to pull on a Premier League shirt for Burnley. I still can't quite fathom how he was completely overlooked at the start of that season. We'd gone up to seven subs and yet he couldn't even get a place on the bench.
His season was halted with a broken leg sustained in a reserve game. He came back, had a month at Barnsley where he scored against Preston, and did, on his return, get one bench seat in the home game against Liverpool without getting on.
Back in the Championship, and by now three years as a professional, the 2010/11 season was seen by many as one that was key to Jay's development. He just needed an opportunity. He got it and my word he grabbed it.
He started the season as a substitute, coming on in the opening game against Forest. His next league appearance was against Preston when he again came on and grabbed the winning goal as we fought back from 3-1 down to win 4-3.
A week later he came on for the injured Ross Wallace at Crystal Palace around twenty minutes into the game. That day, for me, he really announced himself. Only the brilliant Julian Speroni and the woodwork prevented him from becoming an instant hero in what, despite the 0-0 result, was one of our best performances of the season.
He had to be given his chance now and he was. He was in the starting eleven for the next game against Bristol City and for the next two years was an automatic first choice.
All of his goals for Burnley had come in front of the Jimmy McIlroy stand but that soon changed. He scored his first away goal at Millwall and in December 2010 netted against Leeds in front of the away fans at the cricket field end.
He went on to score 14 league goals in his first season and beat that by one goal last season despite only starting one of the last twelve games because of injury. He was no longer the young lad trying to make his way into the first team but was now the star player in the team.
There had been a lot of speculation about his future. It was reported that we'd turned down an offer from Southampton a year ago and there was considerable interest during January.
And so came that inevitability of his departure on Sunday. We really had no option and neither did Jay. He has a football career of his own to consider, one that I believe can take him to the very top.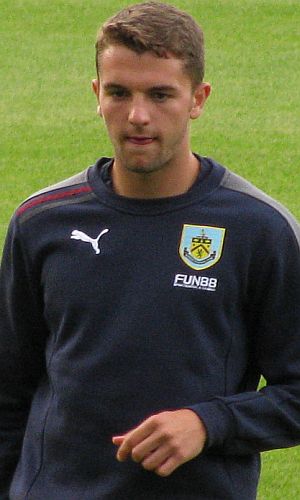 Ahead of his last season as a Burnley player
He's a Burnley lad, despite the exotic name. He's a Burnley fan too and has lived the dream of playing football for the team he supports, but now he's had to move on to progress, ironically joining a team that has another out and out Claret in Richard Chaplow.
It was so very typical of Jay when, after signing for Southampton, he said: "I've been there (at Burnley) from being 11 years old. The managers I've had there, from the centre of excellence to the youth team to my professional career have been great to me, the fans have been brilliant and all the lads I've met. It's been a great experience for me. I can't thank everyone enough.
"It's obviously a sad time for me, moving away from the club, but I will always follow the club. They still have a place in my heart. Burnley's a great club and I've made great memories there."
For some fans that will be the end of it. He's no longer a Burnley player and they'll no longer have any interest in him.
I won't be one of them. I'll watch his career with great interest. I've no affinity to Southampton whatsoever but I'll be keeping a close eye on them and I can only hope that Jay does well for them, as I expect he will, and I really hope he does go on to make it to the top.
Jay Rodriguez was the first youth player sponsored by Clarets Mad. His progress has been yet another feather in the cap of our youth development department.
"One of our own," I wrote when he scored that goal against Fulham. "One of our own," sang the Burnley fans as he scored that late dramatic winner at Hull last November. He was, still is, and always will be.
Good luck Jay.