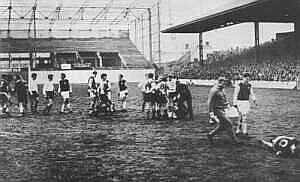 A Burnley player needs treatment during the fierce battle with Derby in 1969
There is the opening day of the season and then there are the holiday games such as Boxing Day. But one of the most eagerly awaited days is without doubt the 3
rd
round of the FA Cup.
The competition might not be as prestigious as it once was but try telling that to football fans up and down the country as they look forward to this weekend's ties, and none more so than those who have got here after a bit of giant killing through the early rounds.
It is certainly a special day for me, after all I happen to have been born on 3rd round day albeit more years ago than I care to mention. Suffice to say that the Clarets won through on that particular day when I came close to keeping my dad in the hospital and away from his beloved Turf. Had I delayed my arrival into this world another couple of hours I'm sure he would never have forgiven me but I knew how important it was even then and gave him just enough time to take his place on the Bee Hole End.
Back in the top two divisions for the last three seasons we are back to how it used to be and are granted a free passage to Round Three. I never could get my head around those seasons when we didn't even make it to this stage.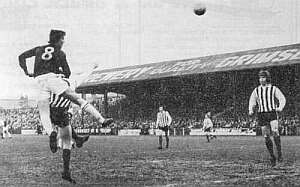 Ray Hankin scores the second at Grimsby in 1974
Having said that the last time we had to play in the earlier rounds it went on to give us one of our best 3
rd
round days for years – that 1-0 win at Derby County's Pride Park three seasons ago. Now that's what the FA Cup is all about, we weren't given a chance but went to a Premiership ground, played them off the park and for a short time found ourselves headline news. We even got a bit of praise from Alan Hansen.
My FA Cup days go back just over forty years and the first tie I can remember is the 3rd round home match against the then named Bournemouth and Boscombe Athletic in 1961. It wasn't the greatest of games but we won 1-0 and had a good run to the semi-final. The winner was scored by John Connelly, the first FA Cup goal I ever saw.
There was a big win the year after, we beat QPR 6-1 with Alex Elder scoring his first ever Burnley goal. In fact we were so good at this FA Cup thing in those days that we won through to Round Four in each of the first six seasons I was watching the Clarets.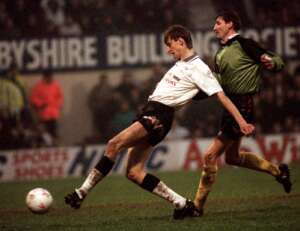 The Derby goal in 1992 that started of the magnificent show of support from the fans
There were some other good ones too with a 3-0 win at Spurs in 1963 and after a draw away in 1966 we welcomed back Bournemouth and Boscombe Athletic in the pouring rain and hit them for seven with Andy Lochhead getting four of them.
1967 was the first time I was able to go to an away 3rd round tie and it is one I will never forget and not because of the result. We had drawn 0-0 at home to Everton and went to Goodison Park for the replay, and I was to witness us losing at this stage for the first time.
But it wasn't the result, the thing I will always remember that night was the disgraceful incident that saw our forward Willie Irvine have his leg broken by Everton winger Johnny Morrissey. It was no accident and the player who would without any doubt at all have gone on to break every Burnley goal scoring record was never to fully recover. I for one will never forgive Morrissey.
If you want it rough and nasty then Brian Clough's Derby gave us a good kicking a couple of years later but we saw them off (one of three memorable 3rd round ties agains the Rams) and then a year after that in 1970 murdered Wolves at home 3-0. Yes another home win against Wolves, they do happen occasionally you know.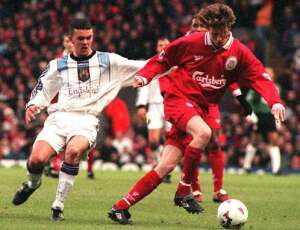 Paul Weller chases Steve McManaman at Anfield in 1997
The seventies weren't particularly kind to us and we went out in the 3
rd
round five times in the next six seasons. There is no doubt which of those five defeats will be remembered longest, that was the day we (2
nd
in Division One) lost at home to Wimbledon from the Southern League.
We had joked about having to put a net across the half way line, having Robinson's Barley Water on the touch-line and playing best of five sets. It served us right, we should have taken them more seriously.
And did I say Derby had kicked us senseless in 1969? Well that's what the Wombles did make no mistake but no matter this should have been an easy win and will forever be an embarrassment.
The one win during that period is one that is of even more interest this week. It was at Grimsby, a 2-0 win, and a win that helped us to eventually reach the semi-finals. And that hasn't happened since. Neither has a Burnley win at Blundell Park so it would be good for history to repeat itself 29 years on.
Stoke were at the Turf in 1980 for what proved to be one of the funniest of wins, courtesy of a referee who every club in the country dreaded getting for an away match, Kevin McNally. This homer of an official was eventually sacked for non-football related matters but on this day he was our hero as he sent off two Stoke players and gave us a ridiculous penalty from which we scored the only goal. It's funny but this man was as bad if not worse than Barry Knight but because all his bad decisions went our way we didn't bother to complain.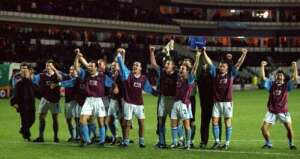 Time to celebrate at Pride Park in 1999 after Cookey had scored the winner
If the 1970s weren't good for our FA Cup record then the 1980s were worse. By now we were being asked to start as early as the 1
st
round and our first opponents at this stage were Scarborough, then a non-league club managed by an ex-Claret Richard Dixey.
We won but didn't make the 3rd round and that happened on five occasions in the decade. In three successive seasons we didn't even get past the 1st round and the first of the three was an embarrassing 3-0 exit at non-league Telford. Thankfully, Wimbledon apart, they are the only non-league side I have seen beat us.
There was the odd win in the 3rd round during this period, in fact just two in successive seasons. Altrincham and Carlisle were the victims in 1982 and 1983. In fact between 1983 and that brilliant day at Pride Park there was to be only one other 3rd round win and that was at Cambridge in 1995.

Mind you there was that special day at the old Derby home of the Baseball Ground when the fans were out of this world (no we never get bored with mentioning it) but is it any wonder nobody gave us much hope at Derby after wins at Barnet and at home to Rotherham had seen us get there? But we did although that's as far as we did go when the next round sent us to Coventry and a 3-0 defeat.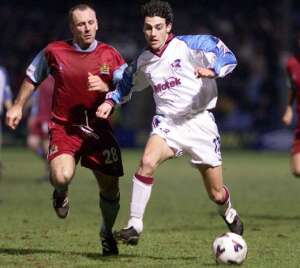 Bally in action at Scunthorpe in 2001 before he missed in the penalty shoot out
But promotion at the end of that season meant we were to be once again guaranteed a place on this special football day.
So far it has given us a nightmare time at Scunthorpe where Stan lost his rag completely with a jobsworth steward (we believe he is now on the Centre Spot door on match days) and last year we played host to one of the teams for whom it was a fairy tale, Rymans League Canvey Island who had already beaten two league clubs in Wigan and Northampton. Thankfully and with some relief that one was finally won with something to spare.
So now it is off to Grimsby where at least we will be able to get some good fish and chips. I'm sure we can guarantee that the score won't be the same as it was for the recent league game, maybe just maybe we will get the same result as last time we were there for the FA Cup in 1974.
The day will throw up some upsets, nothing is surer, and for some supporters it will become a magical day.
As for Burnley then let's just hope that we get the same result as we did on the day I was born and when the 4th round draw is made that ball number 26 is ours and not Grimsby's.