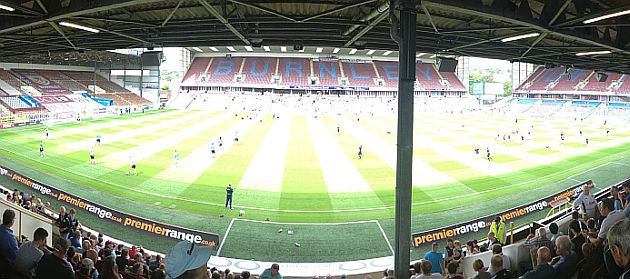 I'm fortunate. Back in October 1962 I was at Ewood Park when a goal from Gordon Harris, and two more from Andy Lochhead, gave us a 3-2 win against Blackburn and in the following April I was back home at Turf Moor when a Harris penalty secured a 1-0 win against the same opposition.
Since those two games I've seen a further three home wins against them and five more Ewood Park victories, all coming in the top two divisions. We've actually never met at a lower level.
That's why I'm lucky. Ten wins and that's ten wins more than so many Burnley fans who will be inside the Turf tomorrow lunchtime willing us to beat them for the first time since April 1979.
How on earth has it ever got to 35 seasons since the last win? How on earth have we ever allowed that to happen? Fortunes changed unfortunately, even before the Jack Walker money arrived which took them so far away from us.
There was a time when I thought we'd never be able to get close to them again but now, for the first time since the 1970s, we find ourselves in the same division in successive seasons.
Back in those early days for me of the 1960s and 1970s, the players understood it just as much as we did. Granted many of them weren't local but they tended to live locally, amongst the fans, and soon realised the importance of it.
Brian Miller was the only locally born player when I first started watching Burnley. In later years, when he was manager, we played a reserve game against them at Ewood. Miller, who I knew well, came out and handed me a pile of complimentary tickets to hand out. "I don't want any Burnley fans paying here," he told me.
Miller got it but probably the only player in both camps now who really does is David Dunn and he won't be playing tomorrow after having an operation.
Sean Dyche has said he understands what it means to the fans. He certainly knows who it matters most to and has asked the fans to roar us to victory.
Our captain Jason Shackell has said today that this is like no other derby he's ever played in. He's played in the tractor derby for Norwich against Ipswich but he said today: "I'll be honest, this one takes it to a whole new level for me.
"It means so much to the supporters and it means a lot to the players." He also added: "It's a special game for me, especially as I got my first goal for the club against Blackburn, and in front of the Burnley fans."
David Jones will be in our midfield. He knows about the fixture having played against us in the last one and he's said: "It's an important game, but we need to put the emotion aside."
I hope he does put that emotion aside; I hope all our players do and I hope they all go out and play as well as they've ever played for us and give us that win.
The players have to take the emotion out of it, but we certainly don't. When we lost at Ewood in the FA Cup replay in 2005 I can still remember the words of Steve Cotterill. After we'd turned in a heroic performance he said: "We are just desperately disappointed in that dressing room that we haven't been able to give those brilliant supporters what they craved."
We do crave it and while the players tomorrow are getting on with doing their best on the pitch then the emotion from us, the supporters, has to pour out. You often hear managers and players say that fans can make a difference and there are enough examples of that over the years.
Just four years ago I remain convinced that the unbelievable support helped us to hold off Manchester United in our opening home Premier League game. I know they didn't help themselves by missing a penalty but the support from the home stands that night was something special as we willed us to victory.
Just a few months earlier we rattled a Spurs side that thought they were strolling through to the final of the Carling Cup. They did make it in the end but only after another night when the Turf Moor stands rocked in support of the home players.
"We will fight for evermore because of Boxing Day". We've all sung it and that relates to an against the odds win against Newcastle on Boxing Day 1979. Against the odds did I say? Newcastle were top of the league and we couldn't have been any further away from them as we sat in bottom place.
The Burnley fans were incredible that day and I received an email this week from a supporter who recalls another game when he believes the fans rescued a point that really proved vital. It was back in that awful season of 1986/87.
He wrote: "For me it wasn't the Orient game but the last ten minutes against Torquay in pouring rain when the crowd came together. To this day I'm convinced the crowd changed the game, roused the players, got the draw and lived to fight again."
He's right. We looked a beaten side that night but we eventually came back from two goals behind to earn a precious point against relegation rivals.
The supporters can't go and win the game tomorrow. All we can do is play our part, get behind our players no matter what. Support them from first whistle to last.
I want this win so badly and if we get it then all those of you who have never seen us beat them will understand just how it feels. I want it for all of you. I could say a win would be for you, the younger fans, but if we do it then I'll be grabbing my slice of the celebrations.
COME ON YOU CLARETS