A year! He arrived in the pouring rain, something I think he's got used to now, and today celebrates the anniversary on a clear and crisp day with a frost, something else he said they never got at Bournemouth.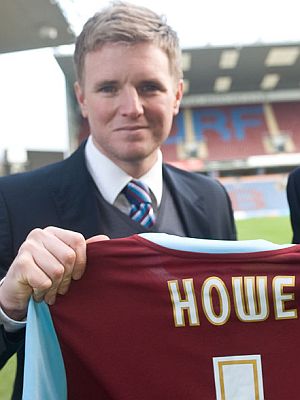 It was a strange weekend for him. On the Friday he managed Bournemouth in a televised game at Colchester, the day after he was at Turf Moor to see us draw 0-0 against QPR and on the Sunday, a surprising day to confirm a managerial appointment, he was given a three and a half year contract.
Howe said at the time: "This is a fantastic club and you only had to see the fans at the game here on Saturday to see how passionate they are.
"It's just a fantastic opportunity for Jason (Tindall) and myself to join such a big, ambitious and progressive club and we are delighted. We had such a great time at Bournemouth and it was always going to take a special club for us to leave, because of the fantastic success we've had there in the past two years.
"We just felt Burnley was that club and we are ready to take on a huge challenge. However, it is one we are excited by. The team is in a decent league position, but there is a long way to go and hopefully we can get off to a good start and see where that takes us."
There was a real air of optimism about the place. The Brian Laws era hadn't worked. The fans were turning on him during games and it was, undoubtedly, the correct decision to make the change. By the time Howe arrived we'd played four games, including one in the cup, with Stuart Gray in charge but the new man was all set for an opening game with the Sky cameras there again.
Teams often get off to a flyer under a new manager. There's no doubt we had a honeymoon period but it didn't start on day one as we played out a tedious 0-0 draw at Scunthorpe.
Things changed quickly. There was just one defeat in the next eight league games with six of them won. Not only that, four of those wins were away from home and that was something we'd struggled to do for over two years.
Just as had been the case a year earlier, we changed manager during the transfer window and left the new man with a rush to get things sorted. Howe brought in Charlie Austin and Marvin Bartley from Swindon and Bournemouth respectively.
Football, they say, is a roller coaster of emotions. When he took over we were tenth in the table, six points behind the play offs. When we came off the pitch at Hull we were seventh and still three points away from the top six despite the run.
We were very much in the running but then came the crash. The honeymoon was over and we won just the one point from the next six games, and that a fortunate home point against Coventry. The season was sliding away, although we did give ourselves a chance by winning the next three.
In the end we had to settle for an eighth place finish but there were plenty of positives to take from the season with hopes of a real push for promotion next time round.
The summer proved a strange one for him. So often he'd referred to the squad just needing the some tweaks but then he found himself with a major overhaul as players came and went, more going than there were coming in.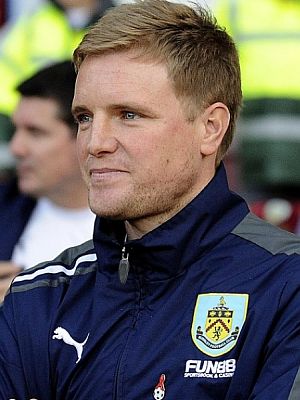 We'll never know just how much influence Eddie Howe had on all these changes; how many of those players he was happy to see go and how many he would have preferred to keep. There's no doubt that he wanted to keep Danny Fox and that was the sale that broke the camel's back as far as the fans were concerned.
I felt that hit us hard in those early weeks of the season but we seemed to come out of it all with a double header at home. We drew with Southampton with our best performance of the season so far and then hammered a desperate Nottingham Forest.
But, the roller coaster was in action again and we hit a very poor patch. There were some awful performances and none more so than the abject Carling Cup defeat at Cardiff. I was bored to tears that night watching and I wasn't the only one. There was some real concern about where we were heading.
A 2-1 defeat at Birmingham in November was the fourth successive loss and we'd slumped in the table. Four days later we were less than a quarter of an hour from the bottom three. We were 2-0 down at Hull and staring at a fifth defeat on the trot and a guaranteed relegation place.
I was stuck on the message board that day, suffering from an illness picked up on the Birmingham trip. Things weren't looking good and the negativity was frightening.
Then, two David Edgar goals changed the game; changed the mood and it looks as if they've changed our season. He'd never scored for Burnley but netted twice in quick succession to take the score to 2-2 and the recovery was complete when 'One of our own' Jay Rodriguez won it in stoppage time.
We've won another six games since whilst losing two. Two of those wins have been on the road against West Ham and Middlesbrough, two of the promotion favourites.
One of the defeats was a cruel one at Leeds. Had we won that, we'd have been celebrating Eddie Howe's anniversary in fifth place. As it is we're tenth, but there's a real positivity about the place and what a way to celebrate your first year, with the best performance at Middlesbrough.
We've played 47 league games with Eddie Howe in charge. Of those, 21 have been won, we've drawn 8 and the other 18 have ended in defeat. That's 69 points from a run of games just one more than a season which, given the changes, is a more than creditable return even more so given 25 of those games have come away from home with only 22 at home.
Maybe that's a good thing. The away record has been incredible for a club that won only two games on the road in each of the calendar years 2009 and 2010. We've won an amazing 12 of those 25 games on the road.
There have undoubtedly been ups and downs. There have been times when I've felt optimistic and times when I've almost been in despair. John Bond once said football was about today, and today I'm feeling as optimistic as I've done for some time.
Here are some stats on that first year.
Biggest wins were the 5-1 and 4-0 victories over Nottingham Forest and Ipswich Town at home last season.
Biggest defeat was the 4-0 defeat at Leicester City last season.
A total of 31 players have been used in the 47 league games. Three of them - Graham Alexander, Zavon Hines and Alex MacDonald - have made substitute appearances only.
Jay Rodriguez has played in 46 of the 47 games, missing only the 2-0 defeat at Nottingham Forest last season. Ross Wallace (42 appearances,) is the only player to appear on 40 or more occasions.
Jay also leads the goalscorers with 17 of the 65 goals we've scored. Charlie Austin is next with 9 whilst Chris Eagles, Chris McCann and Ross Wallace have scored 5 each. No other player has scored more than two goals.