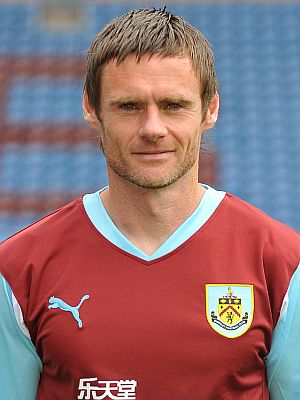 Players come and go at football clubs and it's not the first time a player has left having come to an agreement with the club in such a way with one year remaining on his existing deal.
It's simple; Grezza wants to play football but Eddie Howe doesn't want him in his Burnley side, and the coaching position he was offered was not what he'd envisaged with Howe admitting it was not in the area that he wanted.
It meant the inevitable departure for Grezza who hadn't even been in for pre-season training and is currently training with Bolton Wanderers ahead of the 2011/12 season.
A 39 year old departing. Under normal circumstances it wouldn't have been even noteworthy let alone big news, but this is Grezza, a player who in four years at Turf Moor has become a real favourite of the Burnley fans and who is held in such great esteem, and that has ensured it deserved extended discussion.
He's become one of those rare players to be lauded by supporters of two or more Lancashire clubs, similar to David Eyres with the same two clubs, and some years earlier with Keith Newton and the fans of both Blackburn Rovers and Burnley.
Grezza opted to move to Burnley in August 2007. He left Preston behind and enjoyed even more success in a claret shirt than he'd ever done playing in white. And yet, only a few months ago, as we were securing a Deepdale win, the home fans saluted him as if he was still their own when he came on as a sub for us.
Should he return to play against us at any time I am certain he'll receive a similar reception from the Burnley fans. If he doesn't make it back as a player we'll have to wait a few years or so for him to make the half time draw.
One thing is certain - he'll always get a warm welcome at Turf Moor, and it's not just from the fans. Today, having learned of his departure, team mate Wade Elliott said: "Sad that Grezza has left the club, it was a privilege to be his team mate and a pleasure to be his friend."
I hope you find what you are looking for soon Grezza, getting back to playing football, and I think that same wish will come from every single Burnley supporter.
For more on Grezza, read
Will we ever see the likes of Graham Alexander again?
written after he'd completed his 1,000 games in April