"When did that last happen?" I was asked. I got my answer partly wrong. In truth I got it totally wrong because I'd come up with the wrong season. I just happened to have the names of the two players correct.
I'd gone for the 1965/66 season, the season when Willie Irvine broke the club's post war scoring record for one season. He scored a total of 29 league goals that season as we finished 3rd in the old First Division but when I got home to check I found that Andy Lochhead had scored just 15 having missed eight games during the season.
That's a total of 44 from the two main forwards, and that's just four more than Danny Ings and Sam Vokes have this season; they both now have 20 following Sam's penalty last night against Doncaster.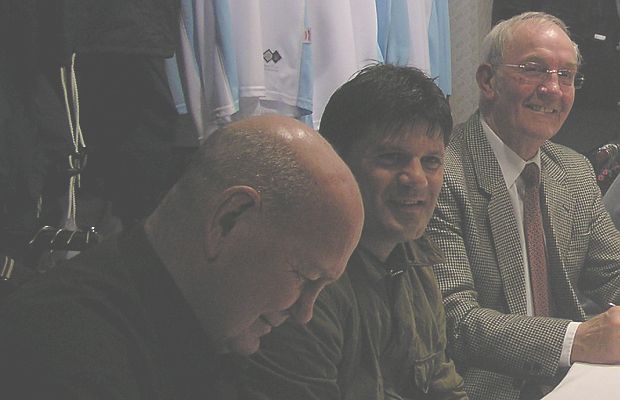 Andy Lochhead (left) and Willie Irvine flanking another former Burnley goalscorer Andy Payton
I said I was only partly wrong, but it was thanks to Tommy Docherty that I only have to go back one year to the 1964/65 season. Our last game of that season was at home to Docherty's Chelsea. Irvine had already reached 21 in his first full season in the first team; Lochhead however was on 16.
Chelsea had finished their home fixtures but had three remaining away games at Liverpool, Burnley and Blackpool. They had a very good chance of winning the league and had decided to use Blackpool as a base.
They lost 2-0 at Liverpool but things got worse when eight players broke a curfew. Manager Docherty found out and sent the lot of them home. The eight included Barry Bridges, John Hollins, Eddie McCreadie and Terry Venables, four of their top players. That meant that all eight of them were dropped for the Burnley game and the Clarets took advantage.
We were 3-0 up in under 20 minutes. Lochhead had got the first two and Irvine the third. It was 4-1 by half time with Lochhead having completed his hat trick. It ended 6-2 with Lochhead getting two more to take his total to five for the game and a total of 21 league goals for the season alongside Irvine's 22.
For the record, Chelsea lost 3-2 at Blackpool and ended the season in third place. Burnley chairman Bob Lord said of Chelsea's decision to send all those regular first team players home: "If there were more managers like Tommy Docherty football would be in much better shape." He said it after we'd won the game.
Lochhead and Irvine; I could talk about this pairing all day long. They were, for me, the best pair of strikers I've ever seen at Burnley and Willie, in particular, was without any doubt the best goalscorer I've ever had the pleasure to watch in a claret and blue shirt. So to be comparing our current pair with them is praise indeed for them as far as I am concerned.
Let's go back to August. Danny Ings had scored six league goals for Burnley in 47 appearances, of which 24 had been starts. Vokes had fared slightly better. He too had scored six times but he'd started only 16 times with 39 substitute appearances.
Two days before the season we sold Charlie Austin to QPR and that left them as our only two recognised strikers so obviously they started against Bolton on the opening day. Ings scored in a 1-1 draw and a week later both netted in the 2-1 win against Sheffield Wednesday at Hillsborough.
Vokes got another against Yeovil and when both scored in the win at Derby they'd netted three each in the first five games.
Just like the team some were suggesting it was no more than a good start; just like the team people have now realised it was a lot more than that. Apart from the home game against Watford in early December, a game that ended 0-0, they'd started every league game up to the Leeds game a week last Saturday since which Ings has been out injured.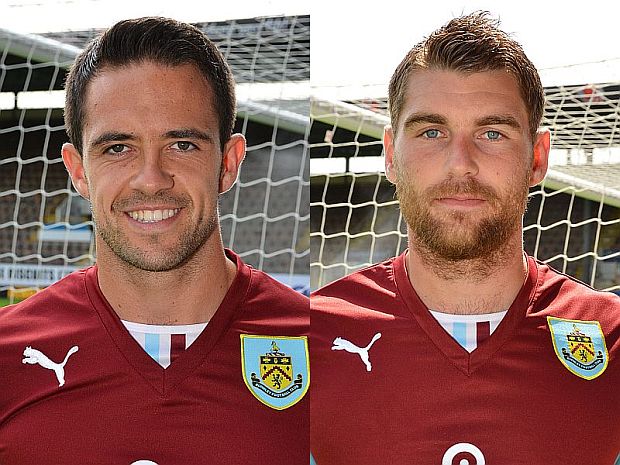 The new 20 goal men Danny Ings and Sam Vokes
And the stats for our Voking Invasion are very impressive. Ings has scored in 16 of our league games, Vokes has found the net in 17 of them. Six times, against Wednesday, Derby, Charlton, Reading, Yeovil and QPR, they've both scored.
With no disrespect to Charlie, I don't think too many Burnley fans think of him now. Ings and Vokes have been the names on everyone's lips all season. They've scored some brilliant goals, some crucial goals and then chipped in with a few penalties.
Danny's form has thrust him into the spotlight and last week he was rewarded for his performances when he was named Championship Player of the Year. He, more than anyone, will know the contribution Sam has made. It's very much a partnership.
Both now have 26 Burnley league goals and are in the top 53 post war goalscorers for the club. They've some way to go to wrestle the names of Lochhead (101 in 226 games) and Irvine (78 in 126 games) out of the top places as far as I am concerned but I'm patient and I look forward to them scoring more and more goals for the Clarets this season and beyond.
It's a brilliant achievement for them.
Having found the 1964/65 achievement, I then trawled back through the records during Sunday to see on how many other occasions we'd had two players in one season with twenty league goals or more. I was surprised there were only three more.
One of them was in my first season watching the Clarets, the other two occasions were some considerable number of years earlier.
Those five occasions are
1920/21: Joe Anderson (25) & Bob Kelly (20)
1927/28: George Beel (35) & Louis Page (22)
1960/61: Jimmy Robson (25) & Ray Pointer (22)
1964/65: Willie Irvine (22) & Andy Lochhead (21)
2013/14: Danny Ings & Sam Vokes - both 20 with eight games remaining