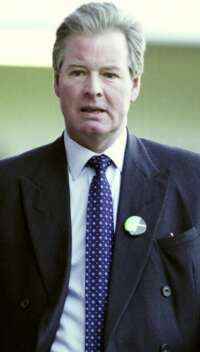 David Sheepshanks
Just over ten years ago the top clubs broke away from the Football League and formed the Premier League. Supporters were not sure at the time just how this would effect the game but they certainly know now, it has had a devastating effect.
It must be wonderful to support Manchester United and see your team dominate football but that hardly matters in the corridors of power at Old Trafford. It is all about appeasing the shareholders and so they are on a mission to strengthen the finances of the company and that is more important than anything. It is this mission that has seen them become probably the richest club in the world.
When the Premier League first got underway a couple of the broadsheet newspapers in this country called it the GOG League – Greed is God – and never were they more right. It did take time though and just three years in it was still possible for one man's wealth to buy the title, at that time the so called big clubs were not prepared to compete.
This one man mission turned football on its head, suddenly player values were being doubled, trebled and even worse as he shamefully chased the title. The others almost stood back and let him do it as he paid inflated wages to internationals but the problems got worse after that.
Never were the big clubs going to allow that again, and despite this particular club's wealth they even found themselves relegated four years later as the league became nothing other than an obscene monster.
The league, now the Barclaycard Premiership has now become so far removed from the rest of football in this country it is frightening. Not just that though, the top few clubs have pulled away so far that most clubs cannot contemplate a championship challenge even before a ball is kicked. For many it is trying to hang on and avoid relegation and financial disaster.
Yes back to money and such is the desperation that these clubs will go to just to remain in there leads those who fail into serious financial difficulties. Already this season three former Premiership clubs Barnsley, Bradford and Leicester have been in administration but let us not forget the problems that have beset clubs such as Derby, Sheffield Wednesday and Ipswich.
It is worse than that though because with the deals they have they have been able to attract top foreign players. That can only be good for the game but it has gone beyond that and there are now so many foreign players in English football it has severely restricted the opportunities for English players. So few of them get the opportunity to play at the top level in this country now.
In fact had Arsenal and Chelsea played each other last weekend with the teams they did turn out then there would have been only seven British players on the pitch at kick off and that includes one from the Channel Islands.
This top 20 clubs, or was it 22, yes we all had to mess around whilst they decided just how many they really wanted, don't give a damn about the rest. They have sat back and allowed those left in the Football League to rot. Each year the gap between the two increases and life gets more difficult.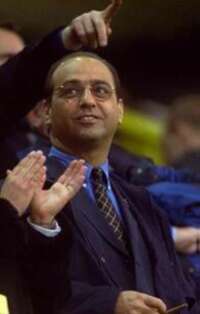 Theo Paphitis
This year the Football League clubs were hit badly by the collapse of ITV Digital but in all honesty the clubs worse hit are the ones who were stretching themselves in a desperate attempt to reach the promised land of the Premiership.
One employee of Burnley Football Club, clearly one at odds with the current administration, told me we would not be in this mess now if Frank Teasdale was in charge. He is right of course, we would have been a struggling 3rd Division side now and would have been picking up the crumbs anyway. So although the statement is probably right in one sense he has it horribly wrong.
So we were over ambitious, hands up if you are a supporter who disagreed with the policy, and we have been caught just at the wrong time.
But hopefully after all this common sense will be restored to the game and clubs will return to the days when they helped each other. If you believe that then you can you can consider yourself very naïve indeed.
No it is going worse because these hard hit First Division clubs are now setting off on a greed mission of their own. The Football League is an organisation of 72 clubs but these so-called big boys in there are worried that their plans could be scuppered in a vote by the smaller clubs. Funny, I thought that was exactly how it should work.
Last season we had Mr. Pompous of Bradford and Coventry's Bryan Richardson leading plans for a Phoenix League. They were even working behind the backs of others. Pompous and Richardson were of course doing such a good job at their own clubs (NOT) they didn't want that work being destroyed by smaller clubs.
Now some of them are at it again and the First Division are re-organising and are going to have their own Chief Executive. They have already started and Mike Lloyd (Walsall) and John Elsom (Grimsby but previously Leicester) have stepped down from the Football League board.
You can of course assume that they have been replaced by top men. Well wait for this, there are three new members on the Football League Board.
David Sheepshanks (Chairman Ipswich Town): A former Chairman of the Football League Sheep Dip has run his own club so successfully during their short two year period in the Premiership that they have recently had to lay off more staff.
Players are being sold as quickly as possible and despite his decision to stick with manager George Burley he soon got rid of him when the pressure was on. His club are doing well on the pitch and that is very much down to the quality of player Burley brought in. Failure to return to the Premiership will bring about even more cuts.
Theo Paphitis (Millwall Chairman): Has more problems than most chairmen in Division One. His club have been put under severe restrictions following problems last year and all he could do was moan about the loss of revenue. It is a pity that he is not putting as much effort into resolving those problems as the supporters organisations at the New Den are clearly doing.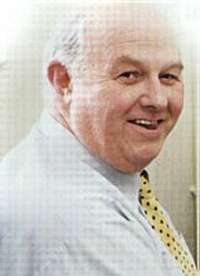 Terry Robinson
He turned on the former incumbents at the Football League, Keith Harris and David Burns, in no uncertain terms and said he wouldn't let Burns run a kebab shop. But the Kebab Seller now joins the League's board.
Terry Robinson (Sheffield United Chief Executive): A strange title for the man who is known as Mr. Bury. Robinson was known Chairman at Bury for years and was given that title. His love of the Gigg Lane club is legendary.
But when the going got tough Robinson got going and quickly jumped into a job at Bramall Lane when it is believed there was also an invitation to come to Turf Moor. I bet the Bury fans will be thrilled to see this committed Shaker representing a South Yorkshire club.
So there we have it, represented by Sheep Dip, The Kebab Seller and Mr. Bury of Bramall Lane. I bet that will make you sleep easier.
In a statement yesterday to his own Ipswich supporters Sheepshanks said, "The aim is for the First Division to be managed in a style similar to that of the Premier League, with their own Chief Executive carrying their votes on the Football League Board. I have always believed that the way forward for the First Division must be within the family of football.
"Constitutionally these changes mean that Division One can be remarketed as the flagship of The Football League and where there is no easy or immediate panacea to the financial difficulties that confront Division One today I am certain that the appointment of a Division One Chief Executive is a first and important step in the right direction.
"The gap between the Premiership and the First Division is utterly unsustainable.
"It is in all Football League clubs best interests to have a stronger Division One. I hope that Divisions Two and Three will be able to support these changes as there should be nothing to disadvantage them within these measures, rather they will allow Division One to maximise its own commercial potential."
Well I bet all the Division Two and Three clubs are hanging on his every word. I bet they are all delighted with that. Not for one minute will any one of them see this as anything other than having a detrimental effect on their future.
So GOG is still alive and well and continuing to destroy English football. There is no doubt that, as a Burnley supporter, I would prefer to be in than out. And that's because I can be as selfish as the rest.
But I can't help thinking of all those years we were down in the bottom two divisions and in need of help. This is the last thing we would have wanted, another long nail in the coffin of English league football.