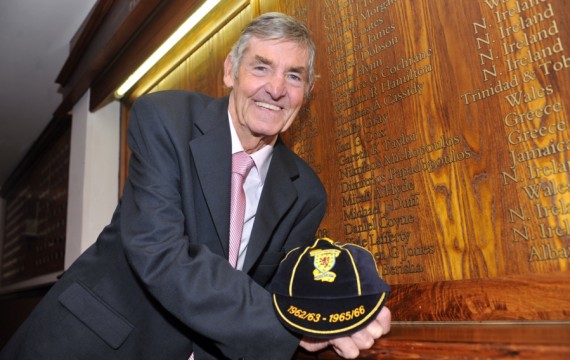 We beat them 5-3 with goals from Ray Pointer, John Connelly(2), Walter Joyce and Jimmy McIlroy. I usually have to look up the goalscorers but I can remember the team without reference. We lined up Adam Blacklaw, John Angus, Alex Elder, Walter Joyce, Jimmy Adamson, Brian Miller, John Connelly, Jimmy McIlroy, Ray Pointer, Jimmy Robson and Brian Pilkington.

Look at the talent on view. No fewer than eight of those players represented their country at full international level. There were greats such as McIlroy and yet, despite scoring five goals, when it came to picking my favourite player I opted for the goalkeeper Adam Blacklaw.

Adam was my hero, in fact your first hero always remains and to this day Adam remains my hero. Therefore the news I received this morning that he'd passed away suddenly last night hit me really hard and has left me devastated. You think your heroes are indestructible, that they'll be around forever and now I find myself mourning the loss of mine.

He'd stepped up into the first team at Burnley on a regular basis when Colin McDonald broke his leg playing for the Football League in Dublin. McDonald never played again and Blacklaw was first choice for the next five to six years.

He was a real tough goalkeeper and dominated his box. Woe betide anyone who got in the way, usually an opposition forward, they would tend to find themselves having to get back up having been knocked to the ground.

Adam played all but one of the games during our Championship season of 1959/60, was a real hero in the European Cup and then played in the FA Cup Final of 1962. He was capped by Scotland and eventually received a cap just last year.

He made a stunning save in the European Cup tie in France against Reims but for me there are two saves that I'll always remember having seen them live and both came in the 1960/61 season. One was from Uwe Seeler in the home leg against Hamburg and the other from Tom McAnearney in the FA Cup tie at Hillsborough against Sheffield Wednesday. Both players stood in amazement before applauding him.

He lost his place to Harry Thomson and for a couple of years they swapped a few times before he made his final bow against Stoke in December 1966. He still had a massive part to play though, coming to the rescue of Thomson in the aftermath of the game against Napoli.

Many years after he'd finished playing I was introduced to him by Brian Miller. What a privilege so many never get, to speak to your hero. I met him a number of times after that, and he even served me in his newsagents shop on Brunshaw Road while also pulling me a pint at Burnley Cricket Club, where he was steward, and then at the Cross Keys at Barnoldswick.

A big, strong, craggy Scot from Aberdeen is how I once saw him described. That just about fit and yet today, on my way into town, I received the news that he'd passed away during this 50th anniversary year, and at just 72 years of age.

At least Adam saw us reach the Premier League and at least he got his beloved Scotland cap.

I'm going to miss my hero - farewell Adam.