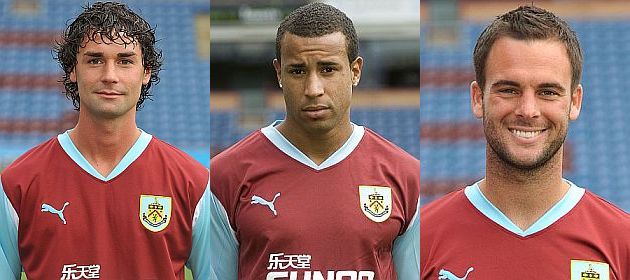 Chris Eagles, Tyrone Mears, Danny Fox - all gone
It was met with a mixed response by supporters. Most were disappointed that two regular members of the team were set to leave but there was some understanding given that they'd refused to sign new deals and, one year on, would be allowed to walk for free.
At the time we were already on the lookout for new players with only Ben Mee, on loan from Manchester City, added to the squad, and manager Eddie Howe confirmed that these two players , Eagles and Mears, would be replaced.
He was true to his word. Almost immediately, in fact before the two had signed for Bolton, Mears was replaced by another young Manchester City player in Kieran Trippier and a week later Keith Treacy arrived from Preston North End to take Eagles' place in the squad.
So, we were back to where we started before the Eagles/Mears story broke, still needing to bring players in and with the manager now saying, via a newspaper article, that no more players would be leaving.
That was a relief given the speculation surrounding Martin Paterson but the season kicked off last week with no further sales although, sadly, there had been no more additions to the squad.
Since last season we've lost Steven Thompson, Graham Alexander, Clarke Carlisle, Chris Iwelumo, Eagles and Mears with just the three coming in. I haven't included Kevin McDonald and Remco van der Schaaf given they weren't really part of the squad but even without those two the simple maths tell you that we are three players down.
Still, the natives (the Burnley fans) were hardly restless and a comeback against Watford following a win in a crazy game against Burton Albion had started to fill people with confidence. That was boosted even further with Howe saying just yesterday that we are in talks with players and they are ongoing.
"I feel we are getting close and talks are ongoing," he said. "We've known who we wanted all summer and it's a case of waiting for the ones we want. I think the foolish thing to do would be to jump and get someone just because they're available."
I wasn't expecting the talks with any of those players to come to fruition today but I sure as hell didn't expect to be revealing on this site that another player had gone.
Then I received a text. It was, shall we say, to the point. "Fox going? What the f***!!!" and there it was on a message board thread that he was on his way to Southampton. I knew they'd made offers for both him and Jay Rodriguez but I certainly wasn't expecting that news today.
I was amazed and I'm angry that another player has been allowed to leave at such a ridiculous time. Earlier I wrote that our squad had been decimated, and that's how it looks to me. Unlike the Eagles and Mears sales, this one has not brought the same sort of understanding, far from it, and rightly so. The angry response has been staggering with most of the criticism aimed at the board.
The club have responded with a statement that, let's face it, has served no purpose whatsoever and, if anything, has made things worse.
How has it all happened? I understand that the board of directors are responsible for the finance but I believed, initially, that any such transfer must surely have been sanctioned by the manager. My sources now tell me that's not the case and that Eddie Howe is far from happy with this latest departure. It does make you wonder just why he didn't turn up this morning for the regular pre-match press conference.
I said earlier on the message board that I thought he was having the rug pulled from under him. That's just how it looks to me, and if we've got an upset manager we certainly have some very angry supporters.
Where do we go from here? Apparently players should be coming in next week. Maybe it is the same next week that has failed to come round all summer. It's almost Bob Lord like, making 'next week' promises.
But the simple facts are, we are not quite one week into a new season and there's so much anger and resentment. It doesn't augur well does it?