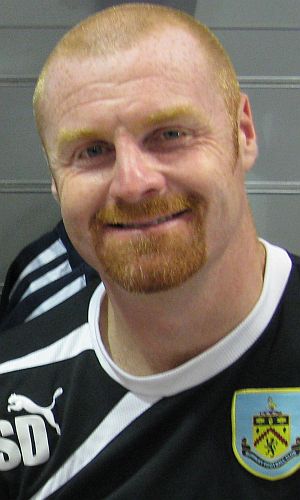 Sean Dyche one of seven Premier League maangers
English football has changed dramatically over recent years. More clubs, including all the supposed big clubs, have come under foreign ownership and there has been a real concern over the number of English players, or lack of them, playing in the country's top league.
FA Chairman Greg Dyke, who last month admitted that Man City winning the league was pretty depressing, given they only used two English players regularly, is currently plotting to change things with ideas such as the top clubs being allowed to operate B teams in the lower divisions of the Football League.
Maybe what Dyke should be doing is help pave the way for clubs like Burnley. In one fell swoop we'll improve his numbers in terms of English players when we step up to the Premier League in less than nine weeks time.
During last season most of our players were British, many of them English, and that is set to continue next season. A few more clubs like ours in the Premier League and Dyke wouldn't have quite so many problems.
It is supposedly the same for managers. English managers, we are told don't get the opportunities to manage in the Premier League and that was born out when you look at the twenty managers in charge last August.
Ian Holloway (Palace), Steve Bruce (Hull), Alan Pardew (Newcastle) and Sam Allardyce (West Ham) were the only English managers although you would have to add Chris Hughton (Norwich) to that list. He did play his international football for the Republic of Ireland but is English born.
There were four Scots, one Welshman and one from Northern Ireland to add to that list with the other nine from Argentina, Chile, Denmark, France, Holland, Italy, Portugal, Spain.
Going into the 2013/14 season there is still a flavour of foreign managers, and even one from Uruguay now, but 60% of the Premier League will be under British management and 35% of it English.
Bruce, Pardew and Allardyce are all still there. They were joined by Gary Monk towards the end of last season when he took charge at Swansea and now there are three more with all of the promoted clubs under English management which will see both Nigel Pearson (Leicester) and Clarets' boss Sean Dyche managing in the Premier League for the first time and Harry Redknapp make a return after one year in the Championship.
It's not a massive increase, and it might not impress Dyke too much, but English managers are maybe starting to buck the trend.
The Premier League Managers
ARSENAL - Arsène Wenger (France)
ASTON VILLA - Paul Lambert (Scotland)
BURNLEY - Sean Dyche (England)
CHELSEA - Jose Mourinho (Portugal)
CRYSTAL PALACE - Tony Pulis (Wales)
EVERTON - Roberto Martinez (Spain)
HULL - Steve Bruce (England)
LEICESTER - Nigel Pearson (England)
LIVERPOOL - Brendan Rodgers (Northern Ireland)
MANCHESTER CITY - Manuel Pellegrini (Chile)
MANCHESTER UNITED - Louis van Gaal (Holland)
NEWCASTLE - Alan Pardew (England)
QPR - Harry Redknapp (England)
SOUTHAMPTON - Ronald Koeman (Holland)
STOKE - Mark Hughes (Wales)
SUNDERLAND - Gus Poyet (Uruguay)
SWANSEA - Gary Monk (England)
TOTTENHAM - Mauricio Pochettino (Argentina)
WEST BROM - Alan Irvine (Scotland)
WEST HAM - Sam Allardyce (England)