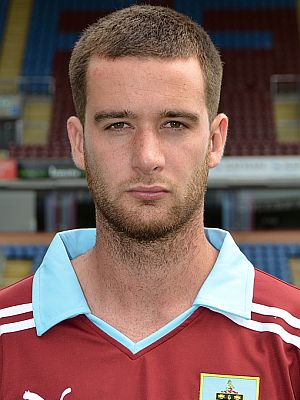 It was 296 at the start of the season and that soon became 298 as both Charlie Austin and Keith Treacy netted their first goals in the opening day draw against Watford. A few weeks later we were discussing, on the way to Peterborough, just who might be the 300th but the name of Edgar was never given serious consideration.
Zavon Hines was one name thrown in although, at the time, we didn't realise just how little football he'd be getting. We considered Junior Stanislas to be more likely and hoped that it wouldn't take quite as long as waiting for Danny Ings to be fit.
That total of 298 became 299 when Marvin Bartley slid in the third against Blackpool after a ball from Austin and then came another likely candidate in Sam Vokes when he arrived on loan from Wolves.
Edgar couldn't have chosen his moment any better. The game looked lost when he headed home his first and there was also a real coincidence given the day he got it.
He's not a prolific goalscorer and Saturday's brace took his total to just five, two for Newcastle United, one for Swansea and these two for Burnley. The first of those five came on New Year's Day 2007 and was the vital equaliser that gave Newcastle a point in a 2-2 draw against Manchester United and, right on cue, he got his first Burnley goals as those two teams clashed again and once more shared the spoils, this time in a 1-1 draw at Old Trafford.
Although very few Burnley fans will now be able to recall the first post war league goal, the record books will quite correctly tell us it was scored by Peter Kippax ten minutes into the opening game of the season against Coventry City.
That game ended 1-1 but a week later, at Birmingham, goals from Harold Spencer, a penalty, and Jack Billingham had given us a 2-0 win. By the end of that season a total of 11 players had scored league goals but we had something of a wait before that total reached three figures.
That came on 29th December 1979 when Phil Cavener gave us a 1-0 lead at Meadow Lane against Notts County. Cavener, like Edgar on Saturday, scored twice that afternoon, and we won that game 3-2 with Billy Hamilton, who had scored his first Burnley goal three days earlier, getting the other.
For the statistically minded of you, it had taken just over 33 years to get to 100 players and a total of 1,409 games. It is very noticeable that it has taken less than that time to go from 100 to 300.
So who and when was goalscorer number 200? Did he score twice and did we win the game 3-2? The answer: Number 200 is Paul Barnes who scored a total of five goals, all five, in the 1996 5-2 win against Stockport County.
The prolific goalscorer, signed by Adrian Heath from Birmingham for a record fee, had failed to score in any of his first six league appearances but in game number seven became only the sixth player in the club's history to score so many goals in a game.
1,409 games it took to get to 100, but the next 100 took just 758 games, and the last 100, since the Barnes goals, has taken slightly less with 689 games. Below are the 300 goalscorers.
| | | | | | | | |
| --- | --- | --- | --- | --- | --- | --- | --- |
| 1 | Peter Kippax | 76 | Alan West | 151 | Paul Atkinson | 226 | Phil Gray |
| 2 | Harold Spencer | 77 | Paul Fletcher | 152 | Gary Rowell | 227 | Ian Moore |
| 3 | Jack Billngham | 78 | Leighton James | 153 | Winston White | 228 | Gareth Taylor |
| 4 | Jack Chew | 79 | Jim Thomson | 154 | Ian Measham | 229 | Kevin Ball |
| 5 | Gordon Haigh | 80 | Keith Newton | 155 | Mark Monington | 230 | Alan Moore |
| 6 | Harry Potts | 81 | Billy Ingham | 156 | Jason Hardy | 231 | Lee Briscoe |
| 7 | Ray Harrison | 82 | Ray Hankin | 157 | Peter Mumby | 232 | Tony Ellis |
| 8 | George Bray | 83 | Peter Noble | 158 | John Deary | 233 | Arthur Gnohere |
| 9 | Billy Morris | 84 | Ian Brennan | 159 | Joe Jakub | 234 | David Johnson |
| 10 | Jack Knight | 85 | Billy Rodaway | 160 | Ron Futcher | 235 | Robbie Blake |
| 11 | Jack Hays | 86 | Derrick Parker | 161 | Junior Bent | 236 | Dimi Papadopoulos |
| 12 | Ron Hornby | 87 | Kevin Kennerley | 162 | John Francis | 237 | Dean West |
| 13 | Reg Attwell | 88 | Brian Flynn | 163 | Roger Eli | 238 | Tony Grant |
| 14 | Ian Wilson | 89 | Derek Scott | 164 | Mike Conroy | 239 | Mark McGregor |
| 15 | Andy McLaren | 90 | Paul Bradshaw | 165 | Steve Harper | 240 | Drissa Diallo |
| 16 | Alf Clarke | 91 | Malcolm Smith | 166 | Mark Yates | 241 | Lee Roche |
| 17 | Jack Spencer | 92 | Terry Cochrane | 167 | Graham Lancashire | 242 | Richard Chaplow |
| 18 | Les Shannon | 93 | Peter Robinson | 168 | John Pender | 243 | David May |
| 19 | Roy Stephenson | 94 | Tony Morley | 169 | Steve M Davis | 244 | Luke Chadwick |
| 20 | Reg Kirkham | 95 | Marshall Burke | 170 | Adrian Randall | 245 | Delroy Facey |
| 21 | Terry Lyons | 96 | Brian Hall | 171 | Robbie Painter | 246 | Neil Wood |
| 22 | Bill Holden | 97 | Tony Arins | 172 | Steve Penney | 247 | Dele Adebola |
| 23 | Jimmy McIlroy | 98 | Jeff Tate | 173 | Adrian Heath | 248 | Micah Hyde |
| 24 | Liam O'Neill | 99 | Billy Hamilton | 174 | John Clayton | 249 | John McGreal |
| 25 | Tony Hapgood | 100 | Phil Cavener | 175 | Steve Slawson | 250 | Richard Duffy |
| 26 | Tommy Cummings | 101 | Paul Dixon | 176 | Warren Joyce | 251 | Gary Cahill |
| 27 | Billy Elliott | 102 | Martyn Busby | 177 | David Eyres | 252 | John Oster |
| 28 | Jimmy Adamson | 103 | Tommy Cassidy | 178 | Kevin Russell | 253 | Jean-Louis Valois |
| 29 | Albert Cheesebrough | 104 | Steve Taylor | 179 | Nathan Peel | 254 | Frank Sinclair |
| 30 | Brian Pilkington | 105 | Kevin Young | 180 | John Mullin | 255 | Ade Akinbiyi |
| 31 | Billy Gray | 106 | Brian Laws | 181 | Tony Philliskirk | 256 | Dean Bowditch |
| 32 | John Walton | 107 | Eric Potts | 182 | Gary Parkinson | 257 | James O'Connor |
| 33 | Peter McKay | 108 | David Holt | 183 | Ted McMinn | 258 | Gifton Noel-Williams |
| 34 | Bobby Burke | 109 | Micky Phelan | 184 | Liam Robinson | 259 | Garreth O'Connor |
| 35 | Doug Winton | 110 | Vince Overson | 185 | Mark Winstanley | 260 | Wayne Thomas |
| 36 | Brian Miller | 111 | Andy Wharton | 186 | Jamie Hoyland | 261 | Wade Elliott |
| 37 | Doug Newland | 112 | Trevor Steven | 187 | John Gayle | 262 | Chris McCann |
| 38 | Dave Smith | 113 | Paul McGee | 188 | Andy Saville | 263 | Nathan Dyer |
| 39 | Jimmy Robson | 114 | Mark Allen | 189 | Gerry Harrison | 264 | John Spicer |
| 40 | Bobby Seith | 115 | Ian Muir | 190 | Kurt Nogan | 265 | Jon Harley |
| 41 | Ian Lawson | 116 | Terry Donovan | 191 | Chris Vinnicombe | 266 | Michael Ricketts |
| 42 | Alan Shackleton | 117 | Kevin Reeves | 192 | Paul Shaw | 267 | Andy Gray |
| 43 | Ray Pointer | 118 | David Miller | 193 | Andy Cooke | 268 | Kyle Lafferty |
| 44 | Billy White | 119 | Tommy Hutchison | 194 | Peter Swan | 269 | Steve Jones |
| 45 | John Connelly | 120 | Willie Donachie | 195 | Paul McDonald | 270 | Alan Mahon |
| 46 | Gordon Harris | 121 | Dennis Tueart | 196 | Paul Mahorn | 271 | Michael Duff |
| 47 | Trevor Meredith | 122 | Wayne Biggins | 197 | Paul Weller | 272 | Paul McVeigh |
| 48 | Walter Joyce | 123 | Steve Daley | 198 | Steve Thompson | 273 | Clarke Carlisle |
| 49 | Andy Lochhead | 124 | Alan Taylor | 199 | Nigel Gleghorn | 274 | Joey Gudjonsson |
| 50 | Ronnie Fenton | 125 | Kevin Hird | 200 | Paul Barnes | 275 | David Unsworth |
| 51 | Ian Towers | 126 | Neil Grewcock | 201 | Paul Smith | 276 | Andrew Cole |
| 52 | Arthur Bellamy | 127 | Neil Whatmore | 202 | Damian Matthew | 277 | Steven Caldwell |
| 53 | Willie Irvine | 128 | Les Lawrence | 203 | Mark Ford | 278 | Graham Alexander |
| 54 | Alex Elder | 129 | Peter Devine | 204 | Gerry Creaney | 279 | Martin Paterson |
| 55 | John Price | 130 | Peter Hampton | 205 | Chris Waddle | 280 | Chris Eagles |
| 56 | Willie Morgan | 131 | Jim Heggarty | 206 | Michael Williams | 281 | Steven Thompson |
| 57 | Brian O'Neil | 132 | Phil Malley | 207 | Neil Moore | 282 | Kevin McDonald |
| 58 | John Angus | 133 | Andy Robinson | 208 | Andy Payton | 283 | Christian Kalvenes |
| 59 | Sam Todd | 134 | Ashley Hoskin | 209 | Chris Brass | 284 | Jay Rodriguez |
| 60 | David Walker | 135 | Darren Heesom | 210 | Glen Little | 285 | David Nugent |
| 61 | Ralph Coates | 136 | Ray Deakin | 211 | Gordon Armstrong | 286 | Steven Fletcher |
| 62 | Les Latcham | 137 | Wayne Entwistle | 212 | Brian Reid | 287 | Andre Amougou |
| 63 | Colin Blant | 138 | Ian Britton | 213 | Rune Vindheim | 288 | Danny Fox |
| 64 | Fred Smith | 139 | Rob Regis | 214 | Phil Eastwood | 289 | Jack Cork |
| 65 | Frank Casper | 140 | Phil Murphy | 215 | Mark Robertson | 290 | Chris Iwelumo |
| 66 | Martin Dobson | 141 | Joe Gallagher | 216 | Kevin Henderson | 291 | Ross Wallace |
| 67 | Colin Waldron | 142 | Phil Devaney | 217 | Graham Branch | 292 | Dean Marney |
| 68 | Dave Thomas | 143 | George Oghani | 218 | Micky Mellon | 293 | Tyrone Mears |
| 69 | John Murray | 144 | Peter Zelem | 219 | Tom Cowan | 294 | Brian Easton |
| 70 | Steve Kindon | 145 | Andy Farrell | 220 | Lenny Johnrose | 295 | John Guidetti |
| 71 | Doug Collins | 146 | Paul Comstive | 221 | Ally Pickering | 296 | Nathan Delfouneso |
| 72 | Dave Merrington | 147 | Steve P Davis | 222 | Ronnie Jepson | 297 | Charlie Austin |
| 73 | Eric Probert | 148 | David Reeves | 223 | Paul Cook | 298 | Keith Treacy |
| 74 | Wilf Wrigley | 149 | Shaun McGrory | 224 | Ian Wright | 299 | Marvin Bartley |
| 75 | Geoff Nulty | 150 | Brendan O'Connell | 225 | Ian Cox | 300 | David Edgar |