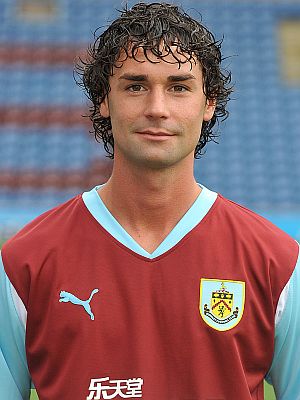 Chris Eagles - interest not welcome
As we set off for Bury last Tuesday there had been nothing, in our out, since the retained list other than Grezza saying his farewells, and after the performance at Altrincham the mood had changed on the message board with fans, perhaps, thinking we might not need quite so much of the 'tinkering' Eddie Howe talks about.
Even so, all the talk ahead of kick off at Gigg Lane was about who might be coming in and, of course, who might be going out particularly with Clarke Carlisle set to seal his move to Preston.
I don't think the Burnley fans quite bargained, however, for Howe's comments after the game on television which were all about whether we'd be able to keep hold of Chris Eagles.
As we waited for news of what the manager thought of the performance, his Sky interview was exclusively about Eagles. He said: "You've always got concerns regarding your best players. We want to keep everybody here. We want to keep this squad together.
"We'll have to wait and see what happens but hopefully they [watching scouts] weren't too impressed with that they saw. Who knows what will happen? There is no point speculating."
As Sky continued with the line of questioning, Howe confirmed that the club had received no offers for Eagles. "There's been no contact," he said. "I'm sure there is interest but we haven't heard anything as yet."
That all quickly died down and by Thursday there was another big talking point with the arrival of Manchester City central defender Ben Mee on a season long loan. At last a signing, even if many weren't so sure who he was, and the new man was quick to point at the manager as a reason for being at Turf Moor.
"City were willing to let me out on loan again to get some games. Obviously it's going to be tough at somewhere like City at the moment with all their players," Mee said.
"They left it up to me to decide who I wanted to come to. There were a few teams that contacted them about my availability. I spoke to the manager here. He was really enthusiastic and I'm looking forward to playing here.
"There are some good players here so I will fight for my shirt. I am really willing to do that. I am excited and raring to go. The manager thinks we can do well and I believe him and hopefully we can get going this year.
"I'm really excited to be here. I am looking forward to playing in the shirt and having a good season."
One in then, but soon one out to balance things. No sooner had that news been absorbed than news came through that Carlisle's move to Preston had been confirmed.
It was a sad one in so many ways. Clarke has done a damn good job for Burnley over the last four years, never more so than on that magical day at Wembley in May 2009. He's gone to play for the club he supports and he'll be looking forward to it whilst reflecting on a time he clearly enjoyed at Turf Moor.
On the subject of Wembley, it now means that only five of the starting team that day - Brian Jensen, Michael Duff, Wade Elliott, Chris McCann and Martin Paterson - remain at Turf Moor. How football changes so quickly.
And that five could have been four given the speculation that former manager Steve Cotterill is determined to get Paterson to Fratton Park. Just as he'd done at Bury three days earlier, Howe was forced into commenting on this yesterday.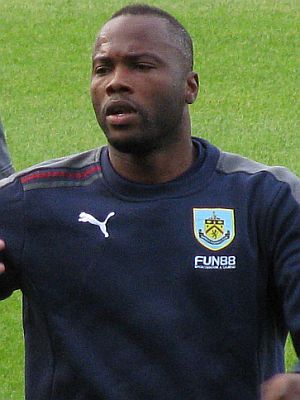 Andre Bikey - makeweight in Lafferty deal?
"We are not encouraging any talks and we are not discussing any bids as far as I'm concerned and I'm sure the board are concerned," he said, adding: "Martin Paterson is our player and I desperately don't want to lose him. I want to build my squad around our best players and I certainly think Pato is one of them."
That was that and it was the end of the week. Mee in and Carlisle out, whilst we don't want to hear from any clubs regarding Eagles or Paterson.
And so to a quiet weekend, as if? This morning's speculation took some believing. This was one I couldn't quite get my head round, and it's not even Nixon. The Scottish Sun want us to believe that Rangers' boss Ally McCoist has turned down an offer from Burnley for Kyle Lafferty.
Yes, Kyle Lafferty, and the bid is apparently £1 million plus Andre Bikey. They open up by telling us that Rangers HAVE rejected the offer and then use their 'SunSport understands' label to tell us that Eddie Howe was PREPARED to include Bikey in an offer.
'Clarets Mad Sources' understand that one is very unlikely.
And so to next week.