Burnley's game attracted a crowd of just over 6,400 with two stands shut down and the small number of Forest fans shunted into a corner of the cricket field stand being made to feel very unwelcome.
Home fans have not been happy at the closure of the two upper tiers for ties this season made worse by the club's media machine coming up with the 'improving the atmosphere' stunt and even using Sean Dyche in club interviews and Jason Shackell via a programme article to try and justify the decision.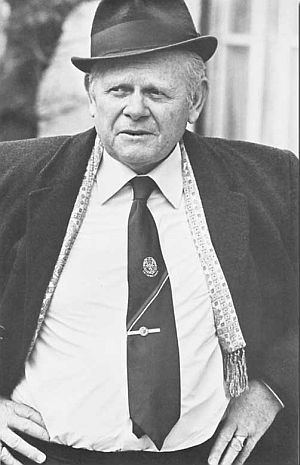 Alan Hardaker, Football League secretary 1957-1978
Other than the 5,559 who watched Stoke win 2-0 at Tranmere, ours was the lowest attendance this week with only four of the sixteen ties, those at Aston Villa, Manchester City, Manchester United and Newcastle going beyond 20,000.
It's never been a big competition in terms of getting crowds in to grounds but things are certainly worsening now. We've reached the third round, or beyond, in each of the last seven seasons with four of the ties played at home.
The other three were against Premier League clubs Portsmouth, Fulham and Bolton in seasons 2007/08, 2008/09 and 2010/11, and attracted attendances of 8,202, 7,119 and 17,602 respectively although the latter was more due to the visiting manager making a Turf Moor return as much as anything else.
The competition is now in its 44th season; Burnley are featuring for the 40th time. It was introduced for the 1960/61 season and has often been credited as being an idea from then Football League secretary Alan Hardaker, although he gave full credit for its conception to Sir Stanley Rous, who at the time was secretary of the Football Association.
Entry was not compulsory then. We entered in the first season, going out in a semi-final replay against Aston Villa at Old Trafford after the two legs had been drawn, but we didn't enter in any of the next four seasons.
Hardaker said at the time: "The FA Cup is football's Ascot, the League Cup its equivalent of Derby Day at Epsom."
The competition increased in popularity but in more recent years that has very much waned. The League have tried various things to improve it. Replays went, two legged first and second rounds disappeared for the 2001/02 season. We've got seedings in the first two rounds and the first round is split north/south, but the attendances have continued to drop.
This week Hull manager Steve Bruce gave his explanation for the lack of enthusiasm for the competition, claiming the games are now no better than friendlies.
His team played Huddersfield on Tuesday night, winning 1-0, but both sides made changes from the team's they'd fielded in the league on the previous weekend. Hull made nine changes but that was beaten by Huddersfield who made ten.
Bruce said: "There was no real cohesion, there was no real tempo to it because of what it was. It was more like a friendly than a cup tie.
"But that's what the early rounds of the cup have turned into now. It's a shame but there you have it. It was a comfortable evening for us but it was like watching paint dry.
"I think both managers have just thrown 11 players together and said 'get on with it' and that's no disrespect to the lads who were out there.
"It was a drab cup tie and I think a lot of the fans that were here tonight will wish they'd stayed in and watched Coronation Street."
The fact that Bruce is unaware of which nights Corrie is screened is irrelevant. He's hit the nail on the head to be honest. The competition is not a priority for clubs and managers and therefore is anything but a priority for supporters.
In the other dug out on Tuesday was Huddersfield boss Mark Robins and he admitted: "I wanted to go through, but needs must. No disrespect to the cup, it's a necessity but our priority is staying in the Championship."
That just about sums it up. Managers aren't taking the competition seriously and are using it for no other reason than to give a game to fringe players. So why should the supporters take it seriously?
We made four changes on Tuesday. This week 23 of the other 31 clubs made more changes and in total there were 224 changes made to the teams from the weekend.
So, no surprise that there are so few going through the turnstiles despite, in some cases, reduced prices. You don't know what you are going to get or who you are going to see play.
Burnley have announced prices for the next round today with a £5 increase for season ticket holders from the last round. How many will be attracted to turn up for this one? Probably not that many and, should we go out, we'll have reached the last sixteen of the competition and made precious little out of it financially.
Going to a football match in 2013 is a big expense. Ticket prices, generally, are way too high and supporters are now picking their matches. For some, going to a League Cup game is far from being high on the agenda, unless, of course, you are within touching distance of reaching a final.
I don't have the answers but I do think there needs to be a big rethink on this competition because, in the early rounds at least, it just isn't anything like an attraction.