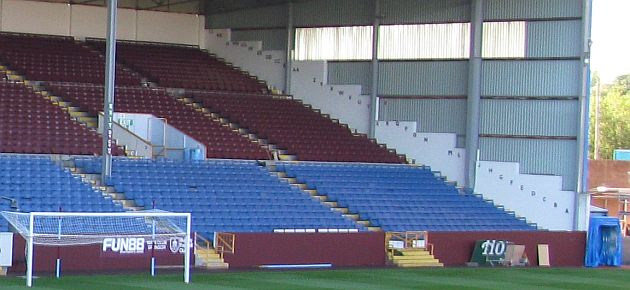 The last time Burnley supporters were in there for a Football League game was in 2002 when Millwall visited us and their supporters were banned. There wasn't much of a take up on that occasion from home supporters but there certainly was this week when I'm sure the opposition must not have let their supporters know about the game, so few of them were there.
It was used throughout our first Premier League season in 2009/10 with season tickets sold in there and last season it was used for a couple of games at the end of the season when Leicester and Stoke were visitors.
It's been an ongoing story to be honest since the redevelopment of the ground in the mid-1990s, after which it was handed over exclusively for use by away supporters. Stan Ternent and Steve Cotterill both hated it; they did not like the dressing room being filled with noise from the away fans and neither did they like the idea of the team coming out in front of them.
The club have never given the impression they were too bothered about doing anything about it. The only reason it opened for a year in 2009 was because of the demand for season tickets, but has there been a sea change of opinion within Turf Moor?
I get very frustrated at times with our club, particularly in my role as editor of Clarets Mad. Despite raising incredible amounts of money for the youth department over the last ten years there have always been members of staff, and directors too, ready to publicly criticise us, particularly via social media.
Even this site's relationship with the youth department itself is now poor and has been for the last four years or so since its change of direction, and it has always been so much easier for me to be critical of some of the club's decisions than supportive of them.
I, personally, have no desire to go into the cricket field stand. I don't think I've watched a match from that end of the ground since the old terracing was closed down in late 1967 for the rebuilding of the current stand which opened ahead of the 1969/70 season.
But I do know that several Burnley fans are keen to make use of that stand and it has often been an item on the agenda at supporters clubs meetings I attend with the club. I've always put forward my belief that our supporters want to make use of that stand and that they should be given that opportunity.
Ahead of Tuesday's game, the club asked for those supporters using the stand to behave in an appropriate manner. David Baldwin, who became the club's chief executive in the summer, said: "It's excellent to see a full section of home fans in the David Fishwick stand and I feel sure you will raise the roof in cheering the team on.
"We will review the success of the operation and the safety of all supporters at this game and if all goes well we would home to announce further opportunities for home supporters to cheer on the boys from behind that goal.
"I would therefore appeal to all who are in that stand to represent the club in a positive manner."
The appeal to supporters was ended with a promise that a review would take place following the fixture.
I'm cynical enough to know that it is often the case that such reviews take place and either nothing is revealed publicly from them or certainly nothing positive. I'm sure many of those who were in there on Tuesday will have thought the same.
But this is a new Burnley FC and we've now got a chief exec who is listening to the supporters. He might not always do as we ask, or we want, but he's positive and, from my experience, will at the very least give you an honest appraisal of why things can't be done if that's the case.
So, for once, I was not surprised with yesterday's news that the stand is again going to be open to home fans, and not just for the next game but for the next four games.
It was £5 on Tuesday; the away supporters complained, the same people who just over a decade ago supported the theft of a football club so they could have a brand new retail park.
Obviously it can't be £5 again. If that was the case those whinging season ticket holders, of which I'm one, would have something to say. The price for each of the next four games will be as per the away supporters - i.e. £24 for Reading, Huddersfield and Fulham, and £28 for Bolton - but for those wishing to book for all four games they can get adult tickets for £60 in total, and that represents good value.
Can I just say a big well done to the club for listening to supporters, giving those who want to use the cricket field stand the opportunity to do so, and then backing up their previous pledges with a further extension which, if successful, will surely become permanent.
Well done Burnley FC for listening - working together really is the way forward.
All the prices can be found within the Ticket Information section which can be found within the Clarets Latest drop down menu.