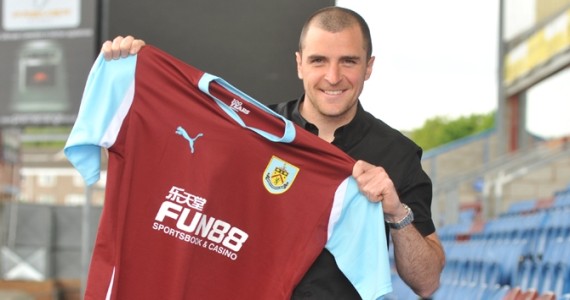 Dean Marney - one of four new signings ahead of the season
It was an amazing feeling going into the Premier League. Wembley, the promotion celebrations and then the reality of games against the top sides in the land. Great international players were to visit the Turf and little did we know that the excitement would include a win against Manchester United and one of the greatest games played on our ground for years with the visit of Arsenal.
Would I still prefer to be in that Premier League? Yes, of course I would and I was as disappointed as anyone last April when our relegation was finally confirmed. It had, in the end, proved to have been a difficult season for a number of reasons and there was ultimately a real inevitability about it.
What now? If we can't forget what happened then let's put it behind us. It's time to move on. We are back in the Championship and back to the fight of trying to win promotion to the Premier League all over again. The pressure is on us that bit more this time. In previous years, including the promotion season, we were never considered favourites or anything close to it. Now we are amongst the front runners according to the bookmakers.
Kevin Blackwell backed us last night on television whilst Peter Beagrie tipped us to win the league. In this morning's press we are being backed by many, if not all. Chris Kamara has had a bet on us to go up whilst the reverse sees the
Daily Mirror
predicting that we'll finish in 17
th
place.
Forget the bookies and the tipsters, nothing they say or do will make any difference. I know what I want from the season and what I'm hoping for, and I'm certain every other Claret wants exactly the same. There are no guarantees, so let's sit back, get on that rollercoaster again and hopefully help push this great club of ours back up to where we want to be.
COME ON YOU CLARETS