Strikers, or centre-forwards as we called them when I started watching football, usually do most of the striking. They are the ones generally expected to get the goals.
Two seasons ago, we spent the first half of it worried to death that one of ours might get injured. We only had two, Danny Ings and Sam Vokes, but by the time we went out of the FA Cup at Southampton, a game in which they both scored, they'd missed only one game between them and they'd netted a grand total of twenty-five league goals, Ings with fifteen and Vokes with ten.
In the week after that cup defeat we increased our options by 50% with the signing of Ashley Barnes from Brighton and it's happen as well we did as first Ings and then Vokes suffered injuries during March. Ings only missed five games but Vokes was ruled out long term. Their goals had virtually confirmed the promotion that we celebrated at the end of last season with Barnes chipping in with three of his own.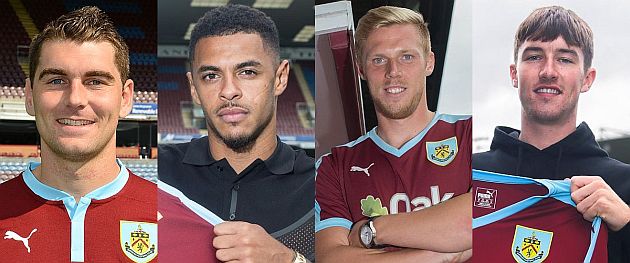 Move on two seasons and it seemed we were collecting strikers for fun. Ings left in the summer and Barnes himself is currently injured long term. But Vokes still had summer 2014 signings Lukas Jutkiewicz and Marvin Sordell to partner as well as Jelle Vossen, Chris Long, Rouwen Hennings and Andre Gray who have all arrived at Turf Moor in the window that closed just a couple of days ago.
Manager Sean Dyche said when we completed the signing of Gray, two weeks ago tomorrow, that you can't have too many strikers. There's just one problem. Vokes scored our equaliser at Leeds on the opening day of the season and that's been it, the remaining goals have come from defenders and one Matt Taylor free kick.
Not one of those listed above, other than Vokes, has ever scored a league goal for Burnley. All but Long have been involved in league action this season with Dyche shuffling his attacking options game by game to try and find the winning formula.
Signing another striker was definitely not on anyone's minds when this week started. Sky's suggestion that we might have nine or ten is a bit far-fetched. You can't include Barnes and it is so very wrong to include such as Daniel Agyei and Ntumba Massanka, two 18-year-olds who last season were scoring their goals mainly in the Youth Alliance League.
Still, when I was having breakfast on Monday morning, I was wondering which pairing we might go with a week on Saturday. Would it be Vokes or Jutkiewicz? They've been alternating. Would Vossen return? Would Hennings be included? Would Gray get his home debut and would Long be going out on loan?
There were so many permutations and I'm sure our manager was wondering which might be the best pairing to give us that lift by starting to score goals.
But then, out of the blue, we started to lose them one by one. Talk about the domino effect.
MONDAY - The early news was that we'd sold Vossen to Club Brugge. There was nothing from Burnley for most of the day, but they eventually confirmed it with the player telling us he and his wife had been unable to settle.
Had they bought a house in Blackburn? They were my first thoughts, but, joking apart, his wife was struggling to settle away from her family and friends in Belgium and it was, without doubt, the best decision all round that he be allowed to return home.
One down.
TUESDAY - Burnley confirm that Sordell's contract had been cancelled by mutual consent. He'd scored just one goal for us, that coming in the FA Cup replay at Spurs last season.
It hasn't worked out and again it was the best all round to agree this. Sadly, my lasting memory will be of our own fans belittling him at Port Vale recently.
Two down.
WEDNESDAY - The injury that saw Jutkiewicz end last Saturday's game at Bristol in some discomfort was confirmed as a cruciate ligament injury, words we are getting used to at Turf Moor.
It came in a week when both Kevin Long and Dean Marney took their first steps on the pitch as they recover from similar injuries with Juke now joining Barnes on the long road back.
Three down.
It's Thursday, I'm worried that more dominoes are going to fall. Yesterday afternoon I spoke to chief exec David Baldwin who asked if I could be at the ground at 9:30 a.m. today so the club could confirm me as the latest signing as a free agent.
I suspect he was joking. I've never seen myself play, but others did have that less than pleasurable experience. I really don't think I'm the answer. Thankfully, for everyone else, I had a medical appointment at that time this morning (and I don't mean a football medical) and missed the photo shoot. In any case, Joey Barton has taken squad number 13 and had I played it would very definitely have been unlucky for some, and by that I mean our fans.
There had been strong rumours that Long might be going out on loan. He could still do when the emergency window opens but maybe it is significant that he hasn't. Not only that, he was the extra player to travel to Ashton Gate last week alongside the 18 who were on duty. suggesting he's closer to a first team call than some might think.
There's no panic. We've still got four strikers. We know Vokes can get goals at this level while both Gray and, to a lesser extent, Long have done it elsewhere in the Championship. Hennings has certainly got his fair share of goals in Bundesliga 2.
I reckon there are goals in this team of ours, and by that I don't mean relying on corners for Michael Keane to come and head home.
There will be some work going on at Gawthorpe in the next week or so as we search for the best pairing. I suspect it might be Vokes and Gray again but I wouldn't be at all surprised to see both Hennings and Long on the bench. And I don't think we'll have much longer to wait for our strikers to start scoring.