Those two players span my years of watching Burnley. Pointer was in the first Burnley team I ever saw play, in fact he scored the first Burnley goal I ever saw in a home win against Manchester United.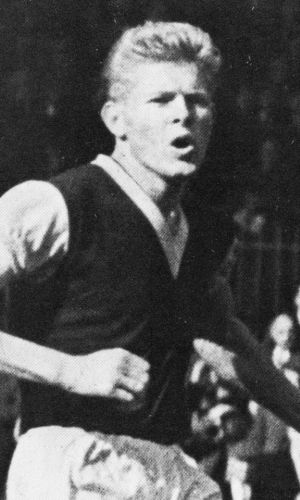 He was a member of that fantastic side that lifted the league title in 1960, played in the European Cup and then, in 1962, the FA Cup Final. He was called up to play for England and scored one of the goals, with John Connelly getting the other, against Portugal that ensured England a place in the 1962 World Cup Finals in Chile.
Injuries curtailed his time at Burnley but by the time he'd left he'd scored a total of 118 league goals, and that's the most any Burnley player has scored in post-war football.
Austin was a player who came to my attention during Swindon's run to the play offs in the 2009/10 season. He scored 19 league goals for them that season, amazingly seven less than leading goalscorer Billy Paynter who benefited as the penalty taker. With such as Leeds in that promotion chase I was keeping an eye on it and those two names were appearing in the goal charts every week.
Just a few months later he turned up at Turf Moor as Eddie Howe's first signing. I wondered when we signed him whether he might have been a one season wonder but from the start of last season he's proved to be anything but. He got off to a good start but saw his season disrupted by a shoulder injury. It took him some time to get back to form on his return but then the goals started to fly in again. His end of season total was excellent, at more than a goal every other game.
With that, by the start of this season I felt we'd got a natural goalscorer in the team, someone I thought might get 20 league goals, particularly if he had the advantage of taking the penalties. Such has been his form that he now needs to score just six more times in the remaining games to achieve that target.
Quite simply, unless another injury comes along it looks virtually impossible for him not to get there and, if he remains fit and remains with Burnley, I can quite conceivably see Willie Irvine's post war record of 29 league goals coming under serious threat.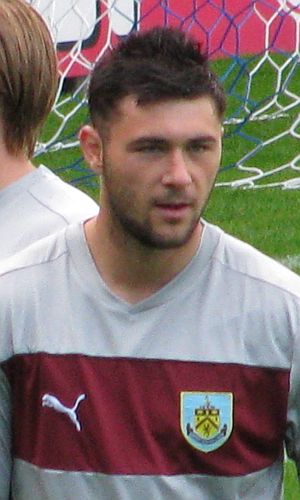 Pointer? Irvine? Am I comparing Austin with those two? Without a doubt I am. Yes, he's a division lower but his goalscoring exploits right now demand that he stands comparison with those two.
Back to the records and Pointer. Almost two years before I first saw him play, he'd been on a run where he scored in eight successive appearances and, just four days ago, that achievement was equalled by our current goalscorer Austin who has scored in all but two games he's played in this season and in every single league and cup win since Jay Rodriguez got both in a 2-0 win at Nottingham Forest in January.
Should he score at Cardiff tomorrow then he'll break that record of Pointer's but will equal another. The reason for two records is that, during this spell, Charlie has missed a game through injury so, although he's scored in his last eight he has only scored in Burnley's last seven games.
It hardly diminishes the achievement at all, but having not played at Leicester, it does leave Pointer still ahead in terms of a club record of scoring in eight successive Burnley games.
Charlie admitted this week he'd never heard of Ray Pointer. There's no reason why he should have. His playing career was over long before Charlie was born, but one thing is for certain, he's heard of him now and can rightly be mentioned in the same breath.
I'm not sure how good Ray Pointer was at building walls, but he could certainly score goals, just as Charlie does now.
RAY POINTER RECORD
29/11/58 - ASTON VILLA (h)
06/12/58 - NEWCASTLE UNITED (a)
13/12/58 - TOTTENHAM HOTSPUR (h)
20/12/58 - MANCHESTER CITY (a)
26/12/58 - LEICESTER CITY (a)
27/12/58 - LEICESTER CITY (h)
03/01/59 - LEEDS UNITED (h)
14/01/59 - STOCKPORT COUNTY (a)
CHARLIE AUSTIN RECORD
15/09/12 - PETERBOROUGH UNITED (h)
19/09/12 - LEICESTER CITY (a) - Did not play
22/09/12 - DERBY COUNTY (a)
25/09/12 - SWINDON TOWN (a)
29/09/12 - MILLWALL (a)
02/10/12 - SHEFFIELD WEDNESDAY (h)
06/10/12 - CRYSTAL PALACE (a)
20/10/12 - BLACKPOOL (h)
23/10/12 - BRISTOL CITY (a)