The first question is an easy one to answer - I think. My guess would be the last New Zealander to grace Turf Moor for the home side would have been opening bowler Gary Robertson who was professional for Burnley Cricket Club in both the 1981 and 1982 seasons.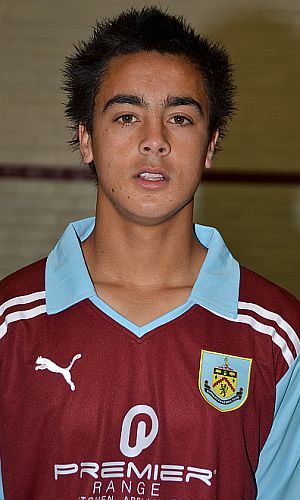 Gary went on to play ten one day internationals for New Zealand and one test match against Australia in Auckland but that was all in the mid-80s at a time when Burnley Football Club were at their lowest ebb and we have to go back there to find someone younger.
The name Cameron Howieson wasn't one known to too many Burnley fans until a few weeks ago when he grabbed the headlines at Craven Cottage, scoring twice for the Clarets in the FA Youth Cup quarter-final against Fulham and helping us to the two legged semi-final against Blackburn Rovers.
Suddenly his name, and those of his team mates, were on everyone's lips and last week he was pushed further into the limelight when along with Luke Conlan he signed a first professional deal with the club.
It didn't stop there. A week last Saturday he warmed up with the first team before the West Ham game and in the last few days he's been substitute in the games against Portsmouth and Birmingham.
Those of us at Fratton Park thought he might have got on once the game was won, but Junior Stanislas was the player sent on in stoppage time, so that took us to last night when, with six minutes of normal time remaining, he came on for loan player Josh McQuoid.
Cameron was 17 years and 103 days old yesterday. He's the youngest of our youth squad right now having been born on 22nd December 1994.
I had some idea who it might be that was younger. I thought of Chris McCann and Kyle Lafferty. McCann had gone past his 18th birthday by the time he made his debut as a substitute in a 4-0 win against Coventry City and Lafferty, who had made his debut a week earlier at Crewe, was just over a month short of his 18th birthday.
I found one or two others who had played at 17, but all were older than Cameron until I reached a date in March 1987. Being exact, the date was 27th March 1987 and a 1-0 defeat at Aldershot.
That was in the days of one substitute and our substitute that day was Jason Hardy who came on for Peter Hampton. Jason was 17 years and 103 days old, exactly the same as Cameron was last night.
I knew then that the search was almost at an end, just a few months to go to 22nd November 1986. We beat Lincoln City 3-1 that day with Leighton James, Billy Rodaway and Phil Murphy scoring our goals.
Brian Miller introduced Jason Harris, a young player at the club, for his debut. Jason was just 16 years and 331 days old.