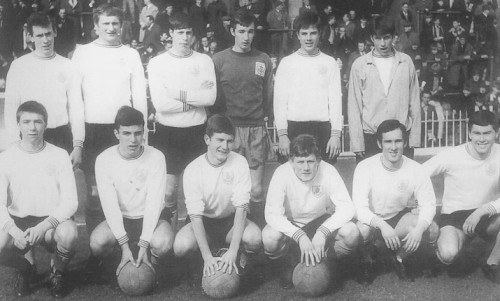 The 1968 winning team pictured at Bramall Lane before the quarter-final
As is always the case, some players who play in the FA Youth Cup go on to forge good careers in the game and others never quite make it, some by their own choosing and those questions will be asked of this current batch, particularly from the many Burnley fans who will be seeing them play for the first time.
The last few days has seen discussions on the youth team of 44 years ago, the first Burnley team to reach this stage and the one that went on to lift the trophy with a victory over Coventry City in the final, this after beating Yorkshire Amateurs, Manchester City, Manchester United, Sheffield United and Everton in the earlier rounds.
For those old enough to have been Burnley supporters at the time, the names roll off the tongue and none more so than the three players who really established themselves in the first team at Burnley. They were Mick Docherty, who captained the side and then played at right half, Dave Thomas who wore the number ten shirt and his left wing partner Steve Kindon who made his Burnley debut in the competition in the win against Manchester City.
However, six others played in our first team and the only two regular members of the team who did not make at least one first team appearance were goalkeeper Gerry McEvoy and outside-right David Hartley who scored the two goals at Turf Moor in the final to win the trophy.
Youth development is exactly what it says on the tin - developing young players, and so to get three through into the first team from one youth team, as we did with those named above, is some achievement.
Others in the side went on to have good careers away from Burnley and probably none more so than the left-half Alan West, now a Luton vicar. After a failed medical at Sunderland he went on to play for both Luton Town and Millwall, this after bringing some money into the Turf Moor coffers with a £100,000 transfer, and that was a sizeable fee in 1973.
To remind people of that successful team we lined up for the final: Gerry McEvoy (0), Peter Jones (2), Eddie Cliff (21), Mick Docherty (153), Wilf Wrigley (6), Alan West (45), David Hartley (0), Eric Probert (67), Willie Brown (1), Dave Thomas (157), Steve Kindon (185). Sub: George Coppock (0).
The figures in brackets show how many league appearances each player made for the Clarets, including both spells at the club for Kindon. The total is 637 which is not a bad return at all from one youth team.
It's often said that no one remembers the losing semi-finalists and that's probably the case here. Twice, between winning the competition in 1968 and this season's team, we have played in semi-finals.
In the 1970/71 season we lost a replay to Cardiff City and seven years later went out to Aston Villa but I think most people would have some real difficulty naming the Burnley teams from those two games. Asked a couple of weeks ago, I certainly had some real problems and was only able to name a few from either team.
So, last week I took it upon myself to refresh my memory to see which players had represented us in an FA Youth Cup semi-final and it certainly brought some memories back.
Starting with 1971, we'd won against Liverpool (2-0), Blackburn Rovers (4-1), Manchester United (2-0) and Hull City (2-0) and then played Cardiff at home in the first leg of the semi-final.
That home leg ended in a 1-1 draw as the young Clarets of the day turned in what was probably their most disappointing performance of the season. Despite not playing well we did take a first half lead through Harry Falconer but Cardiff forced a second half equaliser to take a 1-1 draw back to Ninian Park.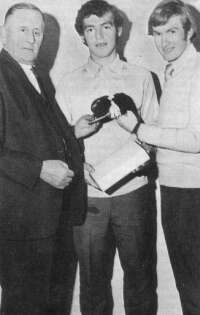 Parton & James receive their youth caps
The dressing room was described as subdued after the game with the only cheer coming when chairman Bob Lord presented Jeff Parton and Leighton James with their Welsh youth caps.
We turned in a much better performance in that second leg and earned a replay having made a 0-0 draw. The replay was at home and it turned out to be something of a thriller in front of more than 6,000 at Turf Moor.
Leighton James was the star, and probably no surprise given he holds as much respect for Cardiff City as I do this week's opponents, but it was centre-forward Ian Brennan who scored. However, it ended 1-1 with Cardiff scoring twice in two extra-time minutes to win the game 3-1.
The Burnley team for those semi-finals was: Jeff Parton (3), Ronnie Welch (1), Harry Wilson (12), Billy Ingham (211), Duncan McMahon (0), Peter Harris (0), Paul Bradshaw (13), Harry Falconer (0), Ian Brennan (175), Leighton James (336), Colin Morris (10). Sub: Joe McNamara.
That team gave us 761 league appearances, beating the 1968 team by 124. It also, like the 1968 team, brought in some transfer money with the sale of Leighton James to Derby.
When we next played in a semi-final, James was on the brink of a Turf Moor return. There was no replay this time, just a comprehensive 4-1 defeat against Aston Villa after we'd beaten Manchester City, Liverpool, Plymouth Argyle and Middlesbrough.
Injuries hit the Burnley side hard that year. Stuart Pickerill was ruled out with an ankle injury and Mick Wardrobe was also out with a chipped bone in his ankle. To make matters worse, goalkeeper Billy O'Rourke twisted his ankle in the last training session and Burnley were forced into playing Burnley Grammar School goalkeeper 16-year-old Craig Carter.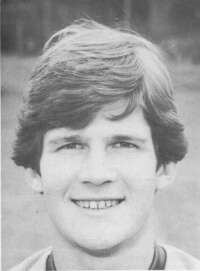 Brian Laws was in the 1978 team
Villa beat us 3-1 and deservedly so, but we gave away some very soft goals. Local boy Paul Whittaker scored the Burnley goal from the penalty spot.
The second leg ended 1-0 to Villa in what was a much improved Burnley performance and manager Harry Potts said after the defeat: "I'm proud of the youngsters for the way they played at Villa and the form they have shown throughout the competition. They have done extremely well to reach the last four.
"The important thing is how many we can bring through to first team level. Some clubs are happy to find one player a year from their youth team. We could get five or six from this team and that would be a real bonus. We have a good basis to build on."
How many did we get into the first team? With O'Rourke back, we lined up at Villa Park: Billy O'Rourke (14), David Tait (0), Kevin Young (120), Paul Dixon (24), Jeff Tate (3), Brian Laws (125), Andy Wharton (65), Stuart Robertson (32), Phil Cavener (69), Neil McGregor (0), Paul Whittaker (0). Sub: Stuart Pickerill (0).
In terms of future first team appearances this team provided less with just 452 appearances from eight of those players.
Will eight or nine from this year's team make it to the first team? Will we get hundreds of appearances and/or a bit of money for them in the transfer market?
All we do know is they've given us our best youth cup run in 34 years.