Dawson, who we came close to signing four years ago, has clearly become the number one target for Sean Dyche to bolster a central defensive area that currently contains just captain Jason Shackell, long serving Michael Duff, Irishman Kevin Long and such as Tom Anderson, who is currently with the first team in Austria, plus Callum Richardson and Alex Whitmore who have just signed their first professional deals.
A few weeks ago Dawson was one of three names we suddenly got all excited about, along with those of Craig Bryson and Troy Deeney, as Burnley's recruitment drive prepared to step up a few gears, but Dawson, like the other two, has not walked though the Turf Moor doors.
Whether Deeney ever did or not (other than to play for Watford) I don't know. I think we all know now that Bryson did before having his head turned with a wonderful long term offer from Derby to remain in the Championship.
Bryson will not be signing for Burnley. I think I can say that with some certainty now although I did receive some response after he signed his new Derby deal because I'd dared to suggest on the message board that I understood he'd played his last game for Derby.
At the time, with the information I'd received, that looked certain, with the only possible obstacle in our way of getting him being a counter offer from QPR and even then I was sure in my own mind that he would be a summer signing.
It didn't happen because of the mind blowing offer from Derby to keep him whereas the Deeney situation seems different in that Watford are demanding such a huge amount for their player that our interest has, shall we say, cooled dramatically.
That removes one football question I was ready to ask which was who were the last pair of brothers to play for Burnley? Three years ago Ellis Deeney, having been released by Villa, played in our reserve team as he tried to win a contract.
He didn't get that contract and has since played for Kettering Town, Hinckley United and his present club Worcester City.
Back, however, to Dawson. I've certainly no intentions of sticking my neck out and suggesting he's played his last game for West Brom. He's played for them as recently as this week in a friendly against Shrewsbury, a game watched by our Head of Recruitment and Analytics Lee Darnbrough.
He's also off on his travels today and has flown out to Sacramento, California, as a member of a 23-man squad of West Brom players. George Thorne, who has handed in two transfer requests, has been left behind in the West Midlands, due to West Brom being in talks with Derby over his transfer, but Dawson, who has handed in just one such request, is now scheduled to be on the other side of the pond for the next eleven days.
It's been difficult to determine the situation. New Baggies' boss Alan Irvine has suggested he'd like to keep him, that he may be sold and that he is not for sale all in a matter of days.
He's currently their player and unless the two clubs come to an agreement then that's how things will remain. Clarets Mad Sources, and I'll let you judge whether they are more or less reliable than Sky Sports Sources, are suggesting that Dawson is very much favourable to a Turf Moor move and, right now, I'd say we still have a very good chance of getting a player who remains keen to leave the Hawthorns.
I don't think anything is close, far from it. Dawson, like Thorne, would not have been on the flight today had there been any sign of a deal being agreed between the two clubs.
There's been a bit of a panic on the message board in recent days over the lack of a new defender, and I suppose the lack of another midfielder and striker.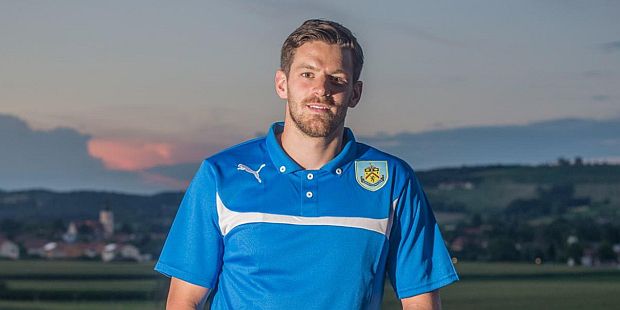 Latest signing Lukas Jutkiewicz increases our attacking options
Personally, I remain relaxed about things and am still enjoying what I saw our club achieve last season. Sean Dyche says we have to look forward, not back, but I couldn't resist taking in the last 20 minutes from Ewood again this morning whilst having breakfast, and then watching the BBC highlights of the Wigan game - which reminds me, I'll not have any need to series link the Football League Show next season.
How much will I miss Leroy Rosenior and Steve Claridge whilst putting up with Alan Shearer and Robbie Savage? Surely they won't stick Phil Neville on co-commentary duties will they?
I know we need more recruits but I'm sure they'll come in. I'm reasonably happy with the deals we've done so far. We're not going to be signing forty grand a week players so we'll leave that to some of the others while we get on with being relentless again.
Two of the new recruits have been forwards. This was the area where were so short of players last season. Only during the period from January to March (eleven games) were we able to name a striker amongst the substitutes (I've not counted Ryan Noble). Those were the games after Ashley Barnes was signed and before Danny Ings and then Sam Vokes were injured.
Big Sam will be out for a while yet but we've added Marvin Sordell and Lukas Jutkiewicz to the squad. Maybe they weren't the names on supporters' minds but it's good to have a few fit strikers.
Ings caused a bit of a stir last night with an interview. He reassured us that he's going nowhere, despite the nonsense on Twitter yesterday that a Dorset reporter fell for, but he certainly didn't give any promises that he might stay with us beyond next season.
The lack of midfielders was also evident last season where David Edgar had to fill in on occasions. Steven Reid can play in there but there's no doubt Matty Taylor can. These are the sort of new signings I'd hoped we'd make last time we went up, experienced players with plenty of Premier League know how.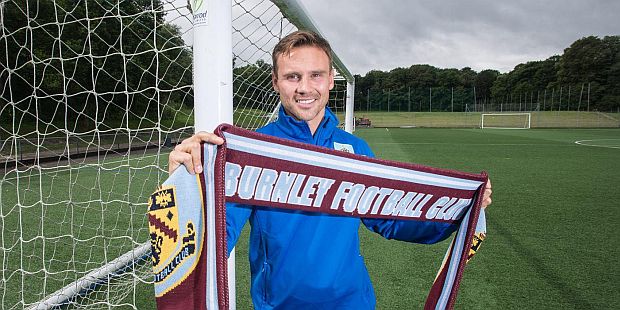 Matt Taylor will provide midfield competition
On the subject of Reid, it's sad to report that I spoke to someone in town this week who claimed it was a disgrace signing anyone who had played for Blackburn. The same person told me how impressed he'd been with David Jones last season.
Blackburn. I posted this on the message board yesterday but I do miss Shebby Singh. It's nice being a league above them and that's another one that's been 35 years in the waiting.
We don't get too much fun coming out of Ewood these days but the video to promote their new home kit was pure gold. I'm sure you've all seen it but I can assure their version of Rocky that I know I don't want it. I'm not even sure I want our black away kit and a blue and white halved shirt is something I would not want to be seen in.
It was a reminder of Shebby and the chickens and poor Mrs Desai's husband getting hit with the snowball. I enjoyed all those but not quite as much as the goals from Jason Shackell and Danny Ings right in front of me at the Darwen End.
I suppose we don't need to have a laugh at them now we've gone up, but in case we do need a laugh there's always Bolton or Leeds or Blackpool.
Bolton flogged us Sordell on the cheap so they could raise the cash for Jutkiewicz; then we took him as well and left Dougie Freedman looking for Plan B. It's only four and a half years since they were ten years ahead of us but now they've had to pass on all next season's parachute payment to the bank whilst hoping and praying Eddie Davies and his kettle elements doesn't pull the plug.
Last week's fun club was Leeds. Back in the 1960s they assembled a squad of outstanding footballers who underachieved because of, to a large extent, their thuggery. They came from nowhere under Don Revie to challenge the big clubs in English football and twice won the league.
They've had a decent run of late. There was Peter Ridsdale and then Ken Bates, the Burnley fan from Brinscall who tried to buy our club in the 1960s. Then they had the hardly cash rich GFH Capital and now some Italian nutter by the name of Massimo Cellino who got in despite stringent efforts by the Football League to keep him out.
He's not done too much. That is if you don't count him sacking the manager Brian McDermott before he took over, then telling him his job was safe before getting shut of him once he had taken over.
Then there's the notion that all players must live in Leeds, that they've to take their own food to training and should they be disrespectful to him or have a bad attitude then they'll soon find themselves marching on together elsewhere.
"We all hate Leeds, and Leeds, and Leeds," we used to sing. Hate's a word I would never use but I think football fans right across the country will be enjoying this one.
This week, however, it is Blackpool. This is the team with less players than Harry Redknapp is capable of signing in one day through the car window, where Jose Riga, the new manager of just a few weeks, seems to be at loggerheads with chairman Karl Oyston.
I've always thought the Oyston family were a bit of a joke since I used to see Karl's dad Owen falling backwards into a swimming pool on television while trying to sell houses. And that was before dad ever sewed a mailbag.
Mum Vicky was chairman for a while but when she got fed up she handed it down to Karl who, it is said, has no interest in football. Blackpool fans, who have christened him KOKO, don't seem to like him very much.
This week they've cancelled the pre-season trip to Spain whilst the impasse between Riga and Oyston has meant still no more players. It's eight plus a bus load of trialists just now. I wonder what sort of team they'll turn out against us in sixteen days time.
I'm grateful I don't support Blackpool - or Blackburn, or Bolton, or Leeds.
I support Burnley and, despite the Dawson delay, and this perceived lack of vital signings; despite no new contract for Ings, I'm still enjoying my summer and waiting for Chelsea four weeks next Monday.
PS: Bryson will play for Derby again.