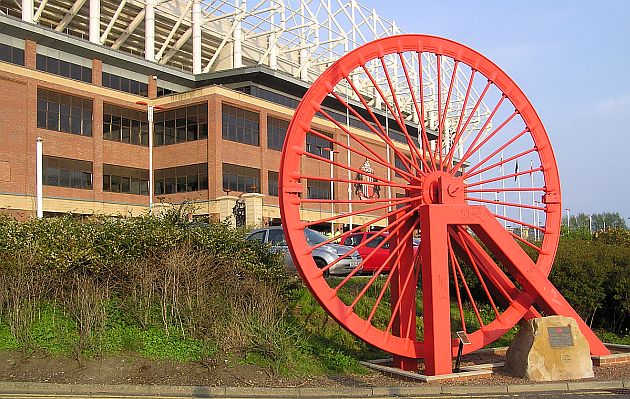 Optional, complimentary transport will leave from the Stadium of Light
I've never attended a game between the two Premier League clubs in the North East but I can imagine they are feisty affairs with both sets of supporters seeing the fixture as a must win game and Sunderland's win at St. James' Park in April 2013, the one when Paolo Di Canio went sliding around on his knees in his posh suit, led to disturbances outside the ground after the game.
Press reports after the game reported that 96 people had been arrested on the day but only six of those had been at the game. Northumbria Police subsequently confirmed there had been 156 arrests with 57 of them having attended the game, including 33 Newcastle season ticket holders.
After that game, Chief Superintendent Steve Neill said: "The vast majority of fans were well behaved today and enjoyed the Tyne-Wear derby for the great occasion that it is," adding: "Disruptive behaviour of any kind is not toleration. Action will be taken against all those involved."
Despite confirming that the vast majority had been well behaved, the Northumbria Police then made the decision to enforce a bubble match for last season's game. That means all away fans, no matter where they live, are forced to travel from the Stadium of Light to St. James' Park by organised transport, restricting that vast majority who have been well behaved.
It was another case in a worryingly increasing trend to force bubble matches that have even reached the Conference every time Chester and Wrexham face each other.
Back in the North East, the Sunderland fans, via supporters groups and web sites and such, were joined by similar Newcastle fans in launching a campaign against the decision.
The two sets of supporters worked side by side against this and in January this year the two clubs issued a joint statement confirming that Sunderland would be withdrawing the terms and conditions of ticket sales, removing the previous statement that all supporters must attend the game on official transport.
The supporters had won the first battle, and today came news that no similar bubble idea will be implemented for this season's clash at St. James' Park on Sunday 21st December.
Sunderland this morning confirmed their ticketing information for the fixture. As was the case last season they are providing a complimentary return bus service and are encouraging fans to make use of it. But there will be no restrictions on those choosing to travel independently.
Well done to the two sets of fans up in the North East; they've won a battle we've long been failing to get anywhere with for the East Lancashire derby. It may be a long time before we have that fixture again but it shows what can be achieved when the two sets of fans work together.
They haven't managed to get sensible ticket prices unfortunately. Sunderland fans will be charged £47 (adults), £38 (over 65s & full time students) and £25 (under 18s).