He got his chance on the opening day of the 2013/14 season after the departure of Charlie Austin to QPR two days earlier. He'd started every game for the Clarets and had scored 18 league goals, only two less than Danny Ings, and, with Ings injured, was looking forward to forging a partnership with Ashley Barnes who had just come into the side.
At club level, he was playing for a team in second place in the league and ten points clear of third place Derby whilst at international level he'd won his 31st cap earlier in the month, scoring in a 3-1 friendly win against Iceland in Cardiff.
The phrase All your Christmases come at once was as apt as any.
Sam started his career with Bournemouth and had won a regular place in their side prior to moving to Wolves in the summer of 2008 at the age of 18.
From that move, to joining Burnley on a permanent basis four years later, he'd played for six different clubs, five of them on loan, but started only 27 league games in total. He'd added 62 substitute appearances to that and had, in total, scored 14 league goals.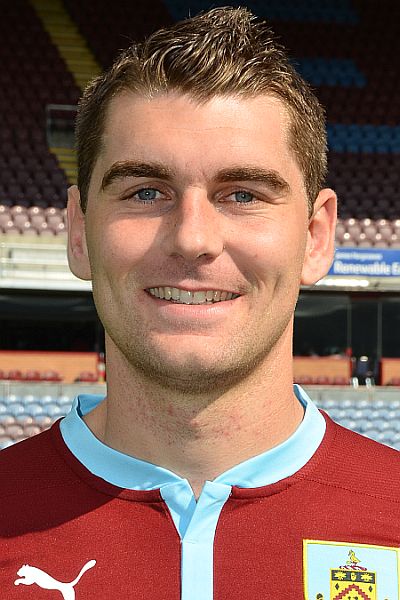 He played in every single league game for Burnley in his first full season at the Turf, but only 13 of them were starts. He scored just four times with only one of them at Turf Moor, a memorable one though as it won us a point against Blackburn.
On 1st August 2013, the Austin deal went through and Sean Dyche, always positive, said, as he always does, that it was an opportunity for someone else. Vokes grabbed that opportunity with both hands, both feet. his head and anything else he could lay his hands on.
By a year ago this week he was a firm crowd favourite and everything in the Vokes garden was very rosy. For a few more days it continued too. He scored in both of the next two games with penalties against Charlton and Doncaster to take his total to twenty, and then we played league leaders Leicester at home on 29th March.
This was the big game we'd all been looking forward to, but with only three minutes gone it was all over for Sam. He went down untouched in front of our technical area and five minutes later he was substituted.
We feared the worst, and it was the very worst. He'd sustained a ruptured cruciate ligament injury and that was going to be that for most of the rest of 2014 as far as playing football was concerned.
We won the promotion; he danced on the pitch on his crutches and on the Tuesday evening after the last home game against Ipswich, still on his crutches, he picked up the Player of the Year Trophy.
Then, as far as we were concerned, he disappeared as he got on with his long road towards fitness. Other than a few bulletins on his progress we just got on with our Premier League season without him.
Eventually he started to play development squad games which led to him finally getting back into first team action on Boxing Day when he came on for Barnes with ten minutes remaining.
What a fantastic reception he received from the home crowd but it was not the time for him to walk back into the team. He wasn't involved in the next two games. made another substitute appearance against Spurs in the first cup tie and then played from the start in the replay at White Hart Lane.
There were other substitute appearances to follow but he looked some way away to me; that was until he replaced Michael Kightly at Chelsea, two minutes before Minute 81 and Ben Mee's equaliser.
"That's the old Sam Vokes," I said. He looked a different player than he had in previous games and for the first time I reckoned he was ready to have an impact in the Premier League.
He'd never started a Premier League game in his career so into March 2015, a year on from that awful injury. The league champions were coming to Turf Moor and Dyche decided this was the day to give him that first start.
In an excellent team performance he was outstanding. I don't think even he could have dreamt of coming back in with a performance of that quality. Only towards the end, as the inevitable tiredness kicked in, did his performance level drop at all.
If he thought things couldn't get any better than that, then they did yesterday when he won his place back in the Welsh squad for their Euro Qualifier against Israel which will be played at the Sammy Ofer Stadium in Haifa.
Welsh team manager Chris Coleman said: "It's good for us because Sam gives us something different. He's not just a target man, he's got a bit more to him than that and it will be good to have him back.
"Maybe he can come on for half an hour or play for an hour if he starts because defenders don't like playing against that very strong and brave forward who can get a goal."
Before then, Sam will be off home to Hampshire where he will be hoping to help the Clarets pick up more points as we attempt to survive in the Premier League. And then he will surely put the icing on the cake with what will be his 32nd cap.
Just like Coleman, we are pleased to have Big Sam back.