Former captain and manager. Yes, he was certainly both of those during his almost thirty years at Turf Moor but the description hardly does him or his service to Burnley Football Club any justice.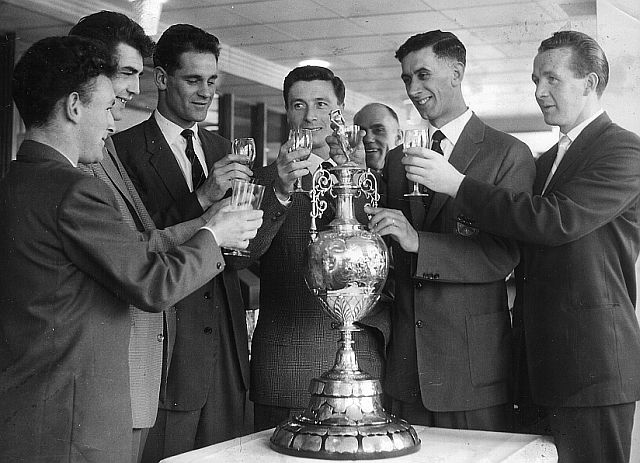 Second right with Meredith, Blacklaw, Robson, McIlroy, Bennion & Cummings
Whilst shopping in town yesterday afternoon a Burnley supporter, one much younger than me, asked me about Adamson. "Was he any good?" he asked. That was a question that certainly got me thinking as to just how I could answer it and how I could describe him.
"He was one of my team," was my first response, and by that I meant that when I first went through the Turf Moor doors in 1960 he was one of the eleven players on duty that day. That first team, that first group of players you see, no matter what era, are always very special and Adamson is the fourth of that group, 'my team', to leave this earth along with Walter Joyce, Brian Miller and Adam Blacklaw.
Recently, I read Mike Smith's book on Tommy Boyle and also went to the lecture at the library associated with the book. Just last Sunday I spoke to Jimmy McIlroy at a Tesco checkout. The both of them are, undoubtedly, Turf Moor legends and rest assured Jimmy Adamson can sit proudly right alongside them.
Legend is a word that is so often used and so wrongly used. For Boyle, for McIlroy and for Adamson it is very much the right word, as if the word had been created just for players such as these three.
Briefly, and it is written elsewhere on Clarets Mad, his playing career stretched from 1946, when he first arrived at Burnley, until 1964 when he decided it was time to hang up his boots.
His first game for Burnley was for the 'A' team against Lancaster City in October 1946 and at the time he was an inside-right. It wasn't all plain sailing. He was homesick and returned home to Ashington before, the following year, being persuaded to return as a professional.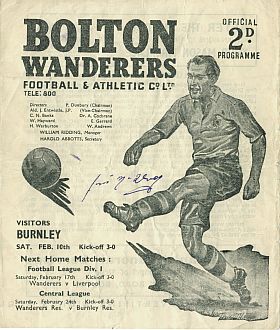 Debut v Bolton Wanderers (away)
It took until 1951 before he made his first team debut but he went on to play 486 games for Burnley, many as captain, and led us to the league title, into the European Cup, to an FA Cup Final, and in 1962 was voted the Sportswriters' Footballer of the Year.
Incredibly he never won an England cap but travelled to Chile with the squad for the 1962 World Cup Finals as assistant to Walter Winterbottom and when the FA decided to appoint a full time manager he was the first to be offered the job. He was still a player at Burnley and turned it down.
Adamson, although arriving as an inside forward, became a half back. I always think of him as a right half. He played in that position, proudly wearing the number 4 shirt in just about every game I saw him play. Yet, looking back before those days he'd also often played at left half (number 6) and centre half (number 5). He was comfortable in all three yet, I'm told, right half was his favoured position.
His influence on the team during the halcyon days cannot be underestimated. One of his old team mates, club president Jimmy McIlroy, said this week on hearing the news of Adamson's death: "It was one of the saddest moments of my life," adding: "I'm sad because I have so many memories of a man who played a massive part in the history of Burnley Football Club."
John Connelly, another member of that great side, said: "He was a wonderful footballer and great to play with. Jimmy Mac, myself and Adamson would stand over free kicks from the right but he was the one in charge. He was also a very nice person."
My memories of Adamson as a player came at the back end of his career, from 1960 onwards. He was somewhat ungainly in appearance but was deceptively quick, could certainly pass a ball and at times appeared to have the ability to wrap his legs round an opponent to win the ball.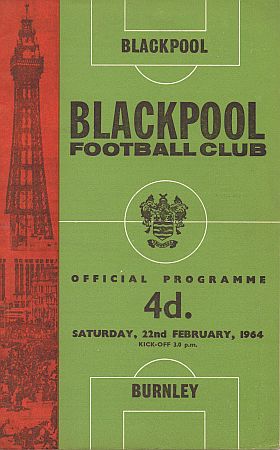 Last game v Blackpool (away)
Above all that he was the leader of the team, the captain in every sense of the word, and that leadership along with this tactical nous was key on the pitch. He was probably always the player in the team that was most likely to stay in the game and I'm sure none of his teammates were surprised that he remained at Burnley at the end of his playing career, becoming a coach initially before being appointed manager in 1970.
We all now know of the 'Team of the Seventies' prophecy from him when he was appointed as manager, but the big disappointment is that he was never able to achieve what he set out to with those players. Incredibly, having told us all how good we were going to be we were promptly relegated and in the following season, as things didn't go to plan, he came under increasing pressure from the fans, particularly after a game against Blackpool that we lost 4-2.
"Adamson Out!" were the most used words in town at that time. The scenes outside Bloomfield Road at Easter 1972 were worse than anything I've ever seen from Burnley fans targeting a manager. They'd had enough of Adamson and wanted him out of the club.
He stood firm. More importantly his chairman Bob Lord stood firm. There was an almost instant recovery as the season ended with six successive wins and the next three years or so were the best football we'd seen at Burnley for some years and I would dare to suggest there has been nothing better since.
We stormed the Second Division in 1972/73, losing only four games, and then came so close to getting back into Europe whilst reaching an FA Cup Semi-Final.
That Burnley team had some very good players. The names roll off the tongue, such as Paul Fletcher (Adamson's first signing), Colin Waldron, Alan Stevenson and the brilliant full back Keith Newton. It also, for me, had three very special players who were so important to the team. They were Martin Dobson, Frank Casper and Leighton James.
Adamson lost Casper to injury and then, in turn, Dobson and James who were transferred to Everton and Derby respectively. His three key players had gone and there was never a hope he could, by then, achieve what he set out to achieve.
By January 1976, we had just dropped into the bottom three of the First Division and, in the first game of the year we were out of the FA Cup, beaten 1-0 at Blackpool. The opposing manager that day was Harry Potts who Adamson had replaced at Burnley. By the end of the year Potts would return to Burnley as scout but this was Adamson's last game.
There were no demonstrations this time, by now the Burnley fans were fully supportive of the manager and it was a massive shock when the news came that he'd been dismissed with Joe Brown, his assistant, being handed the job.
There were lots of rumours that his departure came because of a fall out with Lord, some suggestions were that he'd lent money to Lord to prop up his ailing butchering business and that the arguments were over this. It's something we'll never know for sure now, but the news was a shock.
Burnley without Adamson didn't feel right. Certainly the team never looked capable of avoiding the drop from that day and we fell to relegation from the top flight and had to wait another 33 years before it returned, albeit briefly.
Players sided with Adamson and were pushed out and when he took the job as Sunderland manager there was suddenly a claret and blue flavour on Wearside. Waldron, Mick Docherty and Doug Collins were all signed whilst reserve team coach Dave Merrington moved North East. Even Commercial Manager Jack Butterfield joined Sunderland.
Burnley might never have been the same, but neither was Adamson. He managed Sunderland and then Leeds, neither with much success and the supporters of those clubs won't remember him with much affection even though, at both clubs, he did introduce some good young players.
One local journalist once told me that managing Sunderland and Leeds was nothing other than a job to Adamson, even thought he'd been brought up a Sunderland fan. Managing Burnley, however, was a passion and what he wanted to do. Burnley was his club and it hurt that it no longer wanted him.
He did return on one occasion as Sunderland boss. It was a hostile day and they beat us 2-1 with nine men, but there was to be no return for him in any other capacity.
When he left Leeds at the start of the 1980s he said goodbye to football, and for a man with so much to offer the game it was nothing short of a tragedy. His sporting prowess was still evident in Burnley, where he continued to live, as he was seen on the town's bowling greens and was no mean competitor with the woods.
Sadly he faded away from anything involving football and lived most of the rest of his life away from the game and away from Turf Moor. It was a sad life too in many ways with the losses of his two daughters Julie and Jayne, both just in their 40s.
When the triumphant team of 1960 was ever invited back to Turf Moor he shunned the invitation. He was one of the few members of that team not to be present for Harry Potts' funeral in 1996 and it became apparent that he would never, ever return to Turf Moor.
Fletcher and Waldron changed all that in 2005 when they brought him to the FA Cup tie against Liverpool, but the game was postponed. Even so, he'd been back inside the ground. The next time was on the sad occasion of his wife May's funeral in 2010.
The story of Jimmy Adamson could have ended in such a sad way but in January of this year he made an unexpected, but ultimately triumphant, return to the ground.
The club had decided to open up a Jimmy Adamson Lounge within the Jimmy McIlroy Stand. It wasn't thought that he'd be well enough to attend but at the eleventh hour he decided he would be there to cut the ribbon himself.
It was the home game against QPR and the day when Eddie Howe arrived ahead of becoming our new manager. There was no announcement initially, but Adamson made his way outside from the lounge into the lower tier of the stand.
The applause was spontaneous; it was loud; it was sustained; it let him know just what the Burnley fans thought of him. He stood and waved to the crowd; many of them too young to remember him but others, who saw him either play or manage or both, delighted to have the chance to welcome him back after so long.
His granddaughter, Jennie Halstead, said: "We were so glad that granddad agreed to go back to Turf Moor. Despite having dementia he could always remember results and players from Burnley. He really enjoyed going back."
Now the club's Chief Executive, Paul Fletcher played a massive part in reuniting Burnley Football Club and Jimmy Adamson. Fletcher was close to his old manager, very close, and this week, following the news of his death, said: "Jimmy felt he was almost a son to Bob Lord and I don't think he thought he would be removed from his job. He wasn't pleased when he was dismissed and it took a long, long time for him to forgive.
"I never thought he would ever come back because of that bee in his bonnet and maybe he didn't feel he was acknowledged as he should have been. Then, last year, when his grandchildren realised the significance he had on this club, myself and the chairman decided we should have a Jimmy Adamson Suite here at Turf Moor in recognition.
"It was a fantastic day when his five grandchildren opened it in January this year, but it was even better that Jimmy was here too. He wanted to sit in the background and he sat talking to Jimmy McIlroy for over an hour, but as the day went on he got closer to the window overlooking the pitch and when we asked him to step outside and the Burnley fans went wild, it was a fantastic moment.
"At that moment, all was forgiven and he realised how wrong he was. This club never disliked Jimmy; it loved him and I don't think Jimmy will ever be forgotten."
He came to watch one other game subsequently but as his illness got worse it became clear he'd made his last visit. I learned on Monday that the end was very close and the following morning I got the awful news of his death via a thread started on the message board.
Herts_Clarets summed it up. He wrote: "He takes his place in the defence, alongside Brian Miller, with Adam Blacklaw the safe custodian between the sticks. Our greats are assembling in heaven."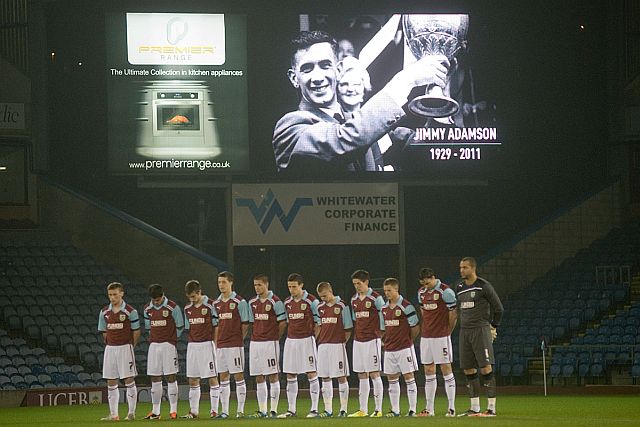 Minute's silence before the reserve game - pic kindly supplied by Burnley FC
That night there was a poignant moment as the reserve team players of Burnley and Morecambe joined supporters for a minute's silence ahead of the Central League fixture. That, hopefully, will now be repeated when the first team next play against Leeds a week tomorrow.
It gives the supporters of our club the opportunity to pay their respects; to say goodbye and to remember just what he gave to Burnley Football Club.
If that young supporter who asked me if he was any good has read this, he'll now know the answer. Jimmy Adamson really was a Burnley great and so rightly is being mourned. He might now just be another name in our history but he's certainly one that should never be forgotten.
Jimmy Adamson will always be one of my team.