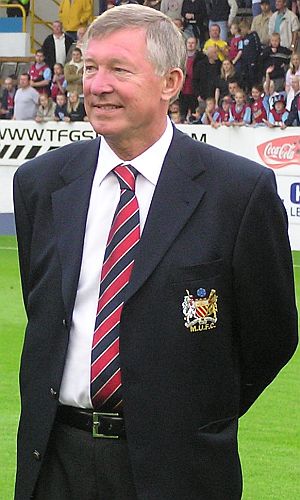 He's dominated this week's news
Back in the 1986/87 season we beat Colchester at home 2-1 on a night when only 1,696 turned up to watch it. Neil Grewcock and Ashley Hoskin scored our goals to end a run of three games without a win.
On the same night Manchester United took something of a hammering in the League Cup. They lost 4-1 at Southampton. They were also fourth from bottom of the First Division (Chelsea and Manchester City were two of the teams below them) and they decided it was time for action.
For manager Ron Atkinson it was the end after over five years in the job and two days after the Southampton defeat he was replaced by Aberdeen manager Alex Ferguson.
Both of us lost again on the following Saturday. We went down at Cambridge and they lost a league game at Oxford, and that takes some believing in 2013. The rest, as they say, is history and that's exactly what it will be next season with Ferguson standing down after over 26 years.
I recall Bob Paisley, after his last game in charge of Liverpool, saying he was fortunate in that he knew it was his last game, that other managers would be in the same position but would have no idea they were in charge for the last time and were to depart their jobs.
Ferguson has two games to go and that's the same now for David Moyes at Everton. He's accepted the Old Trafford post and will also end his Goodison Park tenure, after over 11 years, in two games time.
This news hasn't so much dominated the sports headlines in the last few days; it has totally taken over and Sky Sports News has been something of a nonsense unless you wanted to know what was happening at Old Trafford.
Managing a side for 26 years is incredible, more so in today's football where supporters are calling for the heads of managers even before they've been in charge for 26 games. At Blackburn they don't even get that long.
Ferguson and Moyes were 1st and 3rd in the list of longest serving managers. Arsène Wenger, with almost 17 years at Arsenal, sat between them. With Ferguson gone and Moyes starting at the bottom of the list again it sees Tony Pulis move into second place after seven years at Stoke since he returned from Plymouth.
There's even an ex-Claret stolen a march into the top ten. Mark Yates has been Cheltenham boss since December 2009 but that's enough to get him into tenth place.
For those interested in managerial moves; Alan Knill was finally confirmed as the new permanent manager of Torquay and John Hughes lost his job at Hartlepool. I'm not sure those changes quite made the same headlines.
It's been the start of the play-offs and I have to say I found the semi-finals in Leagues One and Two to be very enjoyable. I'd wanted a Burton v Cheltenham final in League One so, needless to say, it will be Bradford City v Northampton.
Thankfully, my luck changed. I was hoping for Brentford v Yeovil in League One and got just that. I suppose the choice came because I've never really liked Swindon since they kicked us senseless in that League Cup semi-final of 1968/69 and I thought Sheffield United might prove to be the strongest of the four should they come up.
I've nothing against Brentford but I would like to see Yeovil go up if for no other reason than it being a new ground to visit. New grounds watching Burnley have come to a bit of a standstill in the last year. I've seen us play, at different levels, on 194 different grounds. Cork is on the way, as is the new Bournemouth ground. A promotion for Yeovil and an away tie at Chesterfield in the COCUP would be good to edge closer to 200.
I'm not too bothered who goes up from the Championship. I don't think it will be Palace but it would be a relief not to have to make that journey to Selhurst Park again. Having said that I'd be intrigued to see how the Premier League would cope with the Watford situation should the Pozzo family want to bring in another 10-15 loan players from Udinese.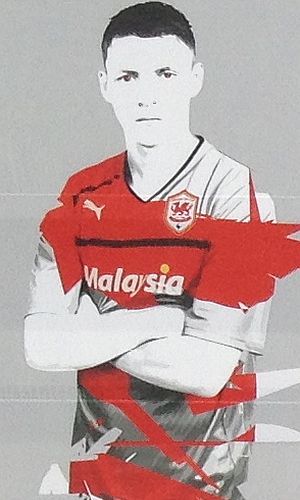 The Red Dragons
Well done to Wigan yesterday. It's been good the last few days constantly being told about Blackburn losing a game 3-0 some 53 years ago. It was the first FA Cup Final I can recall seeing.
News came out too this week that Dave Whelan was on the brink of buying Manchester United in the 1980s for £11.5 million but was persuaded by his wife that it wasn't a good deal. Never mind United, I wonder where Wigan would have been playing their football right now had Whelan not moved in there when he did.
Many people dread retirement but I read yesterday that 'Our Paul' is calling it a day for the second time. He's the first Scholes I can ever recall playing league football and what an outstanding player he's been. Might his club miss him ever bit as much as they'll miss their manager?
Finally, there has been an interesting development at Cardiff this week. They've made it back to the top flight of English football for the first time in 51 years. They've done so with the financial backing of Tan Sri Vincent Tan who, as we recall, opted to switch the club colours last summer.
It's confused some. Even the match programme at Burnley three weeks ago continued to refer to them as the 'Bluebirds' rather than their new 'Dragons' name. Having said that, the away end looked very blue that day and their fans were singing: "The Blues are going up."
There have been suggestions of the bluebird now being dropped from the club badge and even a further brand change with the club name being changed to Cardiff Dragons. That's no surprise, the silly Mr Tan might well be wealthy but his interview immediately after the promotion was confirmed was embarrassing when he put it all down to the change of colour bringing them good luck.
The summer of 2009 was a brilliant time for Burnley fans. It should be now for Cardiff fans but down in South Wales they are actively campaigning again for a return to the blue kit. Will it come in time before the seats in the ground are changed to red?