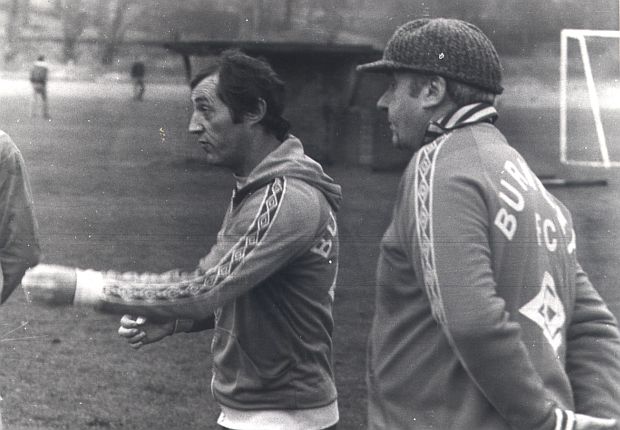 Arthur with George Bray at Gawthorpe
Arthur was very much an ex-Claret. He played 250 times for us before ending his playing career with Chesterfield, but he returned to Turf Moor as a coach working for Harry Potts. He progressed to become assistant manager and then returned to youth coaching before finally ending his Turf Moor career as the club's head groundsman.
He arrived at Turf Moor as a youngster in 1958 just as Potts was settling into the manager's seat. He worked his way through the junior teams before making his debut at against Manchester City at Maine Road in April 1963 just before his 21st birthday.
There were to be some memorable performances from midfielder Arthur over the next nine years. He netted the first of his two Burnley hat tricks in a 4-3 win against Everton in September 1963; it was Everton's first home defeat in over two years.
And I know he wouldn't mind me mentioning possibly his darkest hour as a Burnley player. We'd just gone 2-1 up in extra time in our 1968/69 League Cup semi-final replay against Swindon at West Brom's Hawthorns when he put through his own goal.
Fittingly his last Burnley appearance was in his native North East at Sunderland in April 1972. Unfortunately it was a game that ended in a 4-3 defeat after we'd led 3-1 and that summer he signed for Chesterfield, his only other club.
At the time, captain Martin Dobson said: "Arthur was so well liked by the players and was a bit of a comedian in his own way. As a player he was very well respected. He was a good competitor and he would always do well for us."
Manager Jimmy Adamson added: "Arthur has always been a good professional and was very popular with the other players. He was never any trouble and I only wish there were more like him."
After his playing career ended at Chesterfield he returned to Burnley where he spent time as a milkman and running the wooden hut chippy on Briercliffe Road.
But the call from Potts in 1979 saw him return to Burnley Football Club as a coach from which he progressed to assistant manager alongside Brian Miller where he endured the Orient season and then had the wonderful opportunity to be on the bench at Wembley a year later.
Miller's decision to stand down in 1989 led to Arthur returning to the position of youth team coach as new boss Frank Casper brought in Mick Docherty as his number two and when Arthur ended his time as a coach he joined the ground staff, eventually becoming head groundsman and living within the training ground at Gawthorpe.
That's Arthur the footballer, Arthur the coach and Arthur the groundsman, but what about Arthur the person?
I watched him play for us but it was when he became Miller's assistant that I got to know him and I got to know him well. He formed quite a double act with George Bray who by then was the club's kit manager.
He always had a fantastic sense of humour, including trying to run me over when he proudly jumped aboard his new tractor that had been paid for from the money we'd received in the FA Cup run of 2005 and televised games against Liverpool and Blackburn.
I spent many a youth game with him at Gawthorpe over the years, talking football, listening to the things he had to say about various managers and coaches, and also that wonderful sense of humour.
One day he asked me if I'd been to the away game the week before and I said I had. He told me he'd nearly been to watch Blackburn after an invite from his former Burnley team mate Mick Buxton.
He was undecided whether to accept the invite and told me: "Maureen asked if we were going but I said no, I don't like going there." And then he added: "And in any case Mick Buxton's a boring fart." Bellamy and Buxton were good friends, he was doing no more than poking fun at a friend.
It's some time since I last spoke to him. I was watching a youth game alongside Arthur, Dobson, Jimmy Robson and both Vince & Alison Overson. We chatted but it was clear he wasn't well. When he left, Alison said he was having a good day.
It really is some time ago and regrettably I never got the opportunity to speak to Arthur again. His health deteriorated and over a year ago he left his home at Gawthorpe. Then, just over a week ago, I received the news that he was in the hospice and that was followed this morning with the sad news of his passing.
He was much, much more than an ex-Claret to me. He was much, much more than a Burnley FC stalwart. He was, this morning, described by one poster on the message board as 'A truly nice guy'. Those words are perfect.
A few years ago Clarets Mad paid for the platform at Gawthorpe enabling them to film youth games. It was jokingly known as 'The Arthur Bellamy Stand' by the youth staff at the time.
I think it would be very fitting if Arthur was remembered at Gawthorpe, and maybe the proposed developing of new facilities for the youth department on the site of his former home could be appropriate.
That's for another day. Today, I'm so saddened by the news of his passing and have shed more than the odd tear for someone I considered a friend.
I would wish to pass on my condolences to his wife Maureen, his family and friends. My thoughts at this time are very much with them.
Farewell to a truly nice guy.
I'd like to thank the Burnley Express for providing the photograph above.