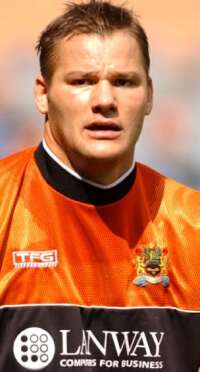 Brian Jensen in his first season at Burnley
Jensen joined the Clarets in the summer of 2003 from West Brom at the start of what proved to be Stan Ternent's last season in charge at Turf Moor and made a less than convincing debut on the opening day of the season against Crystal Palace.
A change of goalkeeper had become a priority after the previous season when Nik Michopoulos and Marlon Beresford shared duties, and no one present will ever forget their last Turf Moor appearances in the farce of a game against Sheffield Wednesday at the end of the 2002/03 season.
Jensen has had his critics, and I've certainly been one of them, but he's also had more than his fair share of big moments, none more so than three games during the promotion season of 2008/09. Two of those, at Chelsea and at home to Arsenal, were in the Carling Cup but for me THE outstanding goalkeeping performance of that season came in the 1-0 home league win against Reading, a game we hardly deserved to win.
It is certainly worth noting that, having been signed initially by Stan Ternent, he's subsequently signed another three contracts at Turf Moor, one with each of the succeeding managers. All three of them had the opportunity to release him, but all three took the opportunity to keep him at Turf Moor, and his latest contract, signed this summer, will see the now 35-year-old remain at Turf Moor until the end of the 2011/12 season.
Jensen was an ever present in his first season at Burnley. For much of that time there was no alternative but we did, at times during the season, get the services of Paul Rachubka and then Nathan Abbey, both of whom just took up bench duty.
Danny Coyne was brought in to replace him, so was Gabor Kiraly and so was Diego Penny. They, with varying degrees of ability, were all international goalkeepers. All were first choice when they came in. Injury, twice, cost Coyne, Kiraly was dropped twice and Penny lasted just one nightmare ninety minutes at Hillsborough.
Last season, he started every Premier League game. It was his first ever present season since his first, but only in 2007/08 season did he play in less than half of the games.
Those 250 league appearances included three as a substitute, and all three were coming on for the injured Coyne. The first was at QPR in the 2004/05 season when Coyne suffered a serious knee injury. The next was early in the following season at home to Brighton. This time Coyne's injury was even more serious, a cruciate ligament injury.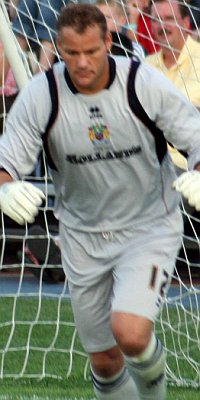 and in the promotion season
The third time, also for Coyne, was in a 0-0 home draw against Derby just before Christmas 2006. He's been substituted himself a couple of times in league games, and then there was the unforgettable day at Luton in 2005 when he left in the first half beneath the waving red card of referee.
That suspension brought in Lee Grant on loan from Derby to deputise, and it is Grant now who rivals him for the goalkeeper's jersey, having signed from Sheffield Wednesday during the summer.
It was Jensen who was given the jersey on the opening day and certainly nothing has happened since to change Brian Laws' mind. Right now, there are other positions on the field where the manager must seriously be contemplating changes but not in goal.
Brian Jensen conceded three goals on his league debut, and he conceded another three yesterday on his 250
th
league appearance for the Clarets, but this time he was not at fault with any of them and had a very decent game.
Yes, the 25
th
player in post war football, and only the 34
th
in total since the start of the Football League back in 1888. He's the sixth goalkeeper in that list, and he certainly has Jimmy Strong in his sights.
He'll have to go some though to eclipse Alan Stevenson (438) and Jerry Dawson (522) who remain our two goalkeepers with the most appearances.
Below is the list of the players who have played 250 league games or more for Burnley, the number of games played and the years of their first and last games.
| | | |
| --- | --- | --- |
| Jerry Dawson | 522 | 1907 to 1928 |
| John Angus | 439 | 1956 to 1971 |
| Jimmy McIlroy | 439 | 1950 to 1963 |
| Alan Stevenson | 438 | 1972 to 1983 |
| Tommy Cummings | 434 | 1948 to 1962 |
| Jimmy Adamson | 426 | 1951 to 1964 |
| Martin Dobson | 410 | 1967 to 1984 |
| Fred Barron | 400 | 1898 to 1911 |
| Brian Miller | 379 | 1956 to 1967 |
| George Waterfield | 371 | 1923 to 1935 |
| Willie Watson | 346 | 1909 to 1924 |
| Leighton James | 336 | 1970 to 1989 |
| Steve Davis | 327 | 1989 to 2003 |
| Joe Taylor | 323 | 1895 to 1907 |
| Adam Blacklaw | 318 | 1956 to 1966 |
| George Beel | 316 | 1923 to 1932 |
| Colin Waldron | 308 | 1967 to 1976 |
| Harold Mather | 301 | 1946 to 1954 |
| Brian Pilkington | 300 | 1952 to 1961 |
| Jim Thomson | 297 | 1968 to 1980 |
| Paul Fletcher | 293 | 1971 to 1979 |
| Marlon Beresford | 287 | 1992 to 2003 |
| Derek Scott | 285 | 1975 to 1985 |
| Bob Kelly | 277 | 1913 to 1925 |
| Alex Elder | 271 | 1959 to 1967 |
| Arthur Woodruff | 271 | 1936 to 1952 |
| Billy Bowes | 269 | 1891 to 1901 |
| Graham Branch | 264 | 1999 to 2007 |
| Jimmy Strong | 264 | 1946 to 1952 |
| Les Shannon | 262 | 1949 to 1958 |
| Gordon Harris | 258 | 1959 to 1967 |
| Andy Farrell | 257 | 1987 to 1994 |
| Paul Weller | 252 | 1995 to 2004 |
| Brian Jensen | 250 | 2003 to 2010 |