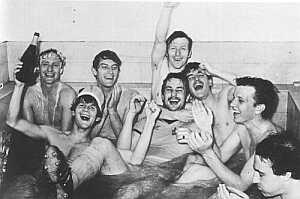 The players celebrate after the Chesterfield game
The 4-1 Friday night win at Southend saw the Clarets back into the top two divisions after a two year spell in Division Three and when Carlisle went down 2-1 at home to Bristol Rovers on the Saturday the title was in our hands.
We could still finish in any of the top three positions and on a rain soaked Turf Moor night our kick off was delayed with the pitch flooded ahead of our last game against Chesterfield.
Lincoln could oust Fulham or Carlisle to promotion but their last game was at Fulham and kicked off on time. A 1-1 result came through but in any case that didn't matter as a Kevin Young goal in the second half earned us a point on a pitch that to be honest was never really playable.
That put us three points clear of Carlisle who had one game left, away to Chester, and if they won it by seven goals or more they would take the title from us. Chester were the worst team in the league, were 13 points adrift at the bottom and many Burnley fans made their way to Sealand Road to cheer on the home team.
Many more of us went to the Turf, where else should we be when we are set to be crowned Champions, to watch a reserve team game.
Carlisle needed a point to make sure of going up, a defeat would still let in Lincoln, but they won the game. The final result was 1-0 and the Clarets were Champions on goal difference.
What a season it was though and when we lost to 2-0 at home to Swindon on 3rd October we were in a sorry mess. It was our sixth defeat in the first eight games and we had just four points. We were thankful to Plymouth (they were the team we had beaten) and Wimbledon who had collected less to keep us off the bottom.
The club appeared to be in turmoil with Chairman Bob Lord thought to be seriously ill and manager Brian Miller had been rushed into hospital with appendicitis.
Before kick off in the ninth game at Portsmouth Bob Lord announced he was standing down and we promptly won 2-1 at Fratton Park although we will never know whether Lord's news had been the catalyst. By the following Saturday John Jackson had been installed as chairman and he witnessed a 3-3 draw in his first game in charge at home to Exeter.
In fact these two results were the first two in a run of twenty league games unbeaten. The last of the run was a 1-1 draw at Walsall with Billy Hamilton scoring his only away goal of the season to win the point.
Four days later, and five months after the last league defeat at home to Swindon, we went down 2-1 at Exeter courtesy of a couple of awful decisions from the linesman. There were still seventeen games to play and from what had looked like a relegation battle we had found ourselves in fourth place before the Exeter defeat.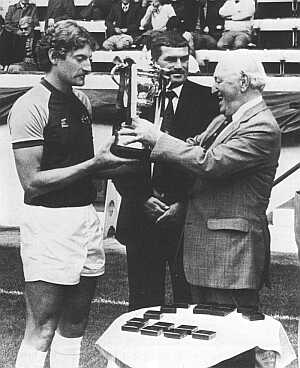 Football League Vice-President Dick Wragg presents the trophy at the beginning of the following season
Many thought one defeat would be followed by more but in fact we were to lose just once more in the remaining seventeen games as we picked up excellent draws away to fellow promotion candidates Fulham and Lincoln whilst beating Lincoln and Carlisle at home.
The defeat when it did come was something of a freak result, I think we threw one in as Southend won 5-3 at the Turf. But apart from that the results kept coming and the win at Southend was our fourth successive win and our seventh in ten games.
The season provided one of the biggest turn rounds in form I have ever seen from just about the worst team in the division to the best. Once we got going no other side collected as many points.
We didn't do it with big signings either and the only players brought in were Paul McGee from Preston, initially on loan before signing permanently having returned to Deepdale, and Brian Flynn who played in just two games on loan from Leeds.
It was achieved with a back four of teenagers in Brian Laws, Vince Overson, Micky Phelan and Andy Wharton and two more teenagers in midfield in Trevor Steven and Kevin Young. The side also included experience including captain Martin Dobson playing as a sweeper.
Bob Lord's Burnley were no more and things were already changing at the club with Supporters' Clubs, new directors with a new outlook, a new star in the making with Trevor Steven and a promotion back into full membership of the Football League.
Just 3,377 saw the home defeat against Swindon in the October, there were 18,711 inside the Turf for the last game against Chesterfield. It was a season that just got better and better.
There were suggestions that Brian Miller already had players lined up to strengthen the squad for a return to Division Two. Players such as Glenn Cockerill (Lincoln), Danny Wilson (Chesterfield) and John Aldridge (Newport) were all set to wear the Claret and Blue we heard. But it didn't happen and those three players all had careers elsewhere at the top level of English football.
But 21 years ago today there was certainly a party being held amongst the fans watching the reserves in the Bob Lord Stand as news came through from Chester.
The Clarets were Champions again.
The players used during that season in the league campaign were as follows:
Appearances
Alan Stevenson 46, Martin Dobson 44, Billy Hamilton 44, Brian Laws 44, Kevin Young 37(2), Vince Overson 36, Trevor Steven 36, Andy Wharton 34, David Holt 30, Derek Scott 29(1), Tommy Cassidy 27, Micky Phelan 22(1), Steve Taylor 21(1), Paul McGee 19, Eric Potts 14(7), Paul Dixon 8(1), Phil Cavener 6(3), Stuart Robertson 5(1), Colin Anderson 2(2), Brian Flynn 2, Mark Allen 0(2).
Goals
Billy Hamilton 11, Steve Taylor 9, Paul McGee 7, Kevin Young 7, Brian Laws 6, Andy Wharton 5, Vince Overson 4, Tommy Cassidy 3, Martin Dobson 3, Trevor Steven 3, Derek Scott 2, Mark Allen 1, Micky Phelan 1, Eric Potts 1, Own Goals 3.