Alan Moore - scored our first goal of the year at Grimsby
The New Year didn't start though when our game at Bramall Lane on the very first day was called off and so we had to wait for the cup tie at Grimsby to get going. This was never going to be a 6-5 and basically we strolled it before giving more daft goals away, and another stoppage time equaliser.
Overall though the year got off to a pleasant enough start and we reached March with only one defeat, mind you that was a 'Throw One In' against Reading and featured two goals from their new signing Sidwell.
That solitary defeat had been accompanied by three wins and three draws in the league and a cup run that had taken us into the quarter-finals of the FA Cup. Grimsby had been well and truly seen off in the 3rd round replay, Marlon produced heroics as we won 3-0 at Brentford in the 4th, and then we had that fantastic replay win against Fulham on the 5th.
Four days before the 6th round we played a league game at Millwall and would have gone 7th in the league but for a late equaliser from the home side in a game played in front of just over 6,000.
Some fans were talking about two visits to Cardiff, for the Play Offs and the Cup Final but just about a week later that dream had been well and truly shattered and the pattern was set for the rest of the year.
It is still very difficult to accept just what did happen in that FA Cup match at Watford. There we were 90 minutes away from our first semi-final for 29 years and against a Watford side that started the game very nervously.
Sadly we didn't play and we seemed more than content enough to try and hold it at 0-0. It has been suggested that we were more interested in trying to pick up more money from a replay and that is not quite so daft, after all we did come up with the ridiculous idea of sharing the prize money.
We fell a goal behind and that was it, there was nothing in the tank to come back at them. We had played the game for so long on the defensive that we couldn't get back at them. We had blown our chance.
Within a week any possibility of a play off place became a nonsense as we took two hammerings at Sheffield United and Walsall, conceding seven goal in the process. But that was nothing, worse was to come, much much worse.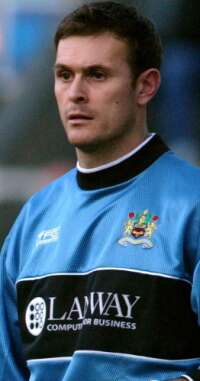 Marlon Beresford - half of the goalkeeping comedy duo
In 1888 we conceded seven goals in a home league game but just two days before the game the goalkeeper emigrated to Australia and we had to play the centre-forward in goal. Since then no side had ever scored seven against us on the Turf in the league.
In April we trebled that. "We want revenge," said the players as Watford arrived and promptly beat us 7-4 in the most ridiculous of games. And by the end of the month Sheffield Wednesday, already relegated Sheffield Wednesday hit us for another seven (this time 7-2) in a game that saw the worst goalkeeping ever from Nik Michopoulos and Marlon Beresford.
We were playing these games with Glen Little out on loan to save money and we were trying to sell season tickets. So you see we weren't just getting it horribly wrong on the pitch. Whoever came up with the idea of selling season tickets during such a dreadful spell should have been going through the door – oh, yes that's right he did.
It all came to an end with that Sheffield Wednesday defeat with just one away game to go and before that was played the retained list was announced with many players shown the Turf Moor door.
Stan said it was down to finance but did we in all honesty want to keep the likes of Michopoulos, Beresford, Davis and Briscoe?
It left us with very few players, reduced even further when Diallo (the find of 2003) chose to go to Ipswich who were able to offer him a better deal.
We all sat back relaxed thinking that better players were coming in but it never happened. There were only three summer signings plus one loan player. It was so bad that Stan even tried to cover up the club's failure to bring in players by making the ridiculous suggestion that this web site had cost us a player.
Apparently we alerted Sky to the fact that we were signing Michael Stewart when the player was already having talks with Nottingham Forest. Stan said that only he and Ferguson knew about it so it does remain a mystery as to who told us.
With our own Chairman telling fans about it before the end of the previous season I would think it wasn't a secret between the two managers.
The season started with high hopes though but it didn't take long for things to go wrong and nine goals were conceded in the first three games that brought not a single point. We then followed that up with three wins to haul ourselves up the table.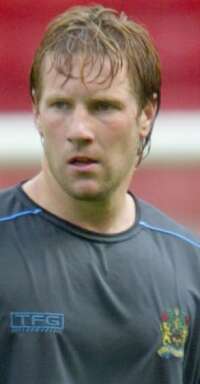 Andy Todd - impressed on loan
By this time David May had signed and had been joined by three loan players including one from Blackburn, Andy Todd, who was welcomed with open arms. In fact of the three loan players Todd had the greatest impact despite his stay being shorter. I don't think anyone was sorry to see the two Bolton players return to the Reebok.
But two players had to go out on loan to enable us to bring them in. Glen Little went to Bolton and Arthur Gnohere, after a public blasting from Ronnie Jepson, disappeared to London and a spell with QPR.
We even managed to throw a two goal lead away again, this time at bottom of the table Franchise – one of two games that Clarets Mad did not attend during the year. The other of course was the corresponding fixture from the previous season.
We turned up at Ipswich without a central defender as flu hit the club and it showed, oh how it showed. It was 5-0 by half time although we did at least draw the second half 1-1. On a night when we had to make do at the back Arthur was scoring for QPR. But he was on his way back and straight into an excellent performance at West Ham.
The trip to the Boleyn Ground and a subsequent visit to the Stadium of Light (both drawn games) were amongst the highlights of the year, playing league games in big grounds and in West Ham's case what had been an established Premiership ground.
These two matches were included in a run of five consecutive away games that drew crowds of over 20,000 and that hadn't happened since the first five away games of the 1975/76 season.
We pulled out of a run without wins to easily beat Reading 3-0 and then after the draw at Sunderland we put a smile on Stan's face with a 3-2 win against Sheffield United and an irate Neil Warnock who turned up without a proper goalkeeper.
Sadly though the year has come to an end with four defeats including another crazy scoreline, the 5-3 defeat at Preston.
We do seem capable of playing some good football but we have this incredible ability to give goals away. There have been 97 of them in 2003, yes we have conceded just three short of a 100 goals. I
And 88 of those goals have come in 46 league games which have yielded only 47 points and that after the good first two months of the year.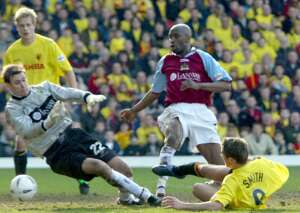 The defining moment of 2003 - Watford's first goal in the FA Cup Quarter-Final
That Watford cup tie really was a turning point and the heads have really hardly lifted since. It is difficult to take in but since we left Vicarage Road that day we have collected only 35 points from 39 First Division games and those sort of statistics only point to one thing.
Two of the new signings have been ever present including keeper Brian Jensen who has made some costly errors whilst Lee Roche has hardly got a game, being kept out by Dean West.
David May started well but has not been quite so consistent since returning from injury whilst Luke Chadwick's early season form seems to have deserted him.
We are still waiting to see Jay McEveley start a game but with rumours, fuelled by the Chief Executive, that we could be selling in January, the likelihood of any further reinforcements seems remote.
So that's it in a nutshell – we've no money and hardly any players. We are on a bad short term run (the four defeats) but now in a terrible run that has lasted ten months.
But thankfully 2003 is out of the way – we really do need a change of fortune and we need it very quickly in the New Year. We just cannot, under any circumstances, have another year like this one.