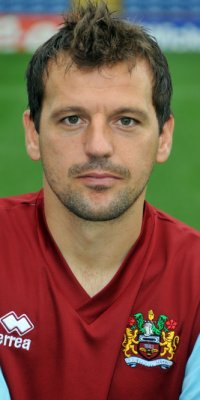 Robbie Blake - the stand shook when he scored
Beneath the illustration, it said simply: "Burnley, you've arrived".
Tuning into the popular mood hasn't been a noted strength of our largest financial institutions in recent times, but this caption captured the moment perfectly. This was the night upon which Burnley did arrive, or at least return to top-flight football: the night the club which was reborn in 1987 became fully regrown.
And from the moment of leaving the M65, it felt like an occasion as the traffic snaked into town. People spilled out of the pubs, beginning their move towards Turf Moor, joining the crowds shuffling down Yorkshire Street and swarming around the ground. Harry Potts Way was packed, as though those not fortunate enough to have tickets had decided to wander down regardless to soak up the atmosphere.
Those who did have tickets got in early, whilst the teams were still warming up, in time to ensure each Burnley player returned to the changing room for their final preparations with an individual roar ringing in their ears. When the players returned twenty minutes later, the reception was thunderous as Turf Moor marked the end of a 33 year hiatus.
In his pre-match media appearances, Sir Alex Ferguson expressed concern for Owen Coyle's future with the Clarets should Burnley make a poor start this season. "I hope he has an understanding chairman", he said, perhaps in the hope of unsettling Coyle or his players. Yet if that was the aim then, as his good friend Alastair Campbell could have told him, it was inevitably futile: not only because Coyle knows his status in Burnley is unlikely to be diminished whatever the outcome this season, but also because Coyle and his charges do not get cowed by reputations.
And as they got stuck into United again on Wednesday night, clawing their way into the game after the champions had made a slick start, the Turf Moor decibel count was ratcheted up further. At times over the years, Turf Moor has had a disjointed sound, with the upper and lower tiers of the all-seater Longside rarely synchronised. The return of home support to the Cricket Field Stand sorted out that problem right away, the 1,500 behind the goal playing conductor as the noise rippled around all four stands in unison.
But no-one needed to prompt the astonishing sound which greeted Robbie Blake's sweet, thunderous volley after 18 minutes. It was enough to awaken the dead, so that it would barely have been a surprise had we sighted one or two of the legends of the glory days who have now departed this earth taking their seat of honour in the directors box to watch the class of 2009 carve their own names into folklore.
They would surely have approved, once more, of Burnley's performance: tidy and collected in possession for much of the match, until United pushed the Clarets back late on, their workrate demonstrating a frightening collective desire to succeed. The result of that endless harrying and determined blocking and tackling was that United rarely got behind the Clarets' backline and forced only a handful of saves from Brian Jensen.
And throughout the match, they were roared on by a support which rendered mute by comparison every crowd of which I have been a part in over 18 years of watching Burnley. I thought Tottenham was loud and proud last season; I remember games in the early 90's which stirred the hairs on the neck. But Wednesday was extraordinary. The James Hargreaves Stand is barely 13 years old, but it shook when Blake scored, again when Jensen saved Carrick's diffident penalty in first half injury time, and registered on the Richter Scale when the final whistle blew.
Wednesday night revealed a side of Burnley Football Club which I have imagined but never seen, because it has lain dormant since 1976: that of the small town which revels in upsetting the big city.
I've watched Burnley when we were a big club in the lower divisions, regarded by some as a sleeping giant, and I've seen Burnley as a solid citizen of the Championship. But the beating heart of Bob Lord's top-flight Burnley was alive again at Turf Moor on Wednesday night.
It brought home the point that a Burnley player does not just represent a football club, a brand. Those players represent a town as well as the supporters drawn to Turf Moor from outside the borough. Burnley is a spirited, pugnacious place. And whilst perhaps that spirit has been dimmed at times, it now once again has its outlet in top-flight football.
One of Owen Coyle's greatest strengths as Burnley manager, and one of the most fundamental tenets of his success, has been to empathise with and exploit that energy. It has in the past manifested itself as frustration, but when it is harnessed as it is at the moment, it is an enormous positive force.
And that is why this group of players must revel, for now, in being a part of Burnley Football Club. No doubt Owen Coyle will take his inspirational gifts to bigger stages than Burnley in due course. No doubt the likes of Chris McCann and other younger players will one day do likewise.
But they must know that they will never be heroes anywhere else like they are now, and will remain, in Burnley. Andre Bikey, Steven Fletcher, Tyrone Mears and the other new faces who will make their mark this season must know they are only a few more performances from attaining similar adulation.
To consider that fervour to be Burnley's biggest weapon this season would be to underestimate the quality which this remarkable group of players possess. But it is important, and it will win Burnley points. Teams will buckle, just as United struggled to cope with that tide of emotion.
Burnley's marketing motto this season is "dare to dream". It is wrong. Burnley dared to believe the other night and were rewarded. Oh, and Barclays, you got it wrong as well: not only have Burnley arrived, but we can belong, too./DIV>