And, despite going into tomorrows game in third place and with the chance to go top – the familiar topics of attendances and Dave Edmundson's misguided press briefings have done exactly that.
The topic of attendances is hardly a new one, with debate centring on why so many are ignoring our progress, and on what can be done to entice them back. Yet the answer to both questions is very simple, and, as so often, it lies in the difference between the reality of our crowds, and the common perception.
A quick look at the history books tells us that, in the autumn of 2001, the last time we reached these heady heights, gates failed to match the 15,000 averaged in our first few months back in this division. After that initial surge of interest generated by promotion, they have fallen steadily, without regard for on-field performances, ever since.
Go back further, and it's the same tale: In Stan's promotion season, gates held steady until Christmas at around 10,000, even dropping to below 9,000 for a midweek visit from Wrexham. The same is true for 1993 and 1996, when we flirted with the play-offs in that same division. Even in 1991, as Jimmy was rounding up his army in that fabled season, gates largely hovered at around 7,000 until later in the New Year.
That is our history: we rarely get big gates before Christmas. In real terms, we never get big gates at all, actually, but they certainly don't occur until at least Boxing Day. In 2000, our gates caught fire between Christmas and New Year with the visit of Oxford, and thereafter did not fall below 12,000 for any game.
If we're in the shake up when Stoke arrive in town on New Years Day, then we should be expecting gates to rise. They did in 2002, even though we were in decline on the pitch. They have done in any year in which we've been going for promotion, regardless of what league we're in. The support of Burnley Football Club is pretty predictable - in the final analysis, it sticks at a similar level, and follows a similar trend, whatever the standard.
So, just now, there's nothing out of place. We're getting roughly two thousand a game more than we were in 1999, which, given that we're a division higher and we no longer have the promotion boom to distort attendances, is probably not far off being right.
Although that does not mean they couldn't be a little higher. It is quite clear that the club has lost supporters as a result of some crass decision making over the past few years, and it is up to the club to make sure it doesn't happen again. The facts are there: manoeuvre Burnley into a position to challenge, and the fans will, at the sharp end of the season, be there.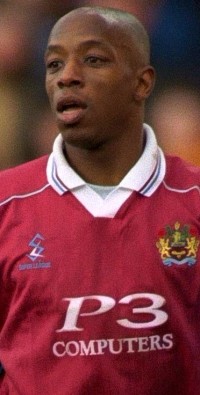 Ian Wright - brought in during Barry Kilby's first full season as chairman
That means being ever so slightly brave, and trying to rekindle the spirit of enterprise which characterised Barry Kilby's initial years as Chairman, when players like Ian Wright were brought in on the correct assumption that they would pay for themselves in increased revenues. Bringing in a player, or couple of players, to sustain this current push means continued interest, excitement and pulling power in the new year.
It means a couple of thousand on the gate for each home game from January onwards, maybe more as the tension builds as the race draws to a close. At a rough estimate, that's 30,000 quid more on the gate for each of the remaining ten games. Plus programme sales, catering sales, the shirt in the club shop for the kid who comes along with his dad…so the total mounts. If we end up in the play-offs, there's a game at the Turf, a full house, another £300,000 in the bank, just like that – before you factor in the after glow which, even in disappointment, will last well into next season.