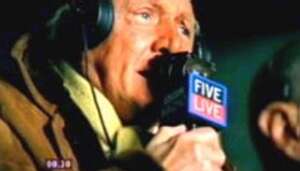 The irritating Stuart Hall
The course, the place, the opportunities and the facilities all demand consideration. All are impressed upon you in the glossy prospectus that every establishment produces.
I made my decision, and uni's great, thanks very much. But there's been something missing. I ended up down south, you see, 4 hours on the train from Burnley, and far out of range of local radio coverage of the Clarets.
Originally, I didn't see this as a major problem. I'm home for about eleven home matches, enough to make my season ticket worthwhile, and with four or five matches in London, one in Reading and a clutch of accessible matches in the midlands, I thought I'd make enough away days to keep me going. But then, to my dismay, Millwall banned away fans and the fixture computer decided to draw many of those trips I'd hoped to make for the holidays, and left me unable to make a match between the Wimbledon game in late September and a trek through soulless outposts on the M25 to get to Watford last Saturday. Instead, save a couple of televised encounters, my student budget has left me unable to afford the club's internet coverage, and has instead left me relying on goalflashes from Sky Sports, Talksport or Five Live - or on a good day, a brief report from the likes of the absurdly theatrical Stuart Hall. Hall may be amusing if he's reporting on some other team, but when it's Burnley, he instead becomes irritatingly over the top.
But in one sense, there is something to be said for having an enforced break. Don't get me wrong, nothing beats going every week, but when you can't get there for a while, it reminds you how important it is. That's why, in the run up to Saturday's match, I had the sense of anticipation for the game I used to get when I first started going as a kid. It's also why, having been forced to watch the Spurs game on Stan's magic lantern, I couldn't help but make a 24 hour round trip to be at Turf Moor on Tuesday night, four days before I come home anyway for the end of term.
It was worth the effort, the hour delay on the train and the £3.50 I paid for a truly awful sandwich at the Virgin Trains buffet. Forget the scoreline for a second. Everything else – the crowd, the atmosphere, the performance – was spot-on. Take yourself back to the moment that the players ran out and Turf Moor was at it's deafening best: it felt good. So did the occasions when Burnley produced an incisive attack and had the United defence really worried.
There is just one proviso to all this. Looking around the Longside that night, there were plenty of people who weren't regulars. And that's fine; it's inevitable at any club in any league. But now I'm talking to you, you who profess to be a Claret, who was there against United and who probably came for the day out at Wembley eight years ago or the derby match with Rovers or any of the other big occasions we have had in the last decade. I'm talking to the missing thousands, who were there regularly eighteen months ago but who, when the club needs supporting more than ever, have suddenly disappeared. On Saturday, we play Nottingham Forest at the Turf, and it's a big game. Both teams are upwardly mobile, but the Clarets could do with a win if they are to translate a promising mid-table position into a genuine challenge for the play-offs. Two years ago, at the same time of year, this game pulled in over 17,000 to the Turf, and I want to see that again.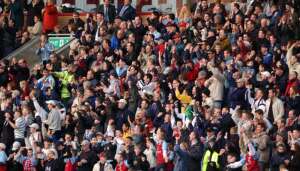 How we would like to see it - a full section of theTurf
If nothing else, Tuesday proved to you that this Burnley team has real potential. It had the guile and craft, chiefly provided by Glen Little and Robbie Blake, to open up the Manchester United defence. Paul Weller in particular in this cup run has proved that he can assert himself against Premiership opposition in the centre of the park. The trouble is – and this is the frustration in the wake of the ITV digital affair – we could just do with a couple more players. Dimi Papadopoulos may become the pacy, instinctive finisher we need, but there is a gaping hole for a central midfield enforcer who – like Robbie Blake and Glen Little - is just a bit too good for the first division, and a new left back (to replace the quick, willing but defensively deficient Graham Branch) wouldn't go amiss either.
The trouble is, there just simply isn't the money at the club. The club has already rescheduled their debts, so there isn't any spare cash lying in the kitty. The directors have already sunk in more than their fair share, regardless of the rights and wrongs of the club's financial management in the lead up to the ITV digital collapse, and it would be unreasonable to expect them to continue to putting money into a black hole. Selling those attractive assets that we do have would destroy part of the promise we're looking to build upon.
So that only leaves one option – to increase income. That, inevitably, must come from the fans, and the easiest way to achieve that is to increase gates.
This is a topic I've banged on about before in this column, but if anything, it is truer now than it has ever been. I know football is expensive, and it is often impractical to get to Turf Moor: in a sense, for the past two months I've been one of those missing fans so I appreciate all that. But whilst that works as a reason for some – and even then not all the time – it cannot be true of everyone. And if we really want to go places and get glamour matches like Manchester United week in, week out, then we cannot continue to expect a few good men to continue to plough millions into the club whilst a few who would call themselves fans turn up to enjoy the fruits of that investment when the prestigious match comes along.
Nor can the rest of us, for that matter, continue to baulk when the club ask for a small loan in order to help the club improve the training facilities or help finance any other project that is for the benefit of the club. It is our club; it's not Ray Ingleby's and it isn't Barry Kilby's. But that doesn't just entitle our voices to be heard in debates, it also requires us to take some degree of responsibility, and show a united front if we want the successes to which we aspire – and to which we have grounds to believe Stan Ternent's Burnley team can climb – to materialise.
So this Saturday, be down the Turf at three o'clock. See you all there. And if you're not there, and you still call yourself a Claret, you'd better
have a damn good excuse.