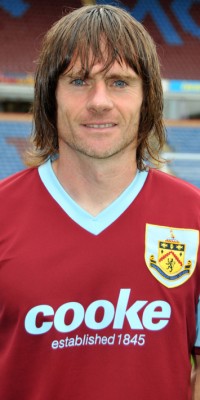 Graham Alexander - subjected to abuse from the stands after two misplaced passes
Midway through the first half of Wednesday night's home clash with Stoke, Graham Alexander had the ball 40 yards from Stoke's goal, with Burnley losing one nil. He slipped a pass down the inside left channel, the sort of pass he has played hundreds of times before, anticipating a darting run inside from Chris Eagles. But on this occasion Eagles had held his position on the touchline and as a result the ball rolled meekly out for a goal kick.
It was a small misunderstanding, the type which happens from time to time. Yet the crowd rumbled with disapproval, rebuking the players for the mistake.
Minutes later, Alexander found himself in possession once more, in centre field, with men wide to his right. He aimed a lofted pass over the defenders to those men in space. As he did so, the ball bobbled on the rutted surface and the ball spun high behind its intended recipients and into the lower tier of the Longside.
And then the abuse started raining down from the Longside. Directed at Graham Alexander: Grandad, Mr Reliable, the heartbeat of the team for the last 18 months. The man who has defied his age to belatedly establish himself as a worthy performer in the Premier League and whose penalties have been critical to our success.
All for a missed pass, or two missed passes, in a crucial game during his comeback from injury.
It wasn't really aimed at Graham Alexander; it could have been any player who made the mistake and suffered accordingly. But it was shocking because it was Alexander. It showed that the crowd in the post Owen Coyle era are as capable of having a negative effect on Burnley's performance as they are a positive one.
Of course there was tension and frustration around Turf Moor. This was a key, winnable game. Brian Laws' midfield was too lightweight to compete with Stoke's rough house giants. We were losing one nil, we were playing badly the chance of picking up valuable points was slipping by.
But that didn't make the reaction helpful. It didn't even make it understandable. Six months ago, with the fresh optimism of autumn, we were with the players unconditionally. That helped spur the players on, just as it did when we beat Crystal Palace in a similar home fixture 12 months ago. This was the opposite: the crowd knocking the confidence of already uncertain performers. On Wednesday evening, Burnley Football Club risked eating itself.
Tomorrow, we play Wolves - and it must not be allowed to happen again.
Regardless of the merits of his appointment, Brian Laws' announcement as Burnley manager was at best greeted by apathy from the terraces. He didn't inspire nor galvanise the supporters and we can only speculate that the players may have been equally unconvinced of his credentials.
Awareness that these winnable home matches will shape our fate is undoubtedly a prime reason for the unhealthy atmosphere around Turf Moor recently, but one senses the lingering sense of deflation is equally responsible.
Yet it does not matter. Brian Laws does not deserve to be judged until at least another autumn has passed and before then, there is a relegation battle to be fought. Prejudices and frustrations must be put aside and the players backed unconditionally. These aren't Brian Laws' players and they aren't really playing for him. They are playing for Burnley - for each other and for us.
And equally, we must park the uncertainty - the calculations of how many points we've got to get and how many games we have to get them - on the other side of the Culvert. It's a game of football. It must be viewed as an opportunity to get points and not an occasion which threatens to sink us. The must-win dates with destiny may come, but we are not quite there yet.
That goes for the players too. The second half on Wednesday night was better and the crowd responded, although not to the hair-raising extent we came to expect four months ago. And that positive performance must be replicated, on and off the pitch, in every home game we have yet to play.
The players must fight like cornered tigers, as Imran Khan once famously told his Pakistan cricket team. They must scrap and fight, be prepared to accept the ball and to try to make things happen. They must accept that they will make mistakes, rash decisions perhaps, along the way. They must lose the halting uncertainty which has left some of them failing to commit to win the ball on occasions recently and they must trust in their attacking, positive instincts.
Brian Laws must allow them to do that and the crowd must stay with them, too. Mistakes must be indulged when they occur, as inevitably they will. We must remember that we set out to stay up this season, but that we did so determined to enjoy the challenge and accepting that our limitations might mean we come up short.
Mind you, the authorities at Turf Moor can do their bit too: they can turn off the music once the teams have come out so that an atmosphere can build towards kick off without being swamped by the counter-productive blasts of Chumbawamba.
But whether the music plays or not, reflect at that moment before 3 o'clock that we have the chance to go three precious points clear of danger tomorrow, with less than two months to go in the season. Even a draw will probably see us level on points with Wolves and Hull.
Last season's motto was 'Dare to Dream'. This season's is 'Together we are Burnley'. Place those two side by side and you have the ingredients we require. We must dare to dream and we must be together. If we are, then the job can yet be done.