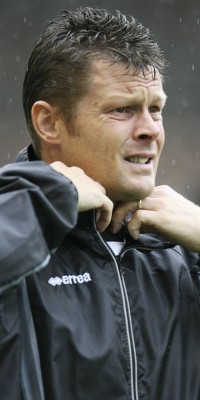 Steve Cotterill - his job to find the answers
Not because it's a bad team. Quite the opposite in fact: because it is a team which is ever so close to being the best in 30 years.
Talented? No doubt about it. With Robbie Blake and Andy Gray the first choice strike pairing, and four from Elliott, Lafferty, Mahon, McCann and Spicer apparently vying for the central midfield and wide berths, we are deploying the most technically gifted front 6 in a generation. Entertaining? Of course - there are goals aplenty at Burnley these days, and with players like those how could there not be?
But defensively sound? Er, um, no. And a coherent unit capable of finishing in the top half, let alone the play-offs, our stated target? Sorry folks, but it doesn't look likely.
Steve Cotterill has revealed himself this season as a manager capable of moulding a team to play in a pleasingly smooth attacking style. Moreover, the fact that so many players sign up for a second spell under his tutelage speaks volumes for the respect in which he is held as a coach.
But the next 8 games could just about define Steve Cotterill's Burnley career. So far, this season fits into the just-about-acceptable bracket. But the reality is that of the more threatening outfits in the division, we have played only Southampton and West Brom, and both of them at home. The next eight games see two against big spending Leicester, and trips to Wolves, Sheffield United and Watford. Whilst the likes of Bristol City might ride higher just now, you wouldn't bet against them being overtaken as winter gives way to spring.
Those teams are powerful, unforgiving units - and the fear is that they could expose the fact that, since the end of last summer, critical deficiencies have not been remedied. The time for Steve Cotterill to prove he can do so is fast approaching, if it has not yet arrived.
There is a developing concern that, for all his prowess as a coach, Cotterill's ability to build teams is just a little suspect. There are an alarming number of examples of planned combinations which have been quietly shelved when they failed to gel in practice.
Ade Akinbiyi was re-signed to form a first choice partnership with Andy Gray, but that plan eventually went the same way as the pairing of Gray and Steve Jones, and Akinbiyi and Noel-Williams before that. At the beginning of last season, Michael Duff and Wayne Thomas were heralded as the future at the heart of defence - but the doubts of many took about as long to be realised as those which accompanied the alliance of Gudjonsson and O'Connor in the centre of midfield.
And questions about the combinations in this Burnley class of 07/08 must be raised, in two areas in particular. In the full back positions, the charge levelled at Cotterill is very much along the lines of those above. In the centre of midfield - where Cotterill is apparently perfectly aware of our shortcomings - it is the vexed question of whether he is able to attract the talent who fits into our jigsaw.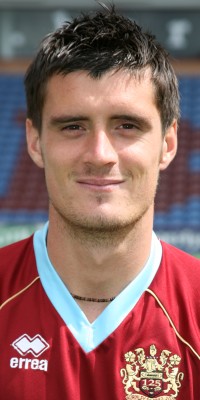 Stephen Jordan - unsuited for his assignment
Stephen Jordan is a decent player, but he has been signed for a tough assignment, made all the tougher for the fact he is unsuited for it. Burnley does not have an out and out left winger unless you stretch to Steve Jones, but the better options - Lafferty, Mahon and on the evidence to date, Berisha when fit - are all players who are at their best when allowed to play high up the field with the freedom to drift inside. That requires a full back capable of providing an overlap and comfortable positioning himself sufficiently high up the pitch to keep in touch with his colleague on that flank. Jordan was presumably signed to compliment any of those players, but his fundamental lack of pace means he is unable to provide that width on the outside. Nor is he able to defend high up the pitch and thus ends up isolated - since he knows that should he be forced to turn, he will be unable to recover his ground.
That isn't Jordan's fault, and nor is it Graham Alexander's that he too lacks speed on the opposite flank. It might not be as critical given that Wade Elliott provides a more utilitarian service in front of his full back, but in the context of the defensive unit it is a desperate flaw. The result of signing two pedestrian full backs to replace, presumably, Michael Duff and Jon Harley is that, where we had one defender of modest mobility last season - Harley - there are now none at all. With Steven Caldwell and the slightly sprightlier Clarke Carlisle completing the line up, it is a glaring deficiency.
But the travails endured by our centre halves this season are certainly not only down to either their own shortcomings or those of the men outside them. It is also down to the protection, or more precisely the lack of it, provided in front of them.
The centre of midfield has been the great mystery of the Cotterill years, a problem which has existed from early on in his reign and which remains unsolved. He came close in the shape of Mr Djemba-Djemba, although we must hope that all our eggs were not placed in that particular basket. Yet news of alternative targets was disconcertingly sparse over the summer - an occasional murmur about Jonathon Douglas was about the size of it - and all the while, players of the proven calibre of Stephen Clemence, Youssef Safri, Jason Euell and Kevin Nicholls all switched to new Championship clubs.
It cannot be that we could not compete with the transfer fees being paid out for those players, since we bid a million for Marek Saganowski and ended up filling our vacancy up front for a quarter of that fee, before getting an unexpected windfall from Southampton for Wayne Thomas. Whilst wages might be part of the answer, we appear able to offer suitable terms to strikers signed from big city clubs with a Premier League background, and to do the same in respect of a dominant centre half. It is only in the centre of midfield that we have been seemingly unable to part with our cash.
It might be that the answer is the very real question of the perception of Burnley Football Club, and this certainly seems to be the answer Steve Cotterill plaintively points to. But though I have some sympathy with him, the reality is that I don't care for the excuses. If it's a problem, Steve, then it's yours to solve.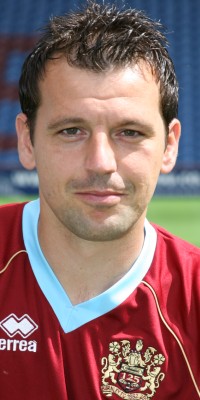 Robbie Blake - pulling the strings
Because if you can't attract the established names, then you have to look elsewhere. We have a manager who has had three years waiting for the day when he would have money to spend, years to scour the lower leagues for the answers to these conundrums of team building. But since Brendan Flood walked into the equation, almost a year ago, not one single player has been plucked from the obscure depths below us.
When I describe the player I want to see Burnley sign in midfield - tall, imposing and a decent passer - I find myself describing something along the lines of Sean Gregan in his Preston days, when he did battle with successive Burnley sides in what is now League One. He was always good enough to step up - and sure enough he did, subsequently. And somewhere in the lower leagues is the modern equivalent, the man who could prove the answer for us. For what it is worth, one of the successes of Bristol City's start to life in the Championship has been Marvin Elliott, an imposing but talented Bosman from Millwall.
I hear Steve Cotterill talking again about transition and it being unable to compete, and I find myself increasingly worn down by it. Continued transition would be all very well if this was a squad of young hopefuls still adjusting to Championship football, but signing 32 year old strikers for three quarters of a million isn't very logical if we've a promotion campaign planned for when they'll be 34.
I've always stood by Steve Cotterill. I still do, despite these doubts. Players want to play for him, and the football of this season, with Robbie Blake pulling the strings, is I suspect the style he's always wanted to play at Burnley.
But instead of constantly reminding us of the questions, it is his job to find the answers. As an 8 game run which could define our season approaches, he must address the failings which stand in the way of that ambition, and do so fast.
The target has been set at the play-offs. The funds are apparently in place. The strategy by which he chooses to spend those funds is up to him. But there should be no doubt: it will be on the results of his record in signing players or failing to do so that he will be judged, and the day of reckoning is swiftly approaching.